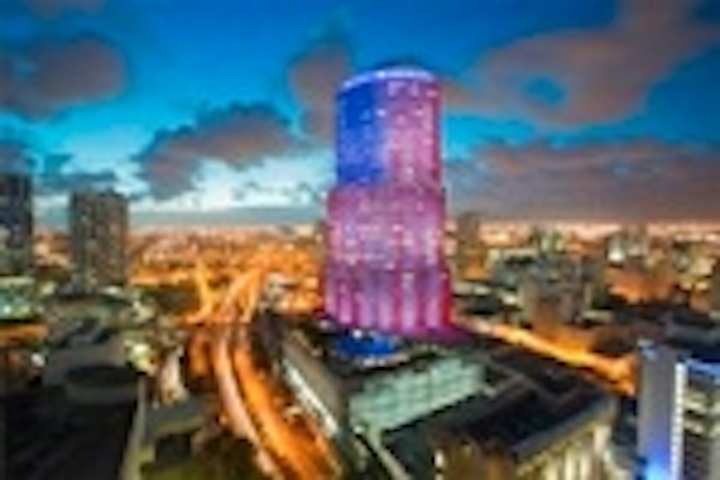 A landmark Florida office building called Miami Tower is now lit by 216 Philips Color Kinetics LED luminaires with the ability to generate 16 million colors and dynamic light shows. The architectural retrofit will re-emphasize the prominence of the building on the skyline and provide the building owner with an energy-efficient solid-state lighting (SSL) asset that it can use to attract new tenants.
Long a recognizable part of the Miami skyline, the 47-story Miami Tower will now feature dynamic exterior architectural lighting based on SSL fixtures from Philips Color Kinetics. In addition to providing everyday exterior lighting, the new system will be utilized to present custom shows for occasions such as holidays or in support of building tenants or civic or charitable groups. The project went live on Wednesday night, September 19.
"Miami Tower has always been an iconic, easy-access downtown tower," said Ty Spearing, managing director at building owner LaSalle Investment Management. "Our goal is to re-establish Miami Tower as a leader in technology, architecture and design, environmental sustainability, and on-site amenities - all of which Miami's top tenants demand."
The partnership of Philips Color Kinetics, LaSalle Investment Management, property manager Jones Lang LaSalle, and lighting designer and contractor LED Source was behind the project. Jones Lang LaSalle began the preliminary planning focus on sustainable lighting back in January 2011.
Previously 352 1000W and 40 400W metal-halide (MH) lights lit the tower. The MH lights were limited to producing a few static colors using gels and consumed 878,518 kWh annually.
RGB SSL fixtures
The team replaced the MH lamps with 168 180W ColorReach Powercore fixtures, and 48 ColorGraze Powercore fixtures. Both utilize RGB LEDs that allow production of any color instantly.
The new system will save 807,668 kWh and reduce carbon emissions by 1.2 million pounds. The 92% energy savings will combine with $20,000 savings from materials and gels, $49,000 from maintenance, and $110,000 from rooftop lease agreements with neighboring buildings, upon which lights were mounted, to total $260,000 annually.
The reduction in the number of fixtures was attributable to both the efficacy available in SSL products and the flexibility to mount the fixtures virtually anywhere. Previously, the MH lamps were mounted on the building façade, and in setbacks on various floors.
"LED technology has reached a tipping point where we can achieve better light intensity than traditional lighting technologies, yet unlike traditional lighting systems, we can work with the very tight space constraints and steep angles required to light a building," said Jeff Cassis, general manager of Philips Color Kinetics. "In addition, because LED is inherently more controllable than other technologies, we have the ability to create fascinating effects with it. We can also better focus LED light on the building's façade, minimizing light spill while at the same time respecting the neighbors and night sky."