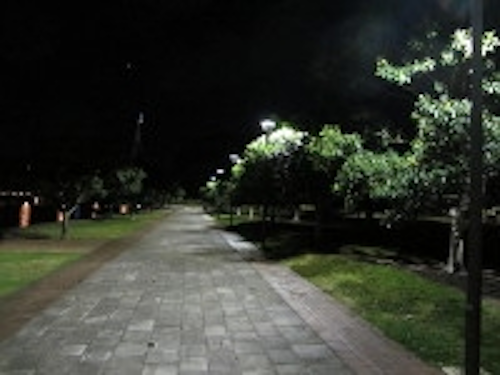 GE Lighting LEDs have been installed by UGL Limited in Bicentennial Park in Sydney, Australia. The lights being installed are GE LED Duna luminaires, which feature a decorative truncated cone design. These LEDs use up to 88W with symmetrical and asymmetrical distribution. The light they produce has a CRI of 70 and a correlated color temperature of 4100K or 5700K.
This installation is part of a larger AUD$7 million ($7.3 million) project that GE Lighting and UGL Limited received earlier this year. The project involves replacing 6,450 city and park lights in Sydney, Australia, over three years. More than 1,400 LED lights have been installed to date in Sydney. The project started with an 18-month trial, where 90% of people reported that the new lighting was appealing, while 75% said the new lighting improved visibility.
The switch to LED lighting is expected to save AUD$800,000 ($830,960) a year in electricity bills and maintenance costs for the city. "Advanced LED technology transforms lighting as we know it, creating light that is brighter, lasts longer and is significantly more energy efficient," said Nathan Dunn, Managing Director of GE Lighting Australia and New Zealand, "LED technology saves up to 75% of energy compared to incandescent light sources, while lasting up to 25 times longer. It is great to see the City of Sydney lead this lighting revolution in Australia." In addition to cost savings, switching to LEDs is expected to cut gas emissions by 2,581 tonnes per year, the equivalent of taking 940 cars off the road.