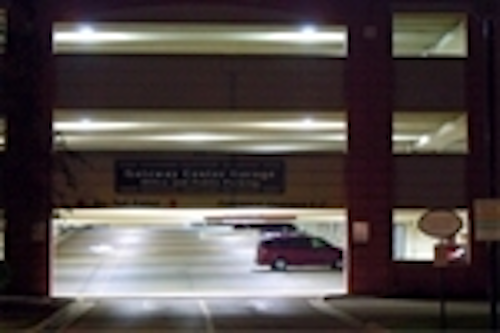 Palatine, Illinois replaced 451 metal-halide (MH) luminaires in a parking garage using Evolucia LED-based fixtures from Sunovia Energy Technologies and drivers from Thomas Research Products, cutting the fixture power consumption from 232W to 90W. Apparently Islamabad, Pakistan will proceed with a controversial 6500-fixture solid-state lighting (SSL) retrofit project, while small US municipalities also get in the LED game.
Palatine garage
Palatine, located just northwest of Chicago, retrofitted its 4-tier Gateway Center Parking Garage hoping to reduce energy and maintenance costs and increase visibility. The city had access to a federal energy grant via the Illinois Department of Commerce & Economic Opportunity Grant program that required light projects to have a payback period of 7 years or less.
Palatine engaged Walker Parking Consultants on the project, and project engineer Brad Walker tested LED luminaires from six manufacturers in the garage over a one-month period. The testing included surveys of citizens parking in the garage that were asked to judge the visibility.
Ultimately Palatine director of public works Matthew Barry specified the Evolucia PS14 parking garage fixtures and drivers from Thomas Research Products based on the evaluation made by Navarro. The retrofit was done on a one-to-one fixture basis. The cost analysis revealed a simple payback of only 1.22 years due to the significant energy savings.
"We didn't have a preconceived view of what product we wanted, so we brought in an independent third party to help determine how to proceed," said Barry. "And we successfully implemented it. We had no negative comments from users." Indeed Barry said a common theme from citizen comments was, "The lighting goes all the way to the wall and there are no dark spots."
The Evolucia PS14 luminaire is rated for more than 70,000 hours of life and the city expects it to deliver the desired maintenance savings. The 6000K-CCT fixtures use Cree XP-G series LEDs with a 73.4 CRI. The team specified Thomas Research drivers with a universal 100-277V input, greater than 0.95 power factor, and 100,000-hour rated life.
New Thomas driver
In related Thomas Research news, the company recently announced a 480V driver family. While most street and area lighting, and indoor lighting, is powered by voltages below 277V, there are niche applications that use a higher input voltage.
In street-light applications, for instance, some high-voltage installations require an autotransformer in front of the driver to step down the input. The autotransformer reduces the electrical efficiency of the drive circuit.
The Thomas TSC-75W, TSC-150W, and TSV-300W SLL drivers output 75W, 150W, and 300W respectively. The drivers can operate from an input ranging from 277-480V. The TSC models are constant-current drivers with dimming capability, while the TSV model is a constant-voltage driver.
Outdoor SSL installations
In SSL outdoor installations, It appears the Pakistan city of Islamabad will go forward with an LED lighting project. In a recent outdoor lighting story, we reported that authorities were in disagreement over a potential SSL project because of the high upfront cost of the LED lights.
Now the Islamabad Daily Times is reporting that the Capital Development Authority has received approval to undertake a massive street-light retrofit project. The city will replace 65,000 lights reducing energy cost by 50%. The purchase will be handled primarily through debt financing paid over 5-7 years via the money saved in energy costs.
The LED movement continues to pervade communities large to small throughout the US. According to the Avon, Connecticut Avon Patch website, the city will use a US Department of Energy (DOE) Energy Efficiency and Conservation Block Grant (EECGB) to install LED lighting around the Town Hall. The city projects $1500 per year in energy savings.
In Hatfield, Pennsylvania, township commissioners have voted to commence a second LED lighting project according to The Reporter website. The city had previously used incentives to fund an LED project but will pursue lighting the township administration building parking lot based on a 72% reduction in energy cost and a 10-year payback period.