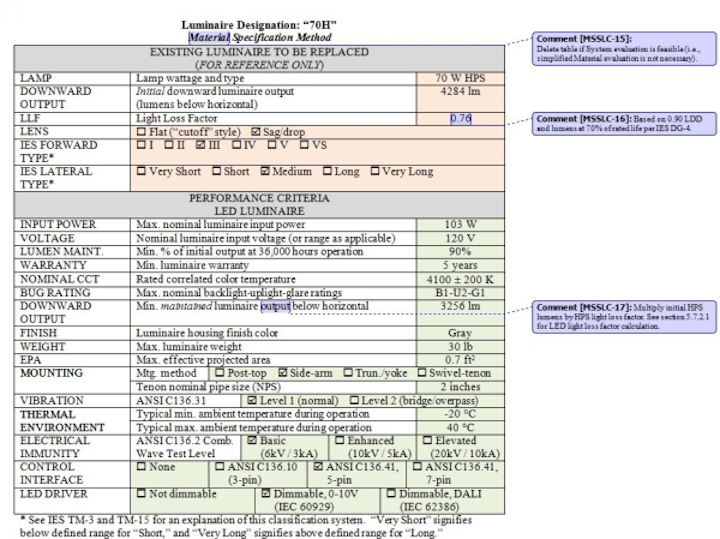 Version 2.0 of the Model specification for LED roadway luminaires offers a more streamlined structure and updated references to standards and other documents, while the DOE has warned that more effort is needed to understand the implications of light on human health and wellbeing.
The US Department of Energy (DOE) has released V2.0 of the "Model specification for LED roadway luminaires" that is meant for use by members of the DOE's Municipal Solid-State Street Lighting Consortium (MSSLC) in LED street-light specification projects. The agency also recently released a fact sheet on the relationship between light and health and warned that research is still needed before solid-state lighting (SSL) can be utilized in a drug-like manner to enhance human wellbeing despite the growing interest in what is often called human-centric lighting.
DOE updates MSSLC LED luminaire spec, issues fact sheet on light and health
The new "Model specification for LED roadway luminaires" is available for download on the DOE's website. The V2.0 specification is a follow-on to the initial specification that was published back in late 2011. Then, and now, the DOE's intent is to help municipalities and other agencies with the complex task of developing a document to guide luminaire procurement.
Indeed, the specification only requires that a municipality fill in a template with the particular specifications that are applicable to the project at hand, and quickly generate a comprehensive procurement document. While the development was undertaken in support of members of the MSSLC, the DOE freely distributes the model specification.
The new version makes some changes intended to streamline the document, but more importantly adds references to standards and other documents that have emerged since publication of the original document. Moreover, the model specification also now references the separate "Model specification for adaptive control and remote monitoring" template for cities that intend to connect their lights in networks. That controls specification was published in the spring of 2013.

Some important changes and additions to the luminaire include references to a number of ANSI specifications for details ranging from photocontrol receptacles to electrical isolation and immunity to noise. The new specification adds a reference to the Energy Star calculator based on the IES TM-21 methodology for projecting LED luminaire useful life. The new specification has also been updated for harmonization with the latest version of the IES RP-8 standard for roadway lighting.
Light and health
Separately, the DOE has recently published a fact sheet entitled "Lighting for health: LEDs in the new age of illumination." The fact sheet explicitly states that the lighting industry needs to have separate and distinct outlooks on SSL as a commodity as opposed to lighting as a drug.
Many companies have published data on positive benefits of tunable LED-based lighting related to human productivity, healing, and overall wellbeing. And we at LEDs Magazine have covered such stories and the growing industry interest in human-centric lighting as a potential high-value market segment that goes beyond general illumination. But the interest in human-centric lighting may go beyond the science that will support such applications for SSL at this point and we will cover the issue in more detail in an upcoming feature article.
The DOE publication was prompted in part by an article in the medical journal Trends in Neurosciences. The article penned by a group of 14 prominent researchers, from a diverse and prestigious set of organizations, discusses the differences between human photoreceptors for nonvisual stimuli as opposed to the better-understood receptors of the visual system. At present there are no metrics for nonvisual stimuli and certainly no way to compare the light used in various studies.
Science may ultimately support the medical or productivity benefits of a tunable spectrum. For now, however, the studies that are in evidence should be looked at more as a preference by test subjects as opposed to a factual approach to impacting human physiology. The DOE concluded that LEDs today shouldn't be considered more beneficial or dangerous to humans than other light sources, and that we need more research to support in use of tunable lighting to stimulate nonvisual systems. We know that light impacts our circadian rhythms, but we don't have near a full understanding as to how.