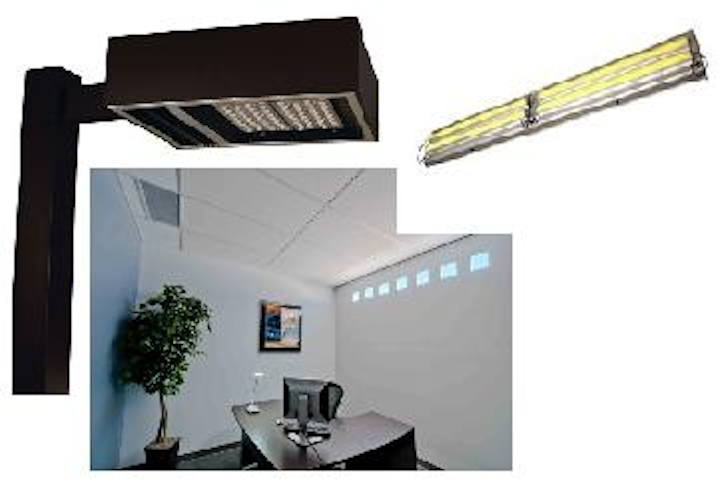 We close out our compilation of announcements for LightFair International (LFI; Las Vegas, NV; June 3-5, 2014) with the latest LED component and lighting exhibits and awards news.
Eaton's Cooper Lighting Business reveals winners of 37th annual Source Awards
Power management company Eaton announced the winners of the 37th Annual Source Awards national lighting design competition held by its Cooper Lighting Division. The winners were recognized at LFI in Las Vegas. Five professional awards and five student awards were presented.
Samsung unveils Bluetooth-enabled smart LED bulb at LightFair
Leveraging an industry-first mesh Bluetooth network, the bulb enables users to seamlessly control their lighting directly from any smart device. The power of this innovative new lighting solution will be demonstrated for hospitality, office, and home use in booth #5435 at the Las Vegas Convention Center from June 3-5.
LuciteLux exhibits acrylic illumination products for signs and displays at LightFair
Whether piping or diffusing light, products from the LuciteLux Illuminations Series offer options to meet a variety of indoor and outdoor lighting needs and allow designers to develop stunning signs, architectural features and light fixtures using high-quality continuous or cell-cast acrylic.
Hubbell Lighting and Totus Solutions demonstrate LED light fixture with Active Deterrence surveillance at LightFair
Hubbell Lighting and TOTUS Solutions, Inc., a provider of outdoor lighting based security platforms, announced a strategic partnership to develop outdoor light fixtures with state-of-the-art surveillance technology.
Osram Sylvania exhibits LED luminaires, retrofit kits, lighting power supplies and fixture accessories at LightFair
Among its displayed products Osram Sylvania is showcasing the ProPoint Raceway LED Tunnel Lighting System. Available in 4.5- and 9-ft versions, the long-life raceway system comes assembled with integral electrical components and attached luminaires, minimizing installation labor time and costs.
Acuity Brands exhibits its newest intelligent and responsive solid-state lighting system at LightFair
Acuity Brands, Inc. demonstrates its Aera lighting system, which delivers functional white light to a space while allowing users to create, personalize, and enhance their environment through dynamic color changing "windows."
Jesco Lighting showcases Soho LED sconces among lighting offerings at LightFair
WS 850 Soho LED Wall Sconces are UL listed, ADA compliant for wall applications, and contain no mercury or lead. Emitted ultra-efficient, very long-life LED light produces no heat, IR, or UV rays.
For pre-show announcements, see our Part I LFI round-up.
For our day 1 coverage, see our Part II LFI round-up.
For our day 2 coverage - see our Part III LFI round-up.

Check back this week for more updates on the latest LightFair announcements at ledsmagazine.com. Follow @ledsmagazine on Twitter for news and views, and join the conversation in our LinkedIn group (search: LEDs & Lighting).