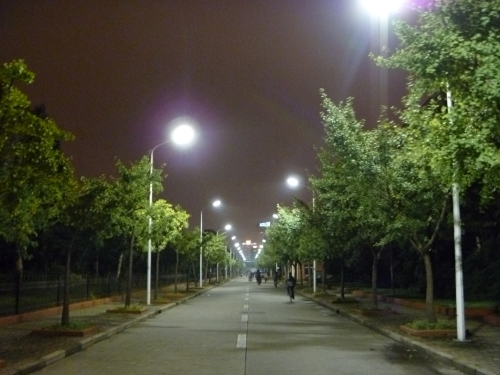 New research has yielded a model for predicting discomfort glare that can help specifiers mitigate glare issues in new projects, while luminaire makers fight glare, and cities around the globe continue the transition to LED street lights.
University researchers, along with China- and Netherlands-based Philips R&D teams, have completed a study that documents the impact of glare from LED street lights on drivers and makes recommendations on mitigating the glare. Meanwhile, new outdoor solid-state lighting (SSL) products from companies such as Eye Lighting and Bridgelux are designed to minimize glare. Planned and completed LED street light projects in the US and the UK project significant savings in electricity costs.
Glare research
The glare research that was conducted by Fudan University in Shanghai, China and Eindhoven Technical University in Eindhoven, the Netherlands was focused on finding the key factors that cause discomfort glare that causes humans to avert their eyes from a light source. Philips Research Asia and the Philips Research Laboratorie in the Netherlands also participated in the project. The research team created a laboratory setup that mimics visual conditions on a roadway and simulated 72 different lighting conditions working with volunteer observers.
Discomfort glare is notoriously difficult to characterize. Indeed, Mark Rea, director of the Lighting Research Center (LRC) at Rensselaer Polytechnic Institute, discussed the issue in an interview with LEDs Magazine late last year. Rea said that neither LRC metrics for discomfort glare, nor others proposed in the industry, do a good job characterizing the problem especially as a person nears the light source.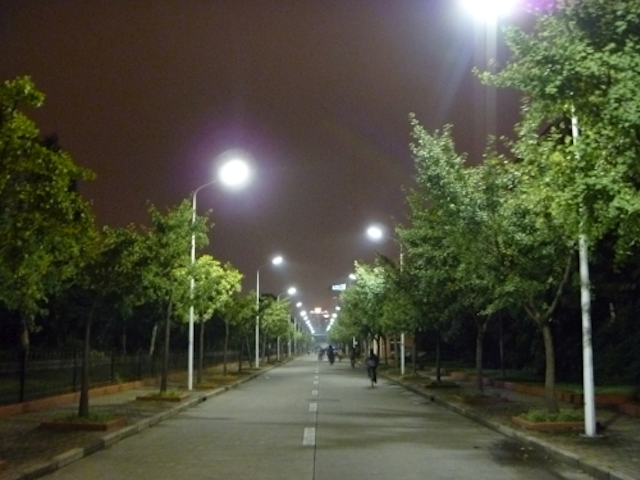 Outdoor lighting: Glare mitigation, new fixtures, and SSL projects
Image credit: Yandan Lin.
The recent research, however, was able to focus on luminous intensity, background luminance, source size, and the angle between the source and a test subject in evaluating glare. A model resulting from the work, which was validated in an actual street light installation, can allow lighting designers to predict the level of discomfort glare experienced by a person in various positions relative to the source. Our sister publication Laser Focus World has published a lengthier article on the research which you can read for more details.

Outdoor luminaires
One of the issues that contributes to glare is the high-intensity directional light produced by small LED sources that are often only covered by small total internal reflection (TIR) lenses placed directly on the LED. The TIR lenses focus the beam as we covered in a lengthy feature a few years back.

Luminaire makers are taking different approaches to reducing glare. We recently covered a Bridgelux modular light engine for street light applications that uses larger chip-on-board (COB) LEDs and a combination of lens and reflector optics to form the beam. The larger source and reflector could serve to minimize glare.

Eye Lighting, meanwhile, just announced an extension of the Aphos family of LED luminaires for street and area lighting applications. The design does rely on TIR lenses and smaller LEDs, but the company says the design is optimized for minimal glare. Eye asserts that the optical efficiency allows specifiers to install luminaires with lower lumen output, which would reduce glare.
Projects
Turning to projects and case studies in the outdoor lighting sector, Newton, MA is installing more than 8400 LED street lights according to the Wicked Local Newton website. The city had installed high-pressure sodium (HPS) fixtures only seven years back, but those fixtures are failing and the city is replacing failed lights with LED luminaires. The city projects that it will save $3 million in energy costs over the next 20 years.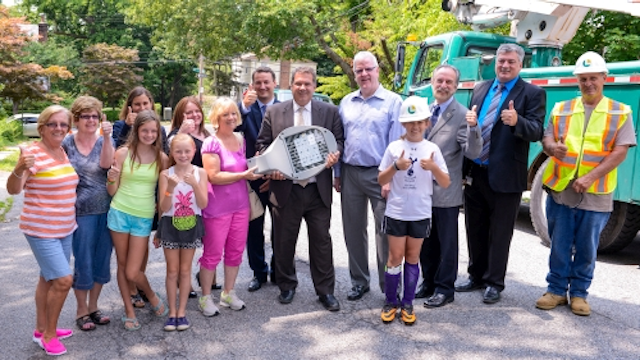 The Gloucestershire County Council in England, meanwhile, projects that it will save GBP 17 million ($28.7 million) over the course of 25 years based on a planned replacement of tens of thousands of street lights according to the Gloucestershire Echo. The council is searching for a contractor to take on what it plans as a multiyear project.
Back in the US, Yonkers, NY has completed a project that included a retrofit of 12,000 street lights. The year-long program was just completed as Mayor Mike Spano announced on July 28. The mayor has said that the city will save $18 million in energy costs over ten years.
"Sustainability makes sense, for the City's bottom line and the taxpayers' too," said Spano. "Replacing the old inefficient streetlights will not only make our city greener, it will lead to significant energy savings year after year after year." The mayor took part in a ceremonial installation of the final luminaire as depicted in the nearby photo.