SHOW REPORT: Lightfair Daily - Wednesday May 28
They say that three times is a charm, and Day 3 of LightFair 2008 by far is living up to this adage without exception, reports Brian Owen.
May 28th, 2008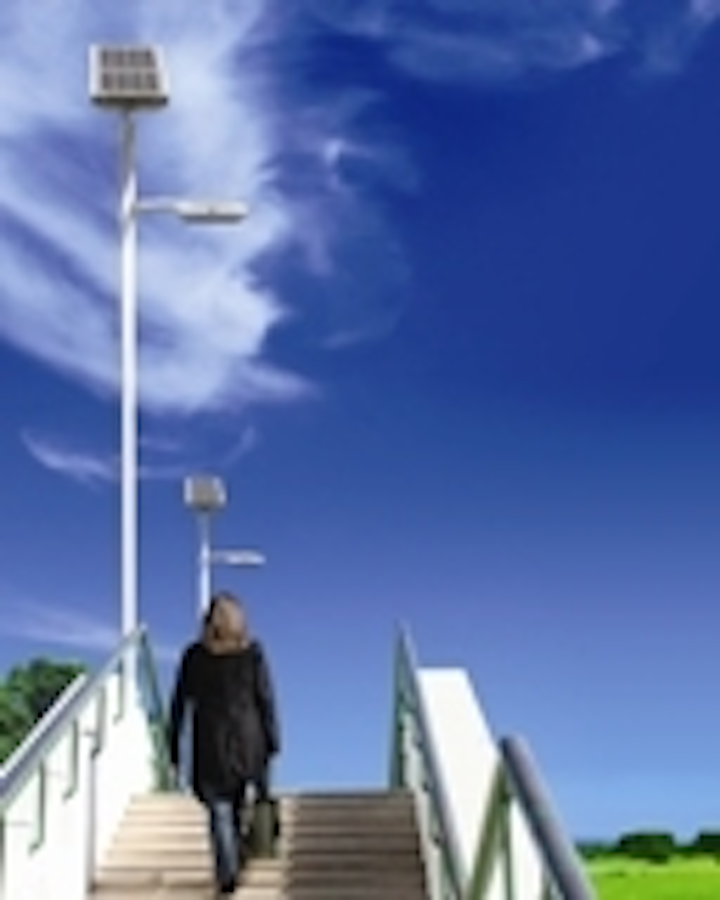 Live from Las Vegas,
LEDs Magazine
brings you the daily LightFair report.
As the Trade Show opened, Elly McCloud, LightFair Executive Director, confirmed that 2008 exhibitor participation is a record high, exceeding both previous Las Vegas and New York records. General attendance registration for the Conference and the Trade Show is an all time Las Vegas high, surpassing previous records and vying to close in on New York attendance figures.
LFI Innovation Awards
Close to 1000 attended the LFI Innovation Awards, where the LIFI solid state street and area light from LUXIM took the Speciality lamp award. Canadian company Carmanah Technologies received the 2008 Judges' Citation Award, recognizing their efforts to optimize renewable energy in lighting for their solar lighting solution also employing LED.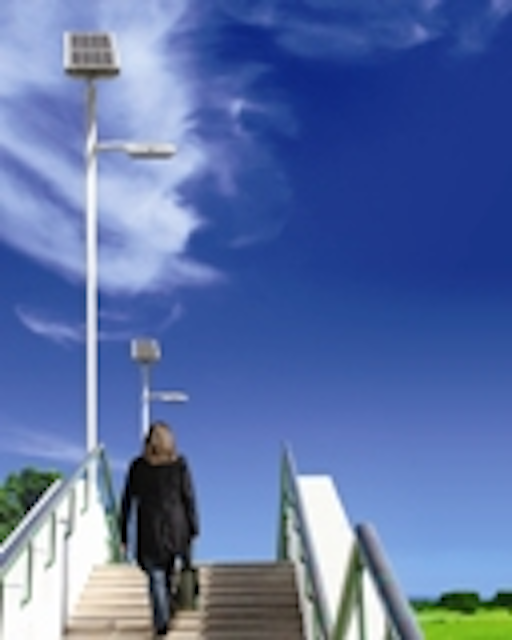 Carmanah's solar solution
Also nominated in the speciality lamp category was Canadian company Revlite Technologies for its LR 16, an MR 16 LED solution. Attendees are reminded to cast their vote for the LFI Attendees' Choice Award before 6:00 pm on Thursday. Attendees have the opportunity to personally select their choice for the 'Most Innovative New Product of the Year' at LightFair 2008 by voting on products showcased during the LFI Innovation Awards.
Exhibition opens
Close to 200 new and previous attendees were welcomed into the LightFair 'community' by Craig Bernecker at the New Attendee Orientation & LFI Welcome, where they learned how to maximize their LightFair experience.
Hundreds of attendees were already waiting in anticipation of the opening of the trade floor at 10:00 am and almost like with the pop of the starter's pistol, they raced off to their exhibit destinations on the floor, with exhibitors waiting for their arrival.
With the Monday US Memorial Day holiday, exhibitors were hurriedly still preparing their 'digs' and 'wares' overnight and right up until show time. The Trade Show continues Thursday from 10 am to 6 pm and on Friday with an earlier opening at 9 am until an earlier close at 3:00 pm, wrapping up LightFair for 2008.
Many Canadian exhibitors can be seen on the trade floor, including Innovation award winner Carmanah and nominee Revlite, as well as GO Lighting, the Light Up The World Foundation (LUTW) and the Canadian Standards Association, to name a few. Please visit the LUTW display and see the wonderful work they are doing throughout the world, using LED and PV Solar to better the quality of life with the quality of light in developing regions, a testament to their humanitarian efforts and the benefits of LED technology.
Carmanah has partnered with Beta/Ruud to deliver their PV Solar area lighting with a state of the art LED light engine (see News). This is an excellent example of collaboration and employing the core competencies of both companies to deliver an integrated solution.
Also, drop by the LEDs Magazine booth to pick up your free copy of the latest issue, also available in the magazine stands at the exhibit floor entrance. LEDs Magazine was exceptionally busy Wednesday. Staff reported that many show attendees commented about the number of LED products being distributed, almost to the point of saying that it looks like everything is LED. Whether compliment or complaint, it is accepted positively — the future of LED is rapidly approaching and in fact is here with respect to a number of applications.
LED Fairytales
By far, the most engaging workshop was presented by John Curran of LED Transformations. Entitled, '100,000 Hours of Life and Other LED Fairytales," this presentation dealt with the current reality and state of the technology, as reported earlier as 'taking a bite of reality sandwich' and sometimes reality bites back.
Over 600 attendees packed the room, making this the highest subscribed workshop at LightFair 2008. The description of the presentation in the LD+A issue set the tone; 'Mary had an LED, Its light was white as snow, But everywhere that Mary went, People said, "what's that blue glow?"'
From the X Files to a hammer
With a parallel to the 'X Files' or in this case, the 'SSL Files', Curran delivered a practical 'Trust no one' message, adding, however, that 'The truth is out there.' From binning to heat and from life to lumens, Curran covered the basis of myths and truths. He stated that, "Lifetime (of the LEDs) is a function of the environment and how they (LEDs) are being handled." Wielding a rubber mallet and smashing the LED, he said, "Exposed to a hammer, they last about 8 minutes," emphasizing his point about the confusion around the interpretation of conditions.
Curran takes a different but real perspective, and although his presentation style may be unconventional, so is the technology at this point, and the Curran style definitely hits the mark, excuse the pun. It appears that unlike the old saying, 'the check is in the mail", we can add a few other lies when it comes to LED claims.
The Visual Value of Light
Jonathan Speirs of Speirs and Major, and Paul Gregory presented 'The Visual Value of Light', during which they explained design goals, including establishing client needs, knowing what needs to be accomplished, guarantees and determining whether the client wishes to attempt a new idea, something very important in specifying LED. They also discussed the 'team' and the roles of the team members, including architect, interior designer, lighting designer and most importantly, the owner.
Thursday agenda
Thursday's conference agenda again brings a number of interesting topics to attendees. The 'Educational Lighting Forum' commences at 2 pm. Initiated at LFI 2007 in New York, this forum provides the opportunity for discussion between professionals, students and academics regarding the state of lighting education, needs in the profession and directives toward change. This is another great LFI initiative to educate today's and tomorrow's influencers in a changing market.
ENERGY Star presentation
Jeff McCullough and Mia Paget from Pacific Northwest National Laboratory present 'ENERGY STAR and How LEDs 'Measure Up' at 4:30 pm. This is a 'must attend' for those wishing to know how the ENERGY STAR qualification program will 'raise the bar' for SSL development and offer a measure of quality assurance.
DOE's Bright Tomorrow Lighting Prize Competition
The ENERGY STAR presentation tomorrow will be a great follow-up to today's DOE Bright Tomorrow 'L' Prize launch. The L Prize competition is the first government-sponsored technology competition designed to spur lighting manufacturers to develop high quality, high efficiency solid-state lighting products to replace the common light bulb.
The DOE's David Rodgers and several California utility representatives introduced the program. There will be 3 categories in the competition: 60W incandescent replacement lamp, PAR 38 haologen replacement lamp, and 21st century lamp. For more information, go to the DOE web site,
www.lightingprize.org
.
Other industry events
At 6 pm on Thursday, CSA International will host a reception and presentation entitled, 'Certification Programs for LED Lighting'. This is another opportunity to learn how standards will result in better product.
Many industry events are being promoted at LightFair this year. Architectural SSL Magazine will be hosting ArchLED '08 in Chicago in November to focus on LED lighting for the built environment, bringing together the architectural, luminaire fixture design and LED manufacturing communities.
The LightSavers initiative of the Toronto Atmospheric Fund, through the support of the Ontario Power Authority and the Office of Energy Efficiency of Natural Resources Canada, will be hosting a second LEDiscovery and ALTechnology event in early October for the private and public sector, municipal agencies and departments, as well as manufacturers.
The initial event in March this year was hosted by Toronto's greenTbiz, who also facilitates the Toronto LED City initiative. In late October, Martha Carney of Outsourced Innovation and the Midwest Energy Efficiency Alliance are planning a similar event in the Chicago area, including a practical tour of a branded quick serve restaurant unit that is piloting LED technology throughout the unit and the exterior property. This event will be of interest to utilities and energy efficiency organizations, as well municipal agencies and departments.