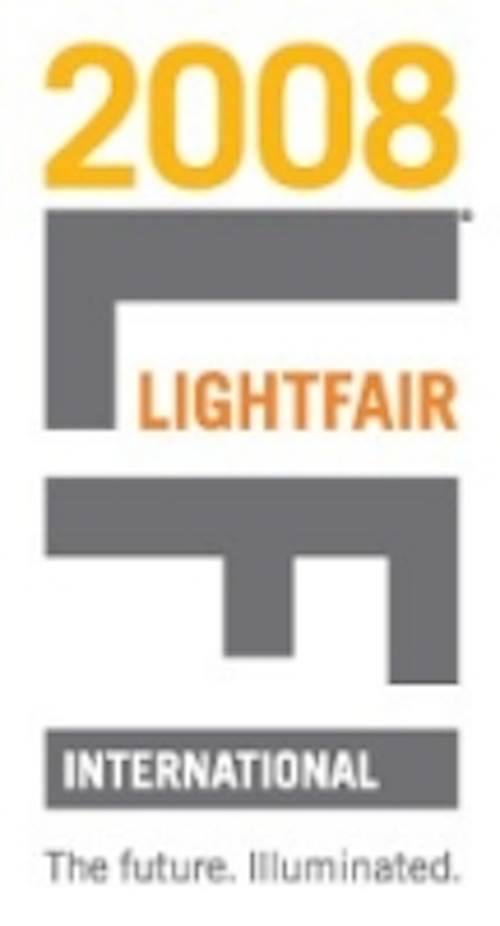 Live from Las Vegas,
LEDs Magazine
brings you the daily LightFair report.
Friday marked the final day for both the LightFair conference and Trade Show, truly an overwhelming success. Congratulations are extended to show management for a fantastic job well done!
Traffic on the trade show floor was definitely lighter on Friday and easier to manoeuvre for those last-minute 'shopping' requirements. It was much easier to discuss product in detail, but closer to an earlier day' end, exhibitors were longing for the homeward bound trip and were eager to 'disassemble'. However, the 5th day was still very active, both in conference proceedings and on the trade floor.
Friday conferences
Friday conference topics opened with 'Bye Bye Incandescent?' a suitable close and good-bye to LightFair. The presentation addressed the controversy, confusion and relevance of technology for today's and tomorrow's environmental concerns and needs, as well as current and proposed legislation and standards. The presentation is an account and summary of the topics in a series of the same name, originally explored by IES New York Section Members in 2007 and 2008.
As the presentation was underway, there were three more 'C' words other than 'controversial' to describe the proceedings, as the atmosphere was both 'challenging' and 'confrontational,' and the topic 'contentious'. Here is an interesting piece of information: it takes almost 10 times the energy to create a CFL (approximately 1000 Wh or 1 kWh) than an incandescent (approximately 140 Wh). This would be a great question to pose to LED manufacturers due to the numerous components and steps required in the production of a fixture, or even a luminaire.
The US Energy Independence and Security Act of 2007 (HR6) was discussed in great detail, even covering the Bright tomorrow 'L' prize for LED innovation and its three categories with entrants vying for a total of $20 million in prize money. The CFL Mercury and recycling issues were discussed, including the 'Universal Waste Rule' and the 'New York Guide'.
Other topics included IES light levels, ASHREA, and a comparison of Energy Codes, including California's Title 24. There was a call to action to promote 'Change a Light' and 'Turn Off That Light', as the best kilowatt is the one not used. It is easier and less costly to save a kilowatt than to generate one. As well, the call to action went out to have the voices of the IALD and IES heard by legislators.
Canadian standards meeting
While on the topic of regulations and standards, Jim Mismas of the Canadian Standards Association (CSA) presented 'Certification Programs for LED Lighting' offered by the CSA at a reception on Thursday evening. In order to ensure that quality SSL product is going to market and to provide the needed assurance for the end user, the CSA is active in standards and testing. Mismas highlighted a number of initiatives. The main resource for locating LED standards can be found on the CSA website at this site.
Solid State Industry Trade meeting
Off site, the Solid State Industry Trade Association (SSLITA) held another in a series of organizational meetings at Circus Circus, at which David Huff presented an overview of proposed goals and initiatives and then received questions from the attendees. There is agreement as to concept with respect to goals, however, there is a question as to whether other agencies or organizations, such as DOE's PNNL and ENERGY STAR initiatives, LRC's ASSIST or NGLIA administered by NEMA, are already serving to deliver the goals and objectives.
More than 30 people attended the meeting, indicating that the industry is interested in following the progress. For those who missed the meeting, it will be available through a webcast on Friday, June 27th at 10 am. Further information can be obtained by contacting the association through www.sslita.org.
Blinded by the light
On the trade floor, area and street lighting was 'aglow'. One could imagine that if the convention center had turned off their lighting at the back of the hall, it would have been no problem navigating the area with the displays mounted at CREE, beta / RUUD and Acuity Brands Holophane. Mounted at 10 ft at the show, but designed and intended to be mounted at 50 ft, the Holophane product had to be turned off regularly due to extreme brightness: this product 'shines' with 100 CREE MCs.
There were many other new entries to the area and outdoor lighting race, such as GE Lighting displaying the product being piloted with Wal-Mart, Beacon from Bradenton, FL, and Canada's elumen from Montreal. The beta / RUUD and Carmanah Technologies collaboration to bring together LED and PV Solar presented both a 'bright' idea and 'green' solution. It was definitely a CREEfest at LightFair 2008, learning that most of these as well as many other luminaires contained their current and new technology.
Lighting up the world
Before show closing, I was able to visit with Dave Irvine-Halliday and his wife Jenny — founders of Light Up The World — and their hard working colleagues at the LUTW booth. Dave addressed the Monday luncheon attendees as the keynote speaker and gave an excellent presentation, as reported earlier in the week.
LUTW is definitely a program worthy of industry support. If LED luminaire manufacturers could see their way to 'buck' up a dollar from units sold in the developed world, they could 'Light Up The Path' for LUTW to bring the technology to developing countries, further fostering the anticipated growth of the technology and most importantly, benefiting the culture and social fabric of communities and the lives of people. The next 'Nick' or 'Shogi' tomorrow could be a child today in need of light.
Next year: New York
Next year, LightFair heads back to the city that never sleeps and is scheduled for May 3-7 at the Jacob K. Javits Convention Center, with the Daylighting and Institute programs to be held on May 3 and 4, and the trade show and conference to run from May 5-7. In 2010, LightFair will be held May 10-14 in Las Vegas.
Turning off the light and saying goodnight from Las Vegas.
Author notes
Next week, LEDs Magazine's founder, editor and publisher, Tim Whitaker, is off to euroLED 2008 from June 4 to 5 at the Ricoh Arena in West Midlands, UK. Tim will be covering Europe's leading conference and exhibition dedicated to solid-state lighting technologies and applications. Join Tim for this leading event and watch for his reports. Further information can be found at http://www.euroled.org.
Thanks go to Julie MacShane, the new managing editor of LEDs Magazine, for helping in the preparation and posting of the Daily while attending to her interviews on the show floor.