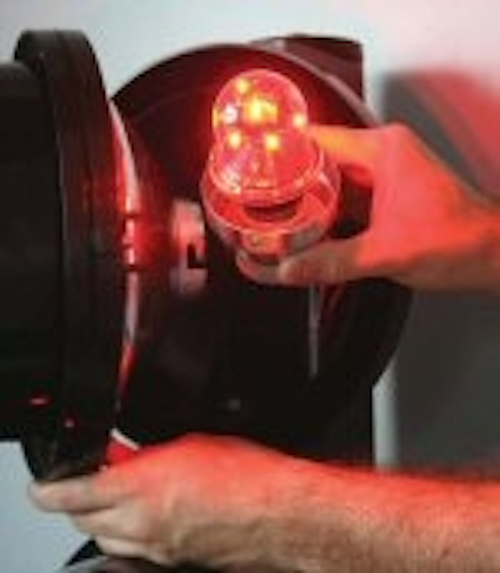 The Brazilian government has awarded a first-place Rational Use and Energy Conservation National Award to a project by electric power distributor Bandeirante Energia S.A. that replaced all the incandescent-based traffic lights in a Sao Paolo suburb with LED-based lamps.
The project in Guarulhos involved the replacement of 5,370 incandescent bulbs used in 2,059 vehicular and pedestrian traffic lights with custom lamps using Luxeon I LEDs from Philips Lumileds. The lamp was developed and manufactured by Meng Engenharia Ltda, a Brazilian company specializing in signaling projects.
The new lamp was designed to replicate the basic shape and radiation pattern of a traditional traffic head, using seven Luxeon I LEDs and a built-in power supply per bulb as well as a standard screw-in bulb base. This design enabled fast and easy field replacement with no need for specially trained work teams. All red, green and yellow traffic lights, arrows and pedestrian signals were replaced.
The new traffic lights in Guarulhos, with a population of nearly 1.3 million, are cutting the city's energy bills by approximately US$240,000 annually and reducing municipal energy consumption by 1340 megawatt hours per year — enough to power about 558 average Brazilian households. The annual award recognizes initiatives that reduce the use of electric energy and/or oil or natural gas derivatives in favor of renewable sources.
The LED-based lamps utilize one-sixth the energy of incandescent bulbs, replacing the city's 60W pedestrian and 100W vehicular traffic bulbs with just 10W of LED power. The LEDs also last up to 10 times longer than conventional lighting sources, significantly reducing lamp replacement frequency and associated maintenance costs.
The project cost approximately US$750,000 and paid for itself in 12 months through a combination of energy savings and maintenance reductions made possible by long LED life.
"This project showcases the value of LED technology in providing a low-cost, energy-efficient and environmentally friendly replacement for traditional incandescent and halogen traffic signals," said Steve Landau, Director of Marketing Communications for Philips Lumileds. "Bandeirante Energia and Meng Engenharia have developed a practical, easy deployment model that can be replicated by municipalities around the world."
Custom LED lamps
Instead of completely replacing each traffic fixture with the standard dome-shaped LED traffic signal ball (where an LED array, optical lenses and color filter are integrated in a single housing), the Brazilian city of Guarulhos retrofitted the 5,370 incandescent lamps with custom LED lamps.
The Guarulhos LED retrofit project was inspired by Federal law #9991, passed July 24, 2000. Under that law, Brazil's energy companies are required to invest 1% of their total revenues on initiatives aimed at reducing energy use. In 2005 Wagner Silvestre, energy efficiency consultant for Bandeirante Energia, began investigating the use of LED traffic lights to help fulfill the requirement.
"I was familiar with LED traffic signal balls that require replacement of the entire traffic signal enclosure, but our local Philips Lumileds representative showed me a new and less expensive LED product developed by a Brazilian company that looked like a regular light bulb and could be changed just as easily. That seemed like a good fit for our needs and resources," Silvestre said.
The sample bulb was developed by Meng Engenharia Ltda (www.meng.com.br), a Brazilian company specializing in highway, urban and industrial signaling projects. The lamp was based on a prototype created by engineers at Lumileds in California, who nicknamed it the "bulbeon" because of its resemblance to a conventional light bulb and its use of the company's Luxeon brand of power LEDs.
Meng Engenharia adapted the prototype to traffic light applications in a version containing seven Luxeon I LEDs per bulb, a built-in power supply, and the standard E-27 screw-in base used in South America. The distribution of the LEDs across the bulb was designed to replicate the basic radiation pattern of an incandescent bulb filament.
The LEDs were positioned to work with the existing reflector inside the traffic light head to avoid the expense of reflector replacement. Municipalities using this approach can convert their traffic lights by simply unscrewing the old incandescent lamp and screwing the new LED bulb into place. This eliminates the time involved in dismantling the entire traffic head as required with LED traffic signal balls. It also eliminates the need to employ specially trained work teams to perform the upgrade.
Model for other municipalities
With its relatively low capital cost, maintenance advantages and ability to provide a fast LED retrofit without replacing the entire traffic light enclosure, the strategy used in Guarulhos offers promise for developing countries dealing with limited resources and less stringent traffic signal standards than those in North America and Europe.
"This same bulb model can be used anywhere in Brazil, elsewhere in South America or in other developing countries to retrofit incandescent traffic lights. It's relatively inexpensive, it's reliable, and it doesn't require expert technicians to make the switch from incandescent to LED fixtures," said Alberto Montoro, CEO, Meng Engenharia. "With this strategy, even cities and countries with limited resources can migrate to LED signaling."