GE expands into outdoor LED lighting with two new fixtures
GE Lighting Systems has debuted the first two of many upcoming outdoor LED lighting systems: the LED StreetDreams post-top fixture and an outdoor area light.
Jul 1st, 2008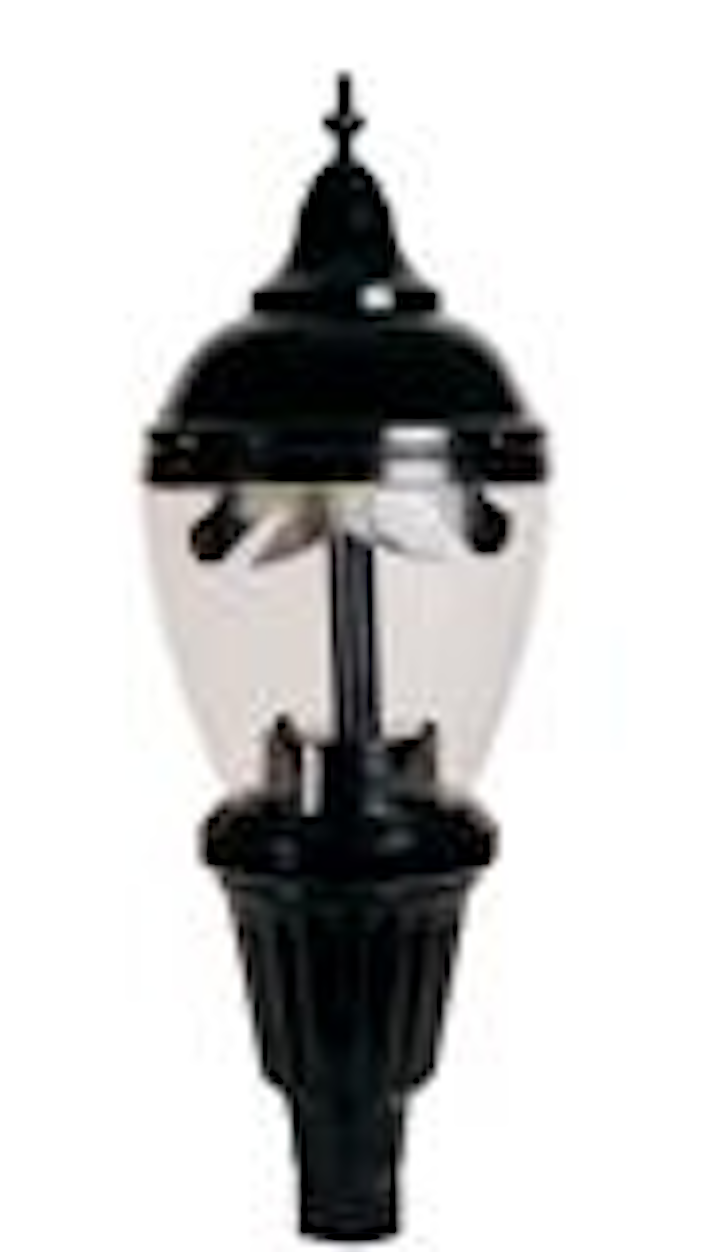 The company sees the addition of these systems as a major expansion of its product portfolio, although it's not giving up on traditional systems, says Paul Morse, president, GE Lighting Systems, a part of GE Consumer & Industrial.
"Our strategy is always to give customers more choices," notes Morse. "We're still innovating and delivering for customers who value traditional systems. LED technology simply provides a path to meet growing market demand for greater energy efficiency and lower lifetime costs."
Post-top fixture
Showing this energy efficiency, the new LED StreetDreams post-top fixtures were recently displayed at the 76th Annual Conference of Mayors in Miami, FL. In late June, more than 250 mayors from cities all over the US were able to take a sneak peek at the new lighting system, installed in the median along Pan American Drive leading up to Miami City Hall. GE provided six of its LED StreetDreams luminaires for the event.
Municipal leaders are known to be major influencers in the specification and purchase of energy-efficient metropolitan lighting solutions. As downtown revitalization planning has become increasingly sensitive to environmental impacts, GE expects that LED StreetDreams will "resonate well" with mayors and other municipal authorities because of its energy-efficient LED technology and "chic" post-top design.
LED StreetDreams post-top fixtures will be introduced to the broader market in 2009.
Outdoor LED area light
The second GE fixture, the outdoor LED area light, will be available later this year after significant application analysis and real world testing has been completed.
The product itself was introduced at LightFair 2008. GE Lighting Systems says that the area light provides up to 60% energy savings, longer life and significantly improved light-level uniformity compared with traditional HID lamp sources and optical systems, such as a standard 400 W quartz metal halide system.
High performance LED systems from Lumination LLC, also a GE Consumer & Industrial business, enable the GE LED outdoor area light to deliver system and application efficiency with up to four times the recommended service interval of standard HID systems. This means there is a 50,000-hour planned service interval for the GE outdoor LED area light compared with a 20,000-hour rated life and 14,000-hour recommended re-lamp interval at 70% of rated life for a standard 400 W quartz metal halide system.
The GE outdoor LED area light improves visibility and quality of light versus standard HID systems by providing a comparatively higher color temperature (5500K), a 70+ color-rendering index and a low-glare optical design. The low profile design of the GE outdoor LED area light offers an aesthetically desirable appearance while incorporating clean lines and a reduced effective projected area.
The company says that the optics create a more uniform light level for the on-site activities that require light, while reducing off-site glare and light pollution.