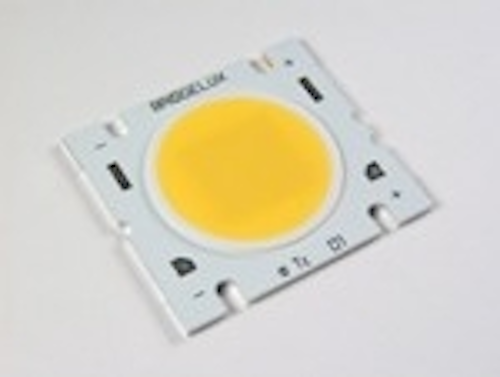 Bridgelux introduced the RS family of LED arrays a year ago, and is now adding products with greater lumen output for solid-state-lighting (SSL) applications. The company has enhanced versions of existing products that boost output 20% while reducing the cost per lumen by 30%, and the company introduced new products that offer light output in the 5600-to-8000-lm range.
The RS family targets applications that demand high-lumen sources. VP of Global Marketing Jason Posselt asserts that customer demand drove the company to create the RS family in which the company packages an array of emitters under a single lens. Target applications include retail-store lighting and LED street lights.
Bridgelux is offering the new members of the RS family in 2700K, 3000K, 4000K, and 5600K color temperatures. The LEDs have a CRI of 82, although the 2700K products can be optionally specified with a 90 CRI. The company is offering 3-step MacAdam ellipse binning.
The RS announcement covers both what are essentially enhancements to existing products as well as some new arrays. The company has boosted the light output of existing RS family members by 20% -- for instance taking what was a 3000-lm warm-white array to 3600 lm. According to Posselt, a combination of improvements in chip, epitaxy and packaging yielded the increased output and a 30% reduction in cost per lumen.
Larger chips
The brand new arrays that range from 5600 to 8000 lm leverage emitters manufacturers with a larger semiconductor area – larger chips. Bridgelux doesn't disclose the number of emitters used in its arrays because it sells the products as integrated single light sources.
Getting back to applications, Posselt discussed product requirements and design trends. He said, "The common approach is to gang together a bunch of emitters. For some applications that solution just doesn't work such as in retail lighting where light quality, lux level, and punch are really critical."
SSL is an ideal technology for retail stores, because lights are on constantly. LED efficiency leads to energy savings in such applications while long lifetimes reduce maintenance costs. But according to Posselt, the application requirements are tough to meet. He said, "We're not displacing incandescent sources, we're displacing 35W, 70W, and 100W ceramic metal halide sources that have a lot of punch."
LED street lights
While the RS family has already found success in retail lighting, the company believes that the new models will lead to success in street lights also. Posselt said, "We have a lot of customers developing solutions for street lighting. The challenge there is obviously developing optical solutions around this larger source size to create the required beam patterns."
Street lights that use small emitters utilized total internal reflection (TIR) lenses to form the beam pattern, but such lenses aren't practical with larger sources such as the Bridgelux arrays. See SSL luminaires must deliver reliable beam patterns in outdoor applications for more information on beam patterns.
According to Posselt, the company is working with partners to combine lens and reflector technology to form the required beam patterns but was unwilling to detail when that technology might come to market. But he added, "We believe there are real benefits in terms of the effective use of light, reducing the bill of materials, and reducing system cost." Posselt asserts that the RS family can replace a 70W - 150W HID source with a single packaged array.