Outdoor Lighting: Topeka retrofits lights, Roseville tests LEDs
Topeka, Kansas retrofits existing fixtures with LEDs, while Roseville, CA recruits volunteer SSL street-light evaluators, and new projects come to California, Alaska, and Hawaii.
Feb 16th, 2011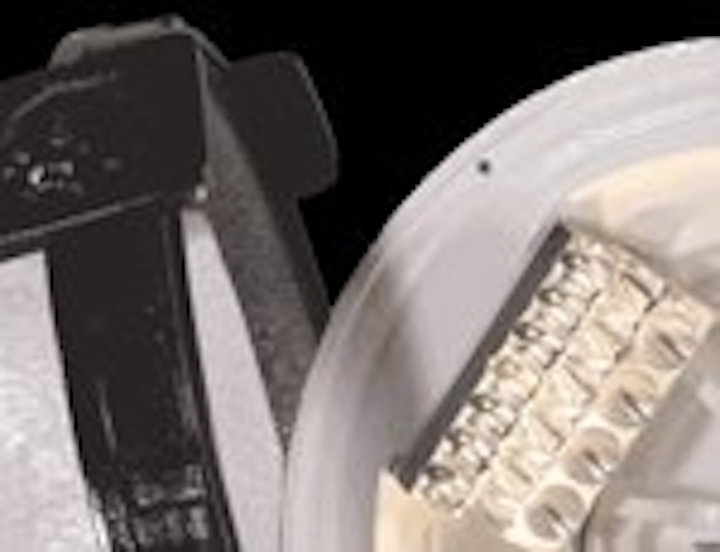 Topeka, Kansas has undertaken a conversion of their post-top pedestrian lighting to LED sources, using a conversion kit that preserves a portion of the existing fixtures. Roseville, California has installed LED street lights and is enlisting citizens to evaluate the lights. The island of Hawaii plans to replace 800 low-pressure sodium (LPS) street lights with solid-state-lighting (SSL) luminaires. Outdoor LED lighting is also coming to Modesto and Fremont, California, and Fairbanks, Alaska will add to its LED installation.
In Topeka, Spring City Electrical has supplied the city with more than 400 conversion kits based on the company's Crossfire LED light source. The Crossfire system utilizes Cree XLamp LEDs.
Spring City supplied the LED source along with a driver, the company's Coolcast thermal management technology, and a new globe that could be installed on top of the existing fixture base. The LEDs are mounted in the top cover of the luminaire along with the heat sinks.
"By utilizing a custom LED conversion kit, Topeka was able to maintain the same appearance of their traditional light fixture and save money on energy and maintenance expenses," said Alan Brink, President of Spring City Electrical.
Spring City supplied a mixture of 60W, 80W, and 100W conversion kits. The city expects to achieve 50% energy savings relative to the 175W metal halide lights that are being replaced. Spring City has projected that the LED lights will be maintenance free for seven years delivering reduced costs that will compound the savings attributable to the conversion project.
Roseville citizens evaluate LEDs
In Roseville, California, the utility Roseville Electric has installed LED street lights at several test locations and plans to proactively evaluate the lights using citizens recruited to rate the lights. The volunteers will be asked to rate the light quality and whether the light levels create an environment that feels safe.
The Roseville evaluation will be held March 10 with volunteers visiting installations ranging from two to six blocks in length. Roseville Electric is also testing energy usage and studying projected maintenance costs.
There are several other LED street-light projects in Northern California making news. The City of Modesto is accepting bids on an LED street-light project valued at $369,875. Funding is coming from an Energy Efficiency and Conservation Block Grant (EECBG). The project is to include more than 400 cobra head lights and around 300 post-top luminaires.
Freemont, California will also use an EECGB to fund an LED street-light project according to the New Streetlights website. The LED street-light project sites includes two areas where the city will replace high-pressure-sodium (HPS) lights with LEDs. The city is installing General Electric SSL products and hopes to reduce energy consumption by 30%.
Hawaii replaces LPS
On the island of Hawaii, meanwhile, LEDs will replace LPS lights. The LPS lights had been installed at the request of local observatories because they can easily filter the narrow-band LPS wavelengths. But the government in Hawaii County wants to move to LEDs to further reduce energy costs and has upwards of $500,000 in EECBG grant money to complete the project. The project will cover 800 street lights. Astronomers around the globe haven't welcomed LED lighting, but the latest products with tightly-controlled beam patterns minimize interference with observatories.
Alaska has been among the most active states in the US installing LED street lights. Fairbanks converted 1600 lights last year and is realizing 50% in energy savings. According to the Daily News-Miner, the city is now planning to retrofit an additional 1000 lights. And while the initial project was focused on local roads, the next project will address roads with more traffic. The city is currently working on standards for light levels and quality.