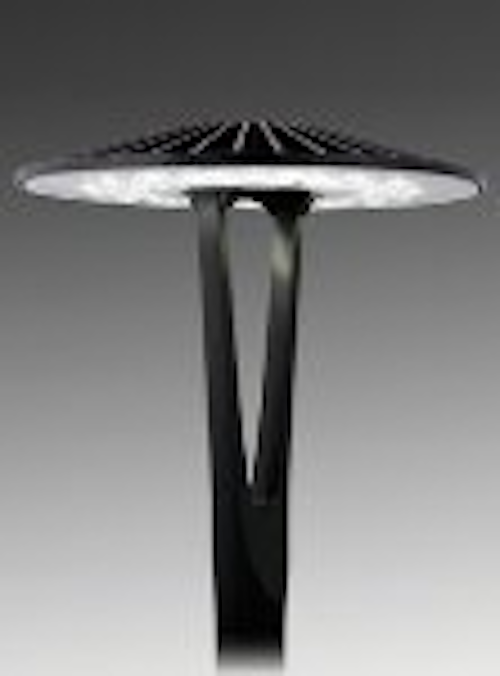 Acuity Brands has added new LED-based luminaires for covered-outdoor, area and parking lot lighting applications including a replacement for 400W metal-halide (MH) lamps for parking lots. San Francisco is seeking bids on upwards of 20,000 LED street lights. The Nova Scotia plan to mandate a conversion to solid-state lighting (SSL) draws criticism.
The Acuity launch includes new products in the Lithonia Lighting and Tersen brands that together with Hydrel, American Electric Lighting, Antique Street Lamps, and Winona Lighting comprise Acuity Brands' LED Outdoor portfolio.
The TersenRatio PG is targeted for roof mounting in parking garages and delivers 100 lm/W in multiple lumen-output packages. The TersenRatio 4.0 is a higher-power addition to an existing family of pole-top-mounted luminaires for outdoor applications with the new product being the 400W MH replacement mentioned previously. Both of the product lines utilize a finned top on the luminaire that serves both as an architectural accent and to optimize cooling of the LEDs.
The Lithonia Lighting VAP series targets parking garages, canopies, transportation facilities, and other covered-outdoor applications where moisture or dust is a concern. The Lithonia Lighting ALX family targets outdoor applications and mounts on an arm extending from a pole. The new version of the luminaire delivers 18 to 25% more light than prior versions.
"We provide a variety of lumen packages, fixture styles, and options to ensure visibility, with all of the energy-saving characteristics of LEDs, said Michael Naylor, vice president and general manager for outdoor products at Acuity Brands. "Whether lighting open or covered parking facilities, safety and energy savings are foremost in developing our portfolio of outdoor lighting products."
San Francisco to buy $10 million in lights
San Francisco, California, meanwhile, is moving forward with an SSL street-light conversion project valued at more than $10 million. The city and the county have issued an RFP and are requesting bids by May 20.
The bid documents include specifications that mandate lights with wireless communications and control capabilities. The RFP doesn't appear to specify a particular wireless scheme although one such example is the Acuity Brands Roam system.
The wireless capability will support adaptive controls that can compound energy savings by dimming lights late at night, and further reduce maintenance cost by remotely monitoring the health of each luminaire.
In total, the city plans to replace 18,500 high-pressure sodium lights with LEDs.
Mandatory SSL controversy
A few weeks back we reported on a story out of Nova Scotia, Canada when the province Premier Darrell Decker introduced legislation that will mandate a complete conversion of street lights to SSL over the next five years. But some local municipalities were caught off guard and have complained that they had no input on the plan yet will ultimately pay the bill for installation.
The Cape Breton Post reported that Union of Nova Scotia Municipalities (UNSM) president Bill Joe MacLean has questioned the plan and how municipalities will pay for it. MacLean is the mayor of Port of Hawkesbury and worries about how municipalities already struggling with debt load can make the conversion.
Dexter has aggressively defended his plan, arguing that energy and maintenance savings will pay the way for the upgrade. Dexter pointed out that the Amherst retrofit has already proven the savings that will accrue to a municipality making an upgrade.