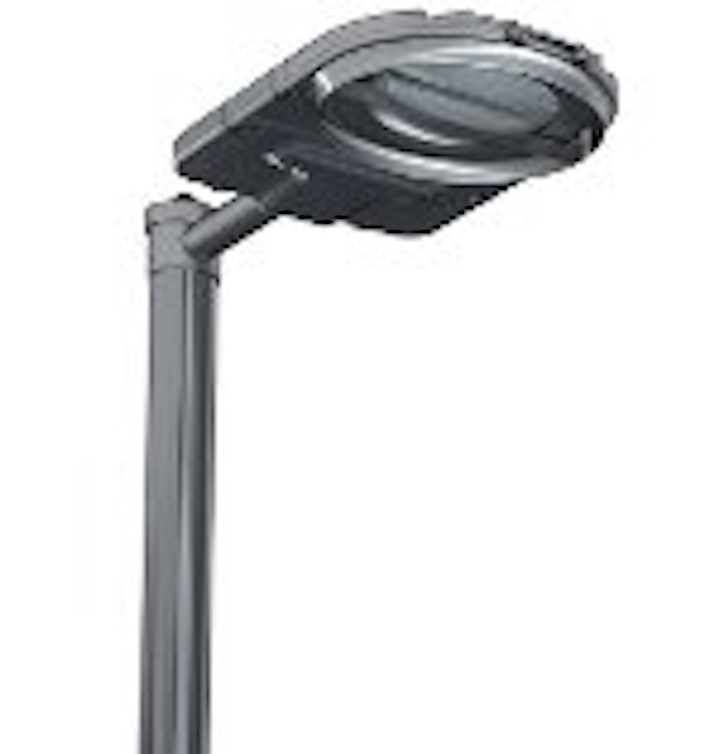 LED-based lighting is a proven winner in street- and area-lighting applications outdoors, and Lightfair International (LFI) yielded the expected onslaught of new and expanded product lines. And while established solid-state lighting (SSL) players in the space were omnipresent, some luminaire makers new to SSL made news, and manufacturers of larger LED chips seem to finally be positioned to succeed in outdoor applications.
While bright LED sources, optical efficiency, and low power are all important in outdoor street and area lighting, none of those attributes matter if a luminaire can't form an effective beam pattern. Outdoor lights must evenly illuminate the target area such as a street with minimum light trespass on buildings and into the sky. Luminaires based on large numbers of small emitters covered by total internal reflection (TIR) lenses have so far proven superior at forming the desired patterns.
But Luminus Devices and Bridgelux both had compelling outdoor lighting demonstrations in their booths that utilized larger LED sources – either the single Luminus PhlatLight LEDs or larger Bridgelux arrays. Assuming such larger LEDs can be effective in forming the desired beam pattern, the devices could simplify outdoor luminaire designs based on the fact that fewer components are required and potentially designers can use simpler drivers.
Eye Lighting uses large TIR lenses
Eye Lighting demonstrated its new KiaroLED luminaire both in its own booth and in the Luminus booth. The product family utilizes the Luminus SST-90 LED that has a package size of 10x11 mm, but with an emitter diameter of around 3 mm. Most LED area lights use 1-mm or smaller emitters.
Eye Lighting offers a choice of Type II, III, IV, and V Illuminating Engineering Society of North America (IESNA) beam patterns (see above link for pattern definitions). The Type V products use 6 to 9 LEDs arranged in a square or rectangular pattern. Products for the other patterns utilize 6 to 9 LEDs arranged in a linear fashion.
The design uses a TIR lens to form the beam pattern. Eye Lighting worked with an undisclosed optical specialist to develop a TIR lens for each of the 4 patterns.
Prevailing wisdom has been that a TIR approach would not work for larger LED sources. To eliminate light losses caused by the etendue effect, the TIR must be quite a lot bigger than the source. Companies manufacture TIR lenses using an injection-molding process, and most thought that would be prohibitively expensive for a large lens due to molding, materials, and manufacturing yield problems due to the larger size.
According to Eye Lighting Vice President of Lighting Rob Freitag, the TIR used in the KiaroLED family is about 0.75-in (almost 20 mm) in diameter. Freitag said the company has worked through problems with material impurity and addressed reliability concerns, albeit at a cost. For example, the luminaire design uses a sealed dome lens that protects the LEDs and other components from UV light damage. Indeed the LEDs are inside the IP66-rated enclosure whereas most area lights expose the TIR lens directly.
Freitag said: "It's a premium grade product that we are selling at a premium price." Freitag didn't reveal the price but suggested that the luminaires would sell at a 25% to 40% premium relative to products from the market leaders.
While Eye Lighting is just beginning production and lacks case studies to document performance, the company does have photometric test results from Independent Testing Laboratories in Boulder, Colorado. The reports show an advantage for the KiaroLED design in terms of area coverage and system efficacy relative to what Eye identified as the leading competitor, and while Freitag wouldn't identify the company it appears to be BetaLED.
Combining reflectors and optics
Bridgelux, meanwhile, demonstrated LED-based area lights from Eagle Eye Lighting and SimplyLEDs. Bridgelux doesn't make individual emitters that match in size those from Luminus, but the arrays offered by Bridgelux can be equally large.
Eagle Eye makes LED-based retrofit kits for existing street lights such as high-pressure-sodium (HPS) cobrahead-style lights. The company developed a module that includes LEDs, optics, driver, and a heat sink. The nearby photo shows a retrofitted light with two of the modules installed.
Eagle Eye has expertise both in LED lighting technology and in designing custom optics. The street-light design combines a custom optic and recesses the LEDs in a reflector box to form the beam pattern. The company offers its technology in Type I, II, and III beam patterns.
SimplyLEDs makes acorn-style LED lighting. It sells its products both as retrofit kits and finished products. The Anello family, for example, can create Type III and IV beam patterns. The acorn style light eliminates the need for a TIR or other optics. Instead, the Anello design utilizes nine Bridgelux arrays, each with 12 emitters that radiate light outwards. A reflector helps spread light downward.
LSG pushes integration
Lighting Science Group (LSG) also demonstrated a highly-integrated LED-based street light that could really lower the cost of entry for deploying LED lighting outdoors. LSG isn't brand new to outdoor lighting although it isn't as entrenched as companies such as BetaLED, GE Lighting and Cooper. In fact, LSG may be better known for indoor retrofit lamps, but its new outdoor design could change that.
LSG demonstrated its new Roadmaster design in its LFI booth that integrated the driver directly on the printed-circuit board with the LEDs. In fact, the company designed the driver without an electrolytic capacitor on the output; this is the most likely failure point in most drivers. LSG Chief Development Officer David Henderson said, "We eliminate that failure point and take the cost out."
The 65W design is meant to replace 100W HPS lights that according to Henderson actually dissipate around 128W. LSG hasn't set an exact price but expects to sell the luminaire in the $200 to $220 range starting later this year. At that price point, Henderson asserted that the product would pay for itself in a period equal to the first time an HPS bulb would need to be replaced – and that was based on maintenance savings alone. The initial product won't be dimmable, but LSG plans to add that feature down the road.
Of course it's easy to demonstrate new technology and sometimes tough to deliver it. Typically drivers with no electrolytic capacitor can create flicker due to ripple current. But Henderson said the ripple is lower in the new driver design than in previous products that use a capacitor. Warranty hasn't been set but Henderson said it would be at least five years.
Slim design provides elegant look
Of the established leaders in the street-lighting segment, BetaLED had the most appealing new design at LFI. The company announced the LEDway SLM (single light module) and LEDway SLM IP66. The fixtures are essentially identical with the exception that the latter is IP-66 rated.
The luminaires deliver a sleek new look relative to cobrahead-styled lights. The luminaires are long and slim and use a single BetaLED light bar. The luminaires can replace 70W to 250W HPS fixtures and are meant primarily for residential streets.
Watch our website for more stories from LFI. We will also include comprehensive show coverage in out next issue of LEDs Magazine.