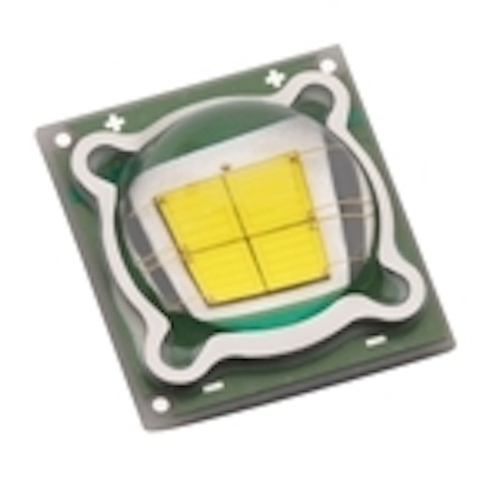 +++++
This article was published in the July/August 2011 issue of LEDs Magazine.
View the Table of Contents and download the PDF file of the complete July/August 2011 issue.
++++
LFI report, part 1: Linear LED lighting, OLED and planar lighting
LFI report, part 2: Retrofit lamps, modular SSL
++++
Section 5: LED technology
++++
The LED technology that underlies innovative SSL products was also on full display at LFI. As mentioned previously, Philips won an LFI Innovation award with its Luxeon A family. Perhaps the most notable LED trend is the combination of red or amber LEDs with white LEDs to more-efficiently produce warm-white light. In its TrueWhite-based lighting products, Cree has used sensors to monitor the white and red emitters to detect differences in lumen depreciation and adjust drive current accordingly. The company has now decided that the sensor is not needed, eliminating it in the previously mentioned CR linear fixture. Cree's VP of research and development Paul Pickard said, "Our longevity data indicates similar depreciation rates in both colors of LEDs used in Cree TrueWhite technology. This allows us to design fixtures that maintain their specs, over their lifetime, with no adjustments."
Luminus Devices
has been best known for its self-proclaimed big-chip LEDs, but at LFI moved to a smaller emitting area with the launch of the
1600-lm SSM-80 LED
. The new LED offers a tighter beam and will target applications such a spotlights used to illuminate retail merchandise. Luminus' Chuck DeMilo said customers can more easily design drive circuits for the new LED. The device actually uses four emitters in series yielding a 12V stack that requires 1A in drive current. That's more in line with LEDs from other vendors whereas the Luminus SST-90 product, for example, requires 3.2V and 3.2A.
Bridgelux
continues to ride improvements in its LED technology to offer brighter products in smaller packages, announcing the third generation of the
LS, ES, and RS LED-array families
at LFI. The benefit according to VP of global marketing Jason Posselt is better efficacy and lower cost. Generally, Posselt said the second-generation products offered 75 lm/W in luminous efficacy at $0.013-$0.015 per lm. The new products take efficacy to 90 lm/W and cost under $0.01 per lm. As to how the gains were made, Posselt said, "It's a sum of epi, chip design and packaging." He noted that a close examination of the LEDs would reveal that "we've added some extraction features to the silicone-coated phosphor on the arrays."
Osram Opto Semiconductors
launched its own Brilliant-Mix technology at LFI, utilizing white and amber
Oslon SSL LEDs
to generate warm-white light. Osram is advocating the use of a sensor to monitor the different LEDs, thereby ensuring consistent brightness and color. Brian Terao, director of SSL, believes that customers will relish the choice of optimizing a design for efficacy or cost. He said the Brilliant-Mix will yield better efficacy, although the sensor will make it more expensive. Osram said Brilliant-Mix will deliver 110 lm/W in luminous efficacy – 30% higher than can be achieved using warm-white LEDs with similar CRI and CCT.
++++
Section 6: Outdoor lighting
++++
The established players in LED-based outdoor-area lighting were all present at LFI, most of whom utilize relatively-small LEDs mounted on a circuit board in an array, and total-internal-reflection (TIR) optics on each LED to form a beam pattern. It's generally been considered problematic to control the light from larger LED sources although such sources could offer advantages in outdoor lighting since many such applications require significant light output. LFI witnessed more luminaire makers using larger sources. For example, Eagle Eye Lighting demonstrated lights that use its retrofit module based on larger Bridgelux arrays and reflectors that form the desired beam pattern.
BetaLED
stuck with smaller emitters in the new LEDway SLM and LEDway SLM IP66 products launched at LFI. If a street light can be called elegant in terms of looks, then the SLM is the one. SLM stands for single light module and as the nearby photo shows the fixtures are rather sleek-looking relative to the more typical rectangular or cobrahead lights. BetaLED says that the products can replace 70-250W high-pressure-sodium lights. Certainly the development of the SLM products was enabled by significant industry gains in LED brightness.
GE Lighting
is the one established player in street and area lighting that has utilized reflector technology broadly in its outdoor LED product line. The Evolve family typically includes one or more closely-grouped arrays of LEDs mounted within circular or rectangular reflector structures. At LFI, GE announced new Evolve series luminaires for area-light, flood-light, garage-light, post-top, and roadway-light applications. The Contemporary Conical luminaire pictured is designed for post-top use and offers a 60% reduction in energy consumption compared with typical HID lights, according to GE.
Eye Lighting
has boldly entered the market with its KiaroLED area light that is the first product to use a TIR approach with larger LED sources. The product is based on Luminus Devices' SST-90 LEDs. To eliminate light losses caused by the Etendue effect, the TIR must be quite a lot bigger than the source resulting in a 0.75-in-diameter TIR according to Eye Lighting VP of lighting Rob Freitag. The luminaires use 6 to 9 LEDs in linear or rectangular arrays depending on the prescribed beam pattern, whereas outdoor lights based on smaller emitters often use 20-60 LEDs.