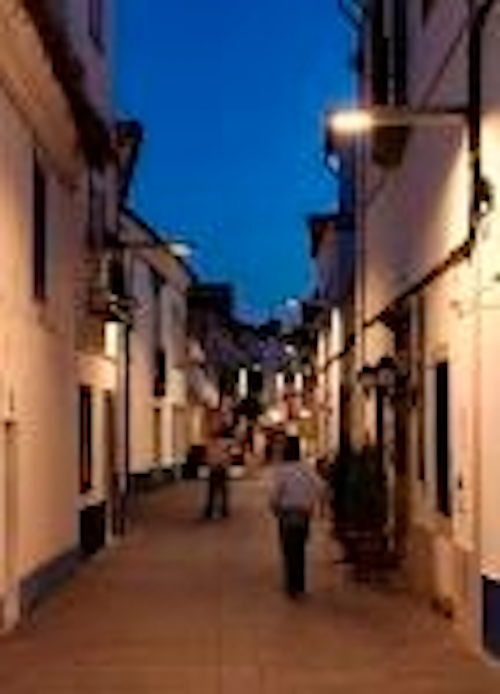 Osram Opto Semiconductors Golden Dragon Plus LEDs now light the centre-city streets of Arraiolos, Portugal in 400 Rivara luminaires manufactured by Schréder. Cooper Lightings' new LightBAR modular light engine boosts lumen output by 600 lm. Also in news from around the web we have new solid-state lighting (SSL) installations and a question of whether US stimulus money is being properly spent on LED luminaires.
In Arraiolos, each of the Schréder SSL luminaires integrates 36 3000K LEDs with a CRI of 82. The city hopes to achieve 50% energy savings with the lighting both based on baseline savings attributable to LEDs and the inclusion of an intelligent lighting management system (LMS) that will dim the lights late at night. The LMS in the installation utilizes power-line communications to enable central control of the new lights.
Schréder noted several reasons for using the Golden Dragon Plus LEDs in the installation. For starters, the LEDs have a broad 170° beam angle that provides uniform lighting. Moreover the warm-white color temperature and high CRI provide illumination that is symbiotic with the historical look of the city centre with appropriate color rendering.
"The Golden Dragon Plus-LED is characterized by exceptional color rendering and a pleasant, warm-white light," said Miguel Sampaio de Mattos, general manager of Schréder Portugal. "In addition to this, it also allows for increased safety, as the surrounding area is more clearly outlined than is the case with other lighting solutions."
New Cooper light engine
Meanwhile in outdoor lighting fixtures, Cooper Lighting has launched a new version of its modular LightBAR of which the prior version has been widely used in outdoor street and area lighting. Cooper says that the new models will enable SSL luminaires with greater lumen output and higher efficacy.
The new LightBAR modules come in versions with either 7 or 21 LEDs. Cooper offers a choice of 3000K, 4000K, and 6000K color temperatures. Moreover, the light engines can generate 13 different beam patters for applications included street lighting, floodlighting, parking-garage lighting, canopy lighting, and pathway lighting.
Like the original modules, the new LightBAR models use Cooper's AccuLED total-internal-reflection (TIR) optics on each LED to form the beam pattern. Relative to the original 21-LED LightBAR, the new version increases lumen output by 600 lm achieving a total output of 2400. Efficacy is now 100 lm/W.
Outdoor RFPs and installations
The stream of information about outdoor SSL installations continues to flow, although much of the latest news from around the web is about communities embarking on next phases in SSL projects. According to the New Streetlights website, for instance, Asheville, NC will install 2800 LED fixtures from BetaLED (now part of Cree Lighting). The city had previously installed 700 SSL luminaires.
The website also reports that Mobile, AL is close to choosing a vendor for a $1.2 million project. There are also updates on street light projects that we've previously reported on in northern California and Nova Scotia, Canada.
There are also two interesting pieces on LEDs, manufacturing, outdoor lighting, and funding in two recent Pittsburgh Tribune Review articles. The city had planned to install new SSL street lights using federal stimulus money. That money, however, was spent elsewhere. Now Pittsburgh hopes to retrofit 3200 lights using money from a utility rate settlement
.
The other article is based on an investigation into whether US stimulus dollars have been improperly used to buy SSL luminaires made outside the US. The report claims that while many street lights may be assembled in the US, that even the major lighting companies import substantial parts of a fixture. The luminaires in question may not run afoul of the fine details that guide how stimulus money is spent but the writer argues that the products are afoul of the intent of the policy.