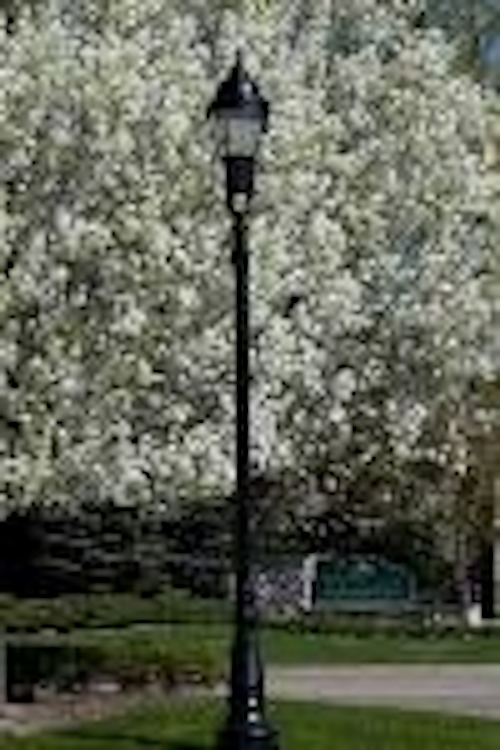 Canada's sixth largest city, Mississauga in Ontario, is pursuing a city-wide conversion to LED street lights that will cost $33.6 million ($32.7 million US) and, if approved, will begin next summer. Amerlux has formally announced the SmartSite solid-state-lighting (SSL) platform that includes both adaptive controls for lighting and networked multimedia capabilities that cities can use both to broadcast emergency information and revenue-driven advertising messages. Bozeman, Kerman, and Robertsdale plan SSL projects while Efficiency Vermont escalates SSL initiative.
In Mississauga, the city's department of Transportation and Works has recommended a complete conversion to LED street lights. The agency has projected a 55% cut in energy use based on a SSL conversion and 50% cut in maintenance cost. Transportation and Works commissioner Martin Powell said, "It's an upfront investment of $33.6 million that will result in future cost savings."
Indeed the city is planning to fund the project via debt financing but projects that the savings will cover the debt service. Moreover the city is projecting complete payback in six years. The complete project will take two years to complete.
The city is planning to install a wireless-networked system to monitor the street-light operation and enable adaptive controls. That system will help deliver the maintenance savings and enable the street lights to produce the light levels required for citizen safety while minimizing light pollution in the sky.
The Mississauga.com website reported that a $1.4 million grant from the Ontario Power Authority will help fund the project. And the project will encompass replacement of 49,000 high-pressure-sodium (HPS) lights. The website reports that the city has completed a pilot of LED lights on two local streets.
Mississauga intends to be the first Canadian city to implement a city-wide SSL conversion, and notes both cost savings and a green initiative as motivation. Powell said, "Moving toward citywide light-emitting-diode-street lights is part of the living green initiative in our strategic plan as it relates to implementing more environmentally-responsible approaches to conserving energy and reducing harmful gas emissions." A December 14 vote by the city council could formally set the project in motion.
Multimedia street lights
While we regularly cover the concept of wireless networks in the context of SSL street lights in LEDs Magazine, the multimedia angle is a new one. Amerlux has demonstrated the technology at several lighting trade shows and has now formalized the offering.
"We are proud to unveil a wireless network and multimedia platform that fully integrates performance-based lighting designed to yield significant energy savings, as well as enhance public safety, security and communications," said Amerlux chairman and founder Frank Diassi. "The SmartSite outdoor lighting management system is revolutionizing how we illuminate and communicate within our communities.
The lighting elements of SmartSite are similar to other network-enabled luminaires. A city or utility can dim lights to save money and remotely monitor the operational status of lights to save on maintenance.
The multimedia element presumably will help municipalities fund SSL street-light conversions. Cities can sell audible advertising messages to local businesses such as restaurants and retail merchants. Each SSL luminaire will include a speaker.
Amerlux also says that the technology will support other options for dispensing advertising messages. Presumably a city could install dynamic LED-based signs or even video boards on the light poles.
For safety and security, a city can utilize the multimedia capability to broadcast emergency information. For example, cities can link the lights to the Amber Alert Center that's focused on missing children. Amerlux says that cities can also connect security cameras to the network platform.
Other SSL installations
As usual, we have numerous new outdoor SSL projects making news. The Bozeman Daily Chronicle is reporting that Bozeman, Montana will test LED street lights this winter. The city has budgeted $8,800 to run a pilot on 12-16 LED lights replacing HPS lamps. The city does face a challenge that many will in terms of a broader deployment. A number of different entities including the city, a utility, and private developers own street lights, and not all will necessarily agree on a broad move to LEDs.
According to the New Streetlights website, Kerman, California and Robertsdale, Alabama are pursuing LED-street-light projects. Kerman will use a $72,000 US Department of Energy (DOE) grant to replace its entire inventory of 718 city-owned lights with LEDs. Robertsdale received a $90,000 DOE grant that will cover installation of 120 LED street lights.
The Central Vermont Public Service (CVPS) and Efficiency Vermont are teaming to promote SSL usage according to the Rutland Herald. Efficiency Vermont established the Municipal Street lighting initiative last year and now CVPS well help proactively push communities to SSL projects with the partners assessing a community's lighting needs and offering incentives.