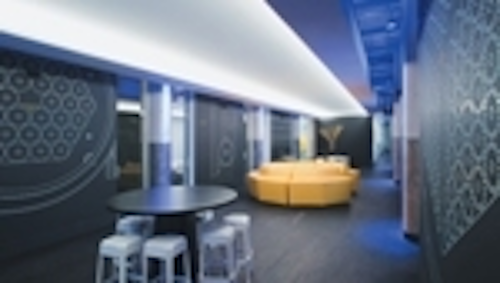 Lumenpulse has opened
a new corporate headquarters
located in Montreal, Canada, to accommodate the company's recent expansion. Located near Montreal's Lachine canal, the facility combines a 45,000-square-foot manufacturing facility with 20,000-square feet of adjoining office space. The office is custom designed and incorporates the company's architectural LED lighting fixtures.
Lumenpulse expects to more than double its number of employees (112% increase) over the next twelve months.
"The new corporate headquarters exemplifies what Lumenpulse is all about - innovation, performance, and the future evolution of light," said Francois-Xavier Souvay, President, CEO and founder of Lumenpulse.
In related news, Lumenpulse has opened a new EMEA (Europe, Middle East and Asia-Pacific) Sales Headquarters based in London, UK, which will begin operations immediately.
Nexxus offers factory-direct pricing on retrofit lamps
Charlotte, NC-based Nexxus Lighting has announced it will market its replacement lamps directly to commercial customers via its web portal, www.arrayleddirect.com. The move is designed to bring factory-direct pricing to commercial customers of Array-brand LED replacement lamps, including ESCOs, lighting maintenance contractors, facility and property managers.
The portal also features services and support including new cost-saving tools and ROI calculators. The portal will begin selling products on December 14, but pre-registration is open now.
"We developed ArrayLEDdirect.com to create a new business model for selling and expanding the adoption of LED light bulbs for the commercial market," said Mike Bauer, President and CEO of Nexxus Lighting.
Kingsun completes initial public offering
Dongguan, China-based Kingsun Optoelectronics Co Ltd has completed its IPO of 46.85 million shares, which accounts for 25% of its total issued capital stock of 187 million shares. It is listed on the Shenzhen security exchange with the symbol kingsun and code 002638.
Kingsun manufactures indoor and outdoor LED lighting products, including LED street lights and tunnel lights, solar LED street light, LED flood lights, LED high-bay lights, and LED replacement lamps. In 2010, the company's operating income reached 552 million yuan ($86.7 million) with a net profit of 80.89 million yuan ($12.7 million).
In recent months, Kingsun installed over 10,000 SSL luminaires along highways in the city of Shenzhen, China. The installation spanned a 120-km stretch of expressway and included new pole-mounted roadway lights and tunnel lights.
Arima Changzhi orders six Aixtron MOCVD systems
Aixtron SE, the German-based manufacturer of MOCVD tools for LED manufacturing, has announced that Arima Changzhi placed an order for six MOCVD systems. Arima Changzhi is a joint-venture involving Arima Optoelectronics Corp. (AOC), the Taoyuan, Taiwan-based maker of epitaxial wafers and LEDs, and the Changzhi High Tech Industry Investment Company of China.
Arima Changzhi has ordered six AIX 2800G4 HT MOCVD systems, three with a 42x2-inch wafer configuration and three with an 11x4-inch wafer configuration, all of which will be used to produce HB-LEDs.