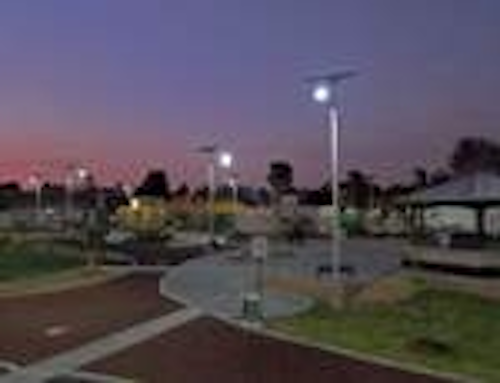 Carmanah Technologies has discontinued what had been an exclusive agreement with Ruud Lighting (A Cree Lighting subsidiary) to sell BetaLED solid-state-lighting (SSL) products with Carmanah's solar-power products. Acuity is using its Granville, Ohio campus to demonstrate a broad range of LED-based outdoor lighting products and adaptive control technologies. Sacramento, California is progressing on a major LED lighting retrofit to parking garages, while New Brunswick, Canada is testing LED street lights.
Carmanah does plan to continue working with Ruud and supplying BetaLED products on a non-exclusive basis. But the company said the availability of other "world-class luminaires" would complement its solar-power engines including the EverGEN 30, 1500, and 1700 families. The expiring agreement was established in May 2008, pairing Carmanah's stand-alone solar engines with BetaLED luminaires.
"The high-quality luminaires and leading-edge technologies that Ruud Lighting develops complement Carmanah's innovative and versatile stand-alone solar power systems, and we look forward to continuing to work with Ruud Lighting as we foster increased adoption of solar powered lighting," said Carmanah CEO Bruce Cousins. "We also look forward to investigating new supply opportunities for Carmanah as the market for solar powered outdoor illumination continues to grow in the future."
Acuity outdoor demonstration
Acuity, meanwhile, has utilized its campus located in Granville, Ohio to install dozens of outdoor-lighting products in application scenarios such as walkways, parking lots, and streets that are typical of actual deployments. Called the Night Time Demo by Holophane, the installation includes LED-based lighting, adaptive-control technologies including dimming, and the use of the company's Roam wireless network to connect every fixture in the demo.
"In many cases, an instantaneous comparison of systems can be viewed. For example, a comparison of a road lit with luminaires using an LED light source and the same road lit with luminaires using a high-pressure-sodium light source can be made at several viewing stations," said Greg Subisak, director of lighting education for the Granville facility. "It is an extremely efficient and productive way to experience outdoor-lighting technologies in real applications."
The demo allows specifying engineers architects, lighting designers and other customers to experience color temperatures ranging from 2000K-6000K. And about the Roam element, Subisak said, "This allows us to show how luminaires can be grouped and turned on/off and dimmed with the use of a tablet computer wirelessly connected to the Internet and the Roam network operations center."
Sacramento parking garage
In the area of outdoor SSL deployments, the city of Sacramento, California has completed the installation of LED lighting in five of eight city-owned parking garages according to the Sacramento Press. The remaining three garages will be retrofitted by February. The city projects that in total the project will save $1.1 million in energy and maintenance costs over 11 years.
The city also believes the LED lighting is superior to the fluorescent fixtures being replaced in terms of quality. Indeed the local police department lauded safety benefits of the improved lighting.
The total cost of the project is $1.3 million. But the city received utility incentives and federal and state grants to cover the cost of the SSL installation.
New Brunswick considers LEDs
In the Canadian province of New Brunswick, NB power maintains 13,500 street lights including 13,500 in the city of Moncton and the city and utility are testing LED street lights according to the Times & Transcript. Moreover, the experience is illustrative of the dilemma that street-light owners face when considering a transition to LEDs.
The city has documented savings as high as 45%. That may are may not justify the cost of LED lights which the city has projected at 5 times more than legacy lights. But the city and utility have other concerns that center around the fact that there are so many different companies building LED street lights and each is a proprietary design. In contrast, their legacy high-pressure-sodium lights all use the same lamps regardless of the fixture manufacturer. And the city has considered moving to LEDs on a fixture-by-fixture basis as existing lamps burn out, but is reluctant to do so because of the vast difference in color temperature.