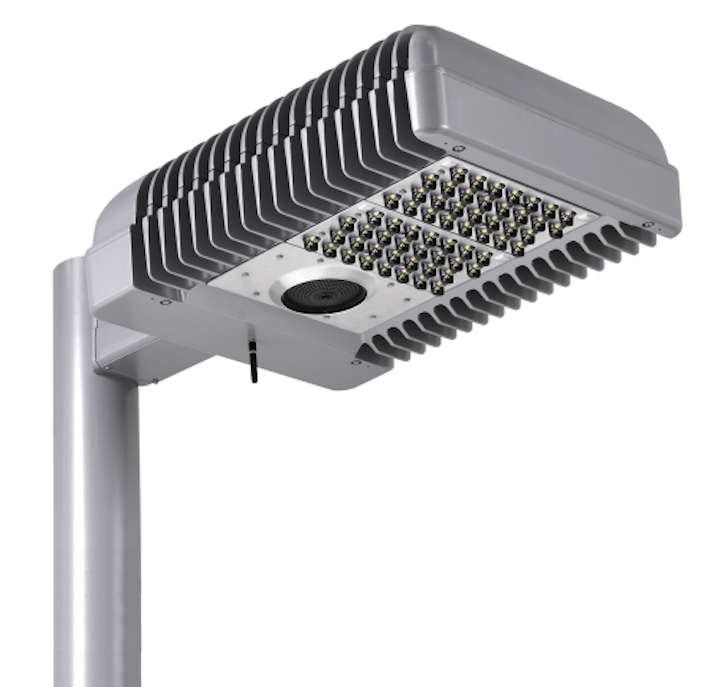 GE Lighting announces new connected outdoor SSL projects while Spaulding launches surveillance features for street lights and US Architectural Lighting expands its sleek offerings.
GE Lighting has announced outdoor solid-state lighting (SSL) projects with the cities of San Diego, CA and Jacksonville, FL with a smart-city focus that relies on the addition of sensors to connected LED based street lights. Hubbell Lighting's Spaulding brand has announced a new LED-based outdoor lighting fixture with integrated network communications and security surveillance features. In the sleek design area, US Architectural Lighting has expanded the low-profile Razar family of outdoor lighting products with a 120-LED model that delivers 36,000 lm.
Connected cities
The GE Lighting projects are both based on the company's LightGrid technology. The company first discussed LightGrid back in 2013 at LightFair International. The system utilizes wireless-mesh networking technology based on the IEEE 802.15.4 physical layer along with the 6LoWPAN (IPv6 over low-power wireless personal area network). The wireless nodes can be added to nearly any street light via the standard NEMA connector developed for photocells.
GE had previously disclosed the San Diego outdoor lighting project where LightGrid has already been deployed on more than 3000 street lights in the downtown area. Our sister publication Lux covered the project. GE said at the time that San Diego was the first major partner on a LightGrid-based project.
Now, San Diego is adding sensors to the light poles that will also communicate via LightGrid and that will be utilized to streamline parking in the downtown area. "San Diego has proven that intelligent infrastructure saves energy and taxpayer money," said San Diego Mayor Kevin Faulconer. "We believe that this collaboration will help us go further in creating truly intelligent infrastructure that helps us improve services to the public."
In the case of Jacksonville, the city will be the second GE LightGrid partner and the city will conduct a trial of the outdoor lighting and controls this upcoming summer. "Jacksonville is excited to be on the front lines with this pilot project, using new technology to increase efficiency and drive innovation, at no cost to taxpayers," said Alvin Brown, Mayor of Jacksonville. "This is another example of how public-private partnerships can drive innovation and provide a return on investment for our taxpayers. This technology has the potential to transform how our city solves problems by allowing us to use the power of data to drive outcomes that give us flexibility, efficiency, and new, creative actions to enhance life in our city."
New outdoor luminaires
Moving to the outdoor lighting product space, the new Spaulding Cimarron SSL fixture includes Ethernet connectivity and a 360° hemispheric camera that can be leveraged for security applications. Moreover, the fixture can take on more than a passive role. It can capture data but it can also serve as a deterrent by flashing lights based on what Spaulding calls an Active Deterrence feature.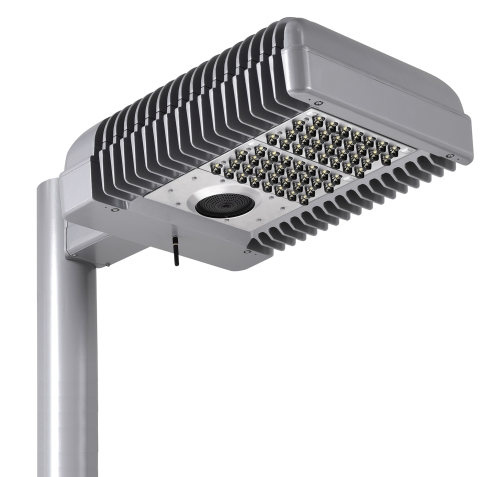 Outdoor lighting: Connected cities, new LED fixtures, and surveillance services
"The combination of our award-winning Spaulding Lighting Cimarron LED fixture, and the Totus state-of-the-art surveillance and communications technology, offers customers the perfect energy-efficient, safety, and security solution to meet their outdoor site lighting and security needs," said Richard Abernethy, vice president of brand management at Hubbell Outdoor Lighting.
Spaulding will offer the Totus options across the Cimarron outdoor lighting family and lumen packages ranging from 8000–14,000 lm. The LED-based fixtures deliver 70% baseline energy savings over incumbent technologies. The products are available over the 3000K–5000K-CCT range.
Still, not all new developments in outdoor lighting fixtures are network related. Indeed, US Architectural Lighting has targeted a sleek design with its new Razar G fixture. Some models in the family are low profile, measuring as little as 2.5-in. deep. The new Razar G product is 7-in. high but also supports output up to 36,000 lm in larger 400W fixtures.