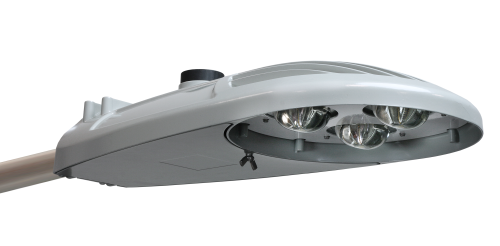 Large glass optics deliver all of the requisite street- and area-lighting beam patterns for new Autobahn LED roadway luminaires from American Electric Lighting.
Acuity Brands has announced the Autobahn ATBM LED roadway luminaire from the company's American Electric Lighting (AEL) business unit. The new design eschews the many smaller LEDs and total internal reflection (TIR) optics that are typically used in outdoor lighting and instead employs larger LED sources and glass optics.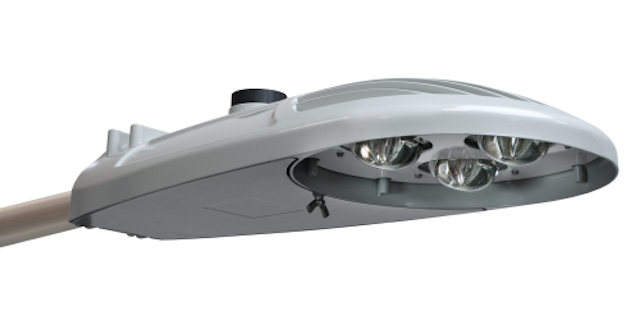 Acuity moves to larger LED sources in new Autobahn LED roadway luminaire
Acuity chose to tout the simplified and sleek design of the new Autobahn LED roadway luminaire family, especially relative to the HID fixtures that it might replace. The company said that the new luminaires weigh considerably less than 150W to 250W high-intensity discharge (HID) cobrahead units and have a much lower effective projected area (EPA) that is critical in determining mounting load and wind resistance. Basically, the new products can easily replace existing luminaires installed on mounting arms while looking more stylish at the same time.
But the more interesting angle is how Acuity simplified and shrunk the LED roadway luminaire design. The answer is through using fewer larger sources. The most common outdoor luminaire designs use a relatively large number of small LEDs. Part of the reason why is the need to form a desired beam pattern.
Smaller sources have generally meant smaller TIR optics and a more precise beam. But increasingly, companies have moved toward larger sources to simplify the luminaire design. Cree, for example, transitioned to larger sources in some products back in 2012. Since then, optics vendors have used new materials to deliver optics for even larger LEDs including chip-on-board LEDs.

The new Acuity design can deliver 7000–17,400 lm and apparently uses only three larger LED sources to deliver the lumen package. Earlier versions of the similar ATBS family had a single source but topped out in the 6,000-lm range. The new design with multiple sources can deliver all of the beam patterns typically used in street-light applications including the Type 1–5 patterns in the old IES (Illuminating Engineering Society) RP-8 specification.
"The robust IP66 rated borosilicate glass optics ensure longevity and minimize dirt depreciation to minimize maintenance and ensure greater peace of mind," said Scott Posey, director roadway and security products at Acuity. "The luminaires operate seamlessly with advanced Acuity Brands controls – including ROAM smart controls – to maximize operating savings and enhance monitoring and reporting."
Other features of the new LED roadway luminaire include a wildlife shield cast into the housing. No tools are required for entry into the enclosure. Acuity rates the products for 100,000 hours of life. The luminaire design features zero uplight and controls backlight to levels needed for applications such as lighting a sidewalk.