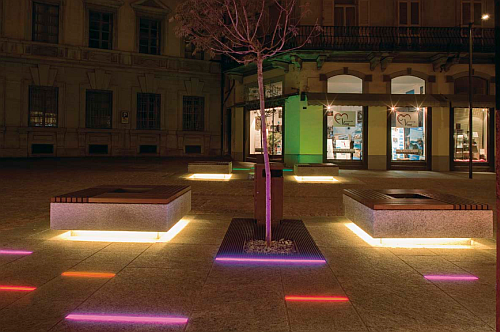 The Ticino capital will be more inviting at night for tourists and residents visiting shops and restaurants along the Viale Stazione.
Italy-based B Light has announced an outdoor LED lighting project along the Viale Stazione in Bellinzona, Switzerland. New solid-state lighting (SSL) hidden under benches and recessed in the stone street-side walkways is meant to highlight the architecture and invite nighttime visitors to linger and meander up and down the street that connects the train station and city center.
Interested in more articles & announcements on LED lighting?

Bellinzona is the capital of the Swiss Canton of Ticino. The city is home to three medieval castles that are listed as world heritage sites by UNESCO (United Nations Educational, Scientific and Cultural Organization). Indeed, LED lighting has proven popular in such UNESCO sites because the fixtures have minimal footprints and can deliver subtle lighting effects such as with the walls of Rabat in Morocco. Moreover, controllable SSL beams ensure minimal light trespass and little impact on the surrounding environment as we reported on a Durham, UK project.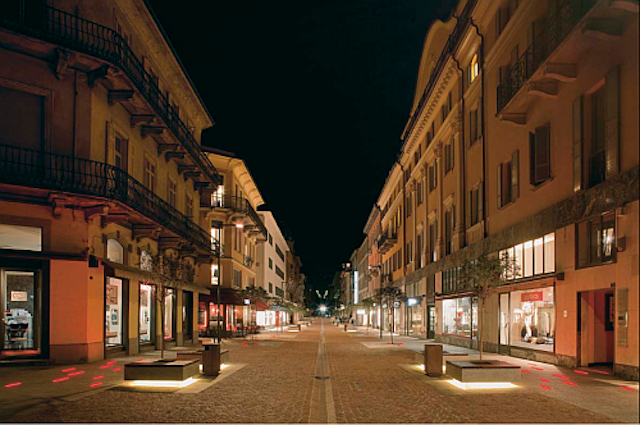 In the Bellinzona project, the LED luminaires were installed on the central Viale Stazione thoroughfare that is home to restaurants, shops, and galleries. The street was also already home to a well-known and -attended weekly outdoor market in the daytime, but the City of Bellinzona Public Works Department sought to create a more welcoming environment at night. The goal was lighting that was functional but that also created an emotional engagement with visitors. In our upcoming feature article on the Street and Area Lighting Conference, we discuss just such lighting designs in public spaces.
The new LED lighting was designed to highlight the architectural features of the street including trees, benches, and stone walkways. B Light Linear Tube 112 Slim luminaires were installed under benches in a way that is intended to make the benches float in space. Meanwhile, Inserto DO (Drive Over) linear marker lights were installed recessed in the walkways and below trees.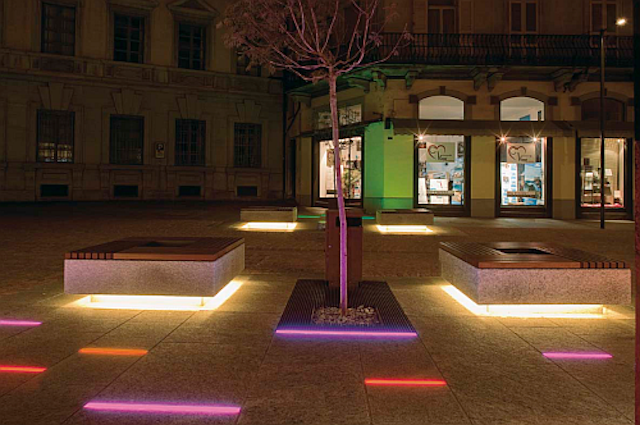 B Light supplies enticing LED lighting to medieval Bellinzona, Switzerland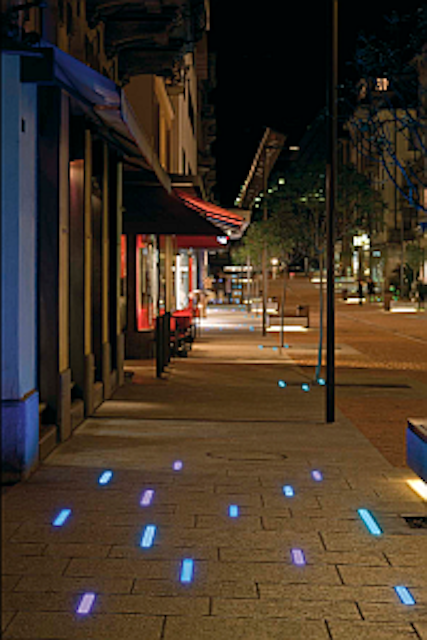 All of the SSL products in the new project can be controlled via a DMX system. The white lighting below the benches can be dimmed while the marker lights can be set to different colors as the nearby photos illustrate. The city said the marker lights create a "luminous carpet effect."
The city will utilize the programmable system to create what it calls luminous sets. The lighting will be varied based on the time of year and customized for holidays and other events. The public works department believes that the project will benefit the citizens via new commercial and social activities while adding safety.