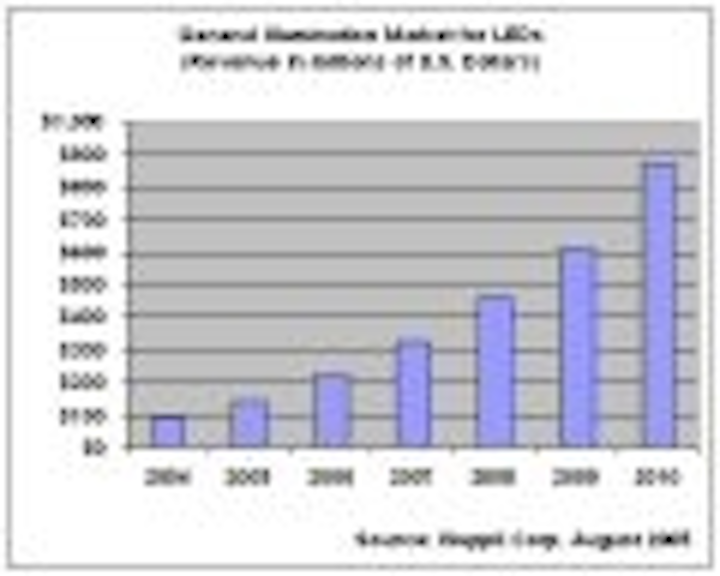 LEDs will not achieve significant use in general-illumination applications until 2010, according to iSuppli Corp., a market research firm.
The market for LEDs for general illumination applications will expand to $875 million in 2010, rising at a compound annual growth rate (CAGR) of 52.3 percent from $94 million in 2004, iSuppli predicts (see graph). General illumination is defined as the interior and exterior lighting of homes, enterprises and public venues.
While the long-term outlook for the overall LED market is bright, sales growth is decelerating in 2005 as existing applications expand at a slower rate. Following 26 percent growth in 2004, LED sales in 2005 will rise by only 11 percent to reach $5.2 billion.
"New suppliers in Taiwan, China and South Korea have entered the LED manufacturing and packaging supply chain, and they are aggressively eroding average selling prices as they compete for market share," said Jagdish Rebello, principal analyst for iSuppli.
"Furthermore, growth in the single dominant application for high-brightness (HB) LEDs - the backlighting of LCD displays in mobile phones - is beginning to slow as shipments of wireless handsets begin to decelerate. Finally, many of the new lighting applications for the next generation of ultra high brightness (UHB) LEDs have not been commercialized yet, slowing near-term growth."
These results are discussed in the new iSuppli report, "Solid State Lighting: Increasing LED Brightness Key to Expanding Illumination Markets".
General illumination
Driven by the rising availability of new HB and UHB products, LEDs are beginning to find limited use in general-illumination applications now dominated by incandescent and fluorescent light bulbs.
However, at costs at least two orders of magnitude higher than traditional light sources, HB and UHB LEDs presently are far too expensive to achieve widespread use in general illumination – but this situation is changing.
"For most highest-brightness LEDs, upfront costs are too high and brightness is too low to compete effectively with traditional light sources," said Rebello. "But companies like Lumileds, Nichia and Osram are continuing to advance the capabilities of high-brightness LEDs, making them more suitable for use in general illumination."
By 2010, LEDs will have grown to account for a significant portion of the worldwide general illumination market, which amounted to $12 billion in 2004.
"While LEDs will not aggressively penetrate the home and general illumination markets before 2010, clearly the future of most lighting applications belongs to LEDs," Rebello said.
The bulk of LEDs used for general illumination will be UHB parts, which iSuppli defines as products of 20 lumens or more, although some HB-LEDs (providing more than 100 mcd) will be employed as well.