Arc05 show unveils new architectural lighting directions
arc05 provided a showcase for manufacturers of architectural, retail and corporate lighting products, many featuring LEDs.
Mar 1st, 2005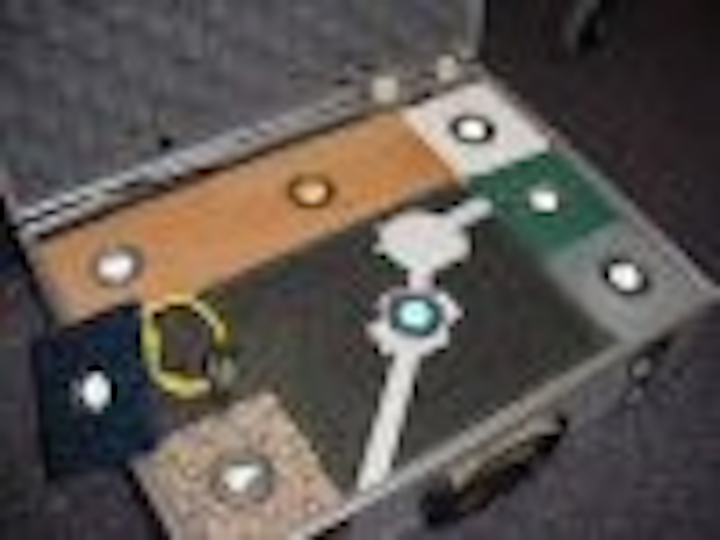 The inaugural arc05 trade show, held in London in mid-February, featured around 70 manufacturers of products for the architectural, retail and corporate lighting sectors. Around 75% of the companies had LED products on their stands, including such names as Pulsar, Tryka, AC/DC Lighting, Artistic License, i-Vision, NJO, Marl, Louis Poulsen and Color Kinetics.
Among the exhibitors was a brand new company, Anolis Lighting, formed as a collaboration between Robe Show Lighting and ULA.
One of the most eye-catching products (forgive the pun) was from
Eyeleds
, which has developed a range of LED marker lights (see photo) specifically designed to be integrated into all types of flooring. The key feature of these lights is their ultra-flat construction, with a recess depth of only 6.5 mm.
The circular lights contain 3 SMD devices, and square fixtures containing 4 LEDs are also available. The company, based in the Netherlands, says that the Eyeleds are dust-proof and water resistant, with an IP67 rating, and have a solid walk-over construction capable of handling loads of up to 285 kg.
Optiled
featured a number of interesting products including a new Festival S11
pseudo-filament lamp
and also the HIVE S-7 Modular Optical Array (see photo).
Each hexagonal High Intensity Vorticular Enclosure (HIVE) contains three high-power LEDs, one in each primary color. The units have a simple slot-in design and can be assembled into a variety of shapes and sizes, with each unit passing power and data to the other units. In the event of failure a single module can be replaced.
The S-7 unit contains 7 HIVE modules within a water-resistant housing, and creates a beam of light that can be shaped with any of six diffusion optics.
White LEDs
Tridonic.Atco introduced its powerLED range of white LEDs, available in three colour temperatures of warm white (3000 K), neutral white (4200 K) and daylight white (6500 K). The company has developed a manufacturing technique which precisely measures the wavelength of the LED chip and then adds a precise and individual amount of phosphor to ensure colour consistency from device to device. Tridonic claims to be the only manufacturer to calculate the phosphor dosing for each individual LED, and says that different batches of LEDs are guaranteed to offer the same colour temperature, so there is no need for customers to keep a record of bin numbers.
The P212 chain consists of five 18 x 10 mm modules each containing a 1 mm
2
high-power LED, providing 30 lm per module. The P213 spotlight contains three 1 mm
2
high-power LEDs mounted on a 30-mm diameter board and providing a total luminous flux of 90 lm.
Specially developed 8 mm high lenses with beam angles of 10° or 40° can be mounted directly above each individual LED to provide a homogenous white appearance. Tridonic says that the use of metal-core boards has resulted in improved thermal management, and that the lifetime of the products is 30,000 hours.
Track systems
Crescent Lighting
introduced a new miniature track system designed for use in cabinets and display areas. The track has a (patent applied for) click-in system comprising sockets and jack plugs, allowing spotlights to be added at regular intervals along the track as required. The maximum number of spots is determined by the power supply, which provides a constant 350 mA to each LED in series.
Emergencies
ETAP Lighting, a Belgian company known for its range of LED-illuminated exit and safety signs, also showcased its K9 LED module and luminaries.
These single LED products are designed to provide anti-panic lighting and escape route lighting in the event of an emergency. The luminaries are surface-mounted or recessed, while the module is designed to be unobtrusively built into a lighting luminaire.
For anti-panic lighting, a specially shaped lens spreads the light and provides 0.5 lux over an area of 81 m2 from a mounting height of 3 m. For escape route lighting, a reflector in combination with a lens enables 1 lux to be achieved with a spacing of up to 11 m (for the same mounting height).
Exterior lighting
Advanced Fiber Optics
of Barcelona, Spain, exhibited its Lofoten Collection of outdoor lighting products, including square, circular, linear and triangular models. The latter two are designed as in-ground pavers, while the former two can be recessed into surfaces, mounted on surfaces as cubes, or mounted on top of bollards.
The in-ground luminaires feature 2-cm thick glass and can withstand heavy traffic; they also have an IP68 rating. All the luminaires incorporate SMD LEDs and work from a 10 V supply.
More photos