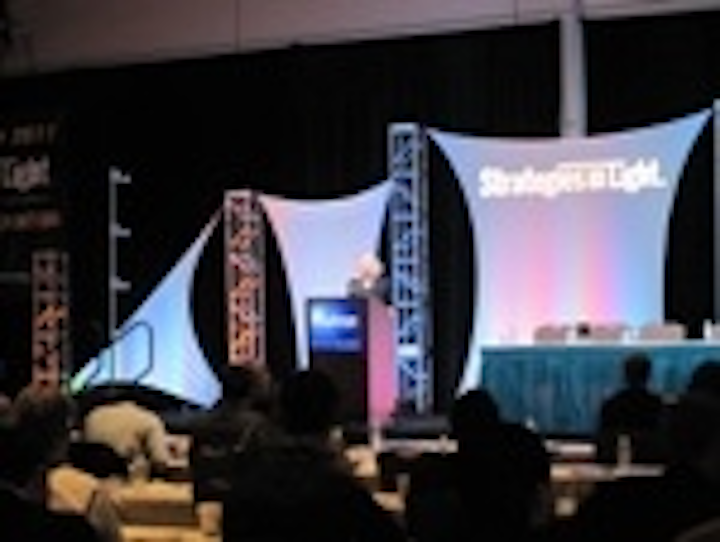 Download the
March issue
of LEDs Magazine (requires FREE subscription).

+++ Cover +++
The US Department of Energy (DOE) took the podium on February 23 at the Strategies in Light conference, and announced the winners in the 2010 Next Generation Luminaires (NGL) competition. For winners, see page 29.

+++ Features +++
MARKETS: HB-LEDs
Backlighting applications drove massive 93% jump in HB-LED market during 2010
Display applications in TVs, monitors and mobile devices will continue to drive the LED market in the next two years, after which solid-state lighting will take over. TIM WHITAKER reports from the Strategies in Light conference.
CONFERENCES: STRATEGIES IN LIGHT
SIL presentations chart LED advancements and application evolution
LED technology has advanced to enable broad applicability, although component makers are still seeking to boost brightness and quality, and potential technology challengers such as OLEDs are lurking, says MAURY WRIGHT in Part 1 of our report from SIL 2011.
DOE SSL WORKSHOP
DOE workshop covers SSL case studies and technology development
LED industry participants gathered in San Diego to hear about the latest applications and enabling technologies, and to help map the DOE's SSL program, says MAURY WRIGHT.


OUTDOOR LIGHTING
Field trials collect performance data for LED outdoor-area lighting
While LED luminaires may be the popular choice for street and area lighting right now, Tom Geist says "show me the data" that proves efficiency and other SSL claims.
THERMAL
LEDs chill out with heat sinks molded from conductive compounds
Thermoplastic compounds featuring conductive fillers can be used to fabricate LED heat sinks that offer high performance and design freedom, explains HANS-OTTO SCHLOTHAUER.
DESIGN FORUM
LED drivers for 3D-TV backlights require extreme accuracy
Implementing a 3D mode in an LED TV increases the demand for current accuracy, peak current range, number of channels, timing speed and accuracy in the LED driver IC, as WERNER SCHÖGLER, MARKUS LUIDOLT and MANFRED PAURITSCH explain.
LAST WORD
LED lighting – embrace the change, seize the opportunity or become irrelevant
The opportunity to make and deliver an SSL product that improves people's lives is here today, says TERRENCE WALSH of TEMPO INDUSTRIES.



+++ Columns/departments +++

COMMENTARY
Market growth drives strategies in lighting

NEWS + VIEWS

LED luminaires show healthy growth
Osram Opto expands LED capacity via 6-inch conversion
Lynk Labs and partners show AC-LED packages
LSG submits 60W L-Prize lamp
UL acquires Lighting Sciences, Inc.
PIDA predicts rapid growth for LED market in Taiwan...and more
FOCUS ON