LEDs Magazine February 2011 issue (MAGAZINE)
The February 2011 issue of LEDs Magazine is now available.
Feb 5th, 2011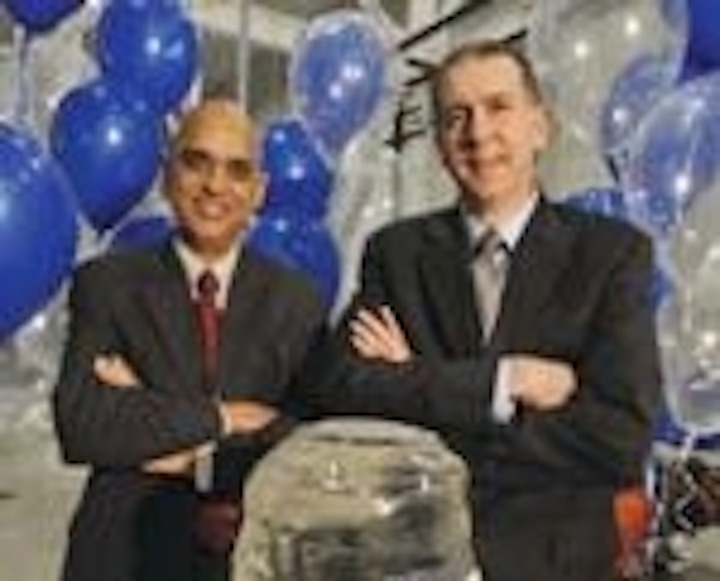 +++ Cover +++
Sapphire wafer growers are adding capacity and LED makers are starting to work with larger wafers (see page 25). Our cover image shows a 10-inch sapphire wafer grown by Monocrystal.

+++ Features +++
OUTDOOR LIGHTING
Application requirements dictate technology choices
A methodology for evaluating lighting-design criteria and cost issues provides lighting professionals with a pathway to make the best outdoor lighting choices, explains RONALD GELTEN.
MATERIALS
Sapphire wafer supply and demand in the balance
Sapphire wafer prices rose sharply during 2010, particularly for 2-inch material, but crystal growers are adding capacity and LED makers are looking at larger wafers. TIM WHITAKER reports.

MANUFACTURING
HB-LED manufacturing and the general lighting market
Technical breakthroughs and manufacturing improvements should keep the LED industry on track to improve performance and reduce costs at an appropriate rate, but this is not a done deal, as ERIC VIREY, PHILIPPE ROUSSEL, PAULA DOE and TOM PEARSALL describe.
LUMINAIRE DESIGN
Sun and symbolism inspire disc-shaped LED spotlight
Harald Gründl of design studio EOOS discusses the design of Zumtobel's LED-based Discus spotlight, the shape of which mimics the sun's rays.
PHOSPHORS
LED phosphor supply affected by China export quotas
LED phosphors typically incorporate rare-earth elements, and manufacturers need to ensure that they have an adequate supply of these critical materials, as TIM WHITAKER reports.

STANDARDS
TM-21 looks at lumen-maintenance prediction
Devising a standardized method to predict the long-term lumen maintenance of packaged LEDs and LED modules is not an easy task, writes JIANZHONG JIAO in his latest column on standards.
CONTROLS
Wireless network enables city-wide street-light control
Municipalities can add a wireless system to LED street-light deployments and implement remote power-monitoring and control functions including dimming, says MAURY WRIGHT.
STREET LIGHTS
LightSavers LED street-light pilot results
A pilot SSL street-light project in Caledon, Canada tested LED luminaires from three manufacturers. Maury Wright describes the generally positive results for illuminance, uniformity, and lumen depreciation after a full year since deployment.
DESIGN FORUM
High LED drive currents with low stack voltages create efficiency challenges
The SSL industry is beginning to do a better job of optimizing the LED components, drive electronics, thermal design, and optical elements of a luminaire according to MATTHEW REYNOLDS, who details the energy-efficiency challenge.
BUSINESS
Mergers and acquisitions will remain a regular feature of the energy-efficient lighting market
The energy-efficient lighting category has experienced a substantial amount of strategic acquisition activity for the past several years, and this trend should continue, according to TRISHA HANSEN and DAVID CUMBERLAND.
LAST WORD
LED lighting begins to mature but must overcome early SSL problems
Like many upstart lighting technologies before it, LED lighting has suffered from broken promises, but quality products are emerging that lighting designers can confidently deploy, says CHIP ISRAEL of LIGHTING DESIGN ALLIANCE.



+++ Columns/departments +++

COMMENTARY
Materials prove critical for LED suppliers

NEWS + VIEWS

Lumileds, Lextar look at6-inch LED wafers
Optogan opens largest LED production plan in Eastern Europe
Cree opens China fab, shares take a tumble
SEMI forms standards committee for HB-LED manufacturing
Instrument Systems wins LG order
Fire hazard causes recall for Eco-Story LED lamps...and more
FUNDING + PROGRAMS

California law begins US phase-out of incandescent lamps
EPA releases final draft of Energy Star Luminaires spec