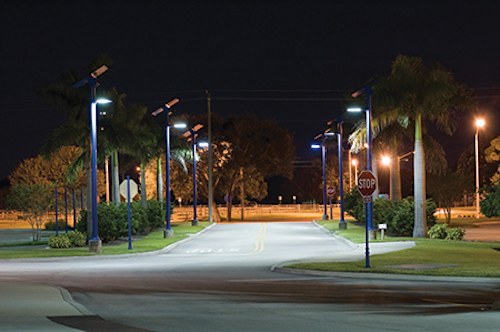 LED efficiency and solar power make a good match in outdoor lighting, writes MATT ELLENBERGER, and companies that deploy such technology convey a message of stewardship to the environment.
In the past decade, society has seen an increased growth in implementing renewable technologies and practices into our day-to-day lives. It has integrated into our society, providing a nuance to everyday things like automobiles, thermostats, and even lighting and controls. On a larger scale, we are seeing geothermal used for large buildings, storm water capturing and recycling, and even solar LED lighting that is not connected to the electrical grid. Indeed, the efficiencies afforded by LEDs have breathed new life into solar as we heard at the Strategies in Light Conference back in February. Here we will examine the benefits and challenges of implementation.
Solar outdoor lighting has set itself apart from other technologies by not only providing essential lighting for our everyday lives but also informing facility occupants and onlookers that sustainability was taken into account in the design of the facility. Solar outdoor lighting communicates as it illuminates, conveying a message about environmental stewardship that redounds to the benefit of companies and organizations, as well as builders, developers, and lighting designers.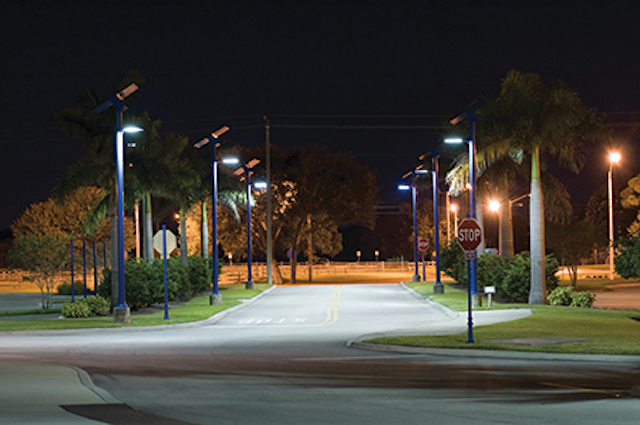 FIG. 1. The entry drive to Brown Center at Indian River State College provides a prominent sustainability message for a building dedicated to the study of such technology.
Thanks to advances in solar panel, battery, and LED technologies, commercial solar outdoor lighting is now more reliable than its grid-tied counterparts, and it provides a higher quality of light for a lower cost. Indeed, the cost of solar outdoor lighting has benefitted from synergies in technological innovation in three key areas:
• Reduced cost of solar panels: In recent years, the cost of photovoltaic panels has dropped precipitously — 60% since early 2011, according to the US Solar Energy Industries Association (SEIA) 2013 Year in Review.
• Improved battery technology: The growth in the hybrid and electric car markets has improved battery technologies and the result is compact, highly efficient, longer-lasting rechargeable batteries.
• Improved LED efficiency: LED lighting is also gaining in efficiency, which translates to more light with less power, or greater efficacy (more lumens per watt), which equates to a reduced cost for the same lighting output.
As a result of these trends, commercial solar outdoor lighting is now more economical than grid-tied options in many situations. These include situations in which the existing electrical infrastructure is remote or nonexistent, such as perimeter security and greenfield construction, or in which there is a reluctance to disturb the existing paving or landscape — i.e., parking lots, roadways, outdoor storage areas, parks and trails, playgrounds, and campuses. In these circumstances, the payback for installing a solar LED lighting system can be achieved immediately by avoiding the costs of trenching, wiring, and other electrical and utility expenses associated with the installation of a new grid-tied lighting system. Plus, with solar LED lights there is no electricity bill over the more than 25-year life of the system, offering savings for decades to come.
For many companies and organizations that choose solar LED lighting, however, the cost savings are often secondary to the public relations advantages of powering lights with a green source of energy. Because commercial solar outdoor lights do not use fossil fuels and produce no CO2 emissions, they provide a visible statement of a commitment to the protection of the environment and to national energy security.
Many companies and organizations employ commercial solar outdoor lighting to meet sustainability goals that can be measured by the Institute for Sustainable Infrastructure (ISI) rating system, which provides a framework for evaluating the community, environmental, and economic benefits of infrastructure projects. Solar LED lights can also be used to satisfy building-specific sustainability goals, to meet corporate social responsibility (CSR) goals, or to earn points under the US Green Building Council's LEED (Leadership in Energy and Environmental Design) program. With solar LED lighting, each light becomes a mini-advertisement for environmental responsibility, achieving a level of communication that can't be achieved with traditional marketing tools because it expresses the commitment through actions, not words.
Designing a sustainable system
While there are technical issues to sort out in considering commercial solar outdoor lighting systems, the design of a system boils down to three considerations:
• How much light is needed?
• How much solar energy can be collected?
• When is the lighting needed?
With regard to the first question, many companies, organizations, and governments are surprised at the clear, crisp, high-quality light provided by the high-flux LEDs that are used in solar outdoor lighting applications. In addition, new LED technologies allow for enhanced control options, a dramatic reduction in spill and glare, and more effective lighting distributions. For instance, traditional commercial outdoor lighting such as high-pressure sodium (HPS) or metal halide (MH) creates a pattern of light directly under the luminaire, while LEDs can be configured to throw light in a broader, more even pattern that creates an uninterrupted flow of light along a road or pathway, as well as allowing for maximum pole spacing, which reduces costs.
With regard to the "how much solar energy" question, the potential volume of solar energy is measured in "equivalent sun hours." One hour of maximum (or 100%) sunshine received by a solar panel equals one full sun hour. Despite the fact that the sun at a particular location may be above the horizon for 14 hours a day, the amount of full sun may be as little as six hours a day due to the angle of the sunlight and the amount lost in the atmosphere. In order for a system to meet performance expectations, it is critical to base the design on the lowest number of sun hours available. For this reason, solar LED lights are often designed for each specific project. However, because commercial solar outdoor lighting typically has enough battery power to supply light for at least five nights without a single ray of sunshine, solar lighting systems are able to operate efficiently in all sun environments.
The final element is to define how a lighting system will be controlled. Unlike traditional commercial outdoor lighting, LEDs provide much more flexibility in terms of controls. In addition to allowing for the implementation of on/off schedules, LEDs also allow for the dimming of lights when a facility is not in use, as well as the use of motion sensors to turn the lights off (or dim them from high to low) when no one is present.
These elements affect the sizing of the solar panels, batteries, light fixtures, and the number of poles needed — and therefore the cost. Investing the time to understand the specific needs of the site, as well as any local ordinances that may apply, can save dramatically on design costs. To ensure that you design a system that performs according to expectations, it is wise to seek the advice of a lighting consultant or an experienced solar lighting manufacturer.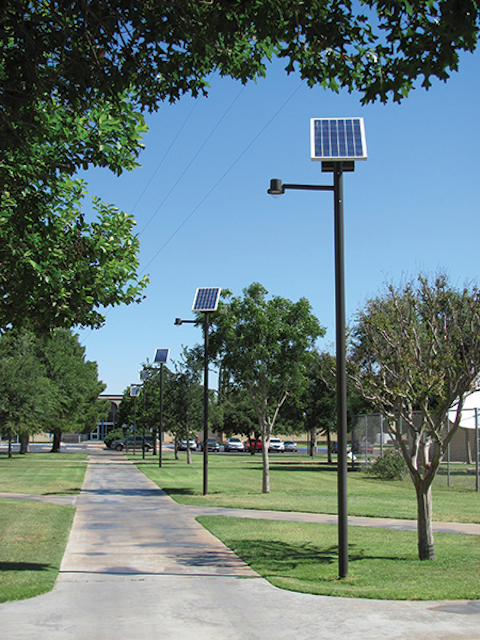 FIG. 2. Odessa College was able to save 20% on upfront installation costs for its LED lighting, attributable to the use of solar power.
Shining a light on public spaces
The best parks, trails, and playgrounds in our communities are those that residents will use and enjoy because they are designed to be functional, aesthetically pleasing, and safe. Solar outdoor lighting provides increased security in the form of an attractive, easy-to-install system, while also showcasing innovative technologies that cut costs and environmental impacts. Let's discuss some projects that deliver on such criteria.
Sol, Inc worked with the town of Discovery Bay, CA, to design and deploy solar LED lighting for Cornell Park. The residents chose solar over traditional grid-tied lighting because of the environmental benefits and the low upfront cost. The solar LED lights produce zero greenhouse gas emissions and cost less than half the price that grid-tied lights would have cost, specifically the infrastructure costs. The lighting installation saved the town more than $80,000 in upfront installation costs alone. In addition, the town will receive no electricity bills during the 25-year-plus lifespan of the systems.
Operations and maintenance costs are also low since the LED luminaires can last up to 10–20 years, saving on the cost of the replacement bulbs required for traditional commercial outdoor lighting, as well as the labor to replace them. As a result of its positive experience in Cornell Park, Discovery Bay is now exploring commercial solar outdoor lighting for its new community center.
Pioneering sustainability on campus
Some colleges and universities are becoming more environmentally minded by adopting low-carbon products and sustainable practices. Leading by example, these institutions are choosing strategies to cut their carbon footprints, heightening awareness of the need to preserve the environment among students and alumni, and providing material for courses in sustainability.
Specifically, colleges are increasingly taking advantage of commercial solar outdoor lighting as a low-cost, sustainable solution for campus lighting needs. By implementing solar lighting, college administrators can reduce energy consumption, carbon emissions, and their institutions' effects on global warming without the high costs that are often associated with the sustainably responsible choice.
When Indian River State College in Fort Pierce, FL, an 87-acre campus with more than 17,000 students, was building its new Brown Center for Innovation and Entrepreneurship in 2012, the college required that the design reflect the building's dual mission of preparing students for careers in emerging technologies, particularly in energy-related fields, and of housing startups striving to create jobs in these industries.
The design of the Brown Center, which was built to silver LEED standards, has many green features, including a solar farm that generates a third of its power. However, a cost-effective green lighting solution was still needed for the prominent entry drive that serves as an introduction to the facility. To meet this need, the college used Sol's 20/20 solar LED lighting systems, allowing the center to maintain its green message inside and out and students to experience the real-world applications of the energy technologies they are studying (Fig. 1).
Although Sol donated the Brown Center's solar LED lighting systems because of its unique mission, most colleges pursue the purchase of solar lights as a cost-effective, pioneering, and green alternative to traditional outdoor lighting.
Odessa College and New Jersey City University
Odessa College in Odessa, TX, chose to install solar LED lighting instead of traditional grid-tied lights to ensure the safety of students and staff walking to and from classes across a sprawling campus (Fig. 2). By avoiding the wiring and trenching costs associated with the installation of traditional grid-tied lights, Odessa was able to save a significant 20% on upfront costs, as well as $8,000 per year in electricity costs.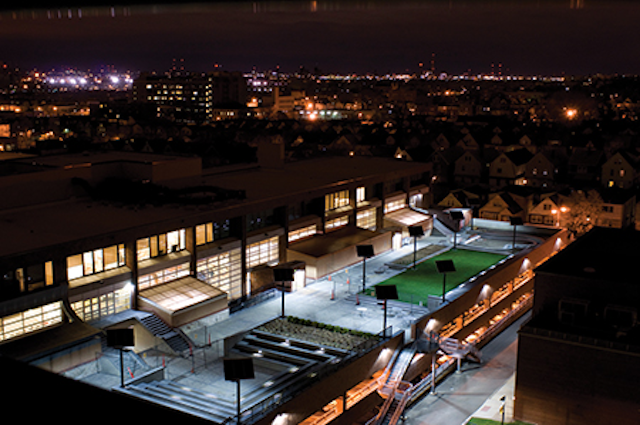 FIG. 3. New Jersey City University installed solar-powered LED lighting on the terrace of its student union building and expects the lighting to function throughout events such as hurricanes.
New Jersey City University in Jersey City, NJ, used commercial solar outdoor lighting on the terrace of its new student union to help meet campus sustainability goals (Fig. 3). An added appeal is that solar LED lights will continue to function during severe weather events such as hurricanes. Hurricane Sandy, for example, caused extensive power outages at the university in 2012. The ability to continue to shine through blackouts or brownouts caused by storms or grid malfunction is a big advantage at a time when severe weather events and grid instability are on the increase.
The technology trends that have made commercial solar outdoor lighting an economically viable alternative to grid-tied lighting in many applications will continue to accelerate in years to come, making solar increasingly economical even in situations in which grid-tied lighting would now be the most cost-effective choice. We anticipate that the time will soon be upon us when solar outdoor lighting will be the norm, lighting up the night with high-quality, clean, renewable power.
---
MATT ELLENBERGER is vice president of sales and marketing for Sol, Inc (matt.ellenberger@solarlighting.com).