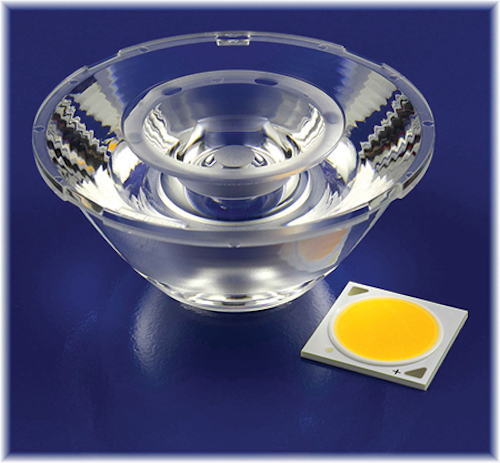 Secondary and sometimes tertiary optics ultimately dictate the photometric performance of solid-state lighting (SSL) lamps and luminaires. LEDs deliver a relatively broad beam that requires shaping to place light where it's required in certain applications. For example, directional spotlights need a very narrow beam while street lights need to cover a broad area, perhaps with a rectangular pattern. To understand more about the ways optics can be applied, review our recent feature article on the topic. Indeed, lenses and reflectors can be used separately or together in advanced lamp and luminaire designs. Moreover, optical component designs must adapt to changes in the LED space - for example, in cases where the size of the light-emitting surface (LES) grows with the proliferation of chip-on-board (COB) LEDs. Let's review some of the latest product announcements from optics vendors, including quite a few products designed specifically for COB LEDs. — MAURY WRIGHT
Multi-TIR nested lens from Fraen
The larger LES that accompanies COB LEDs presents unique problems. In many cases, the industry has relied on total internal reflection (TIR) lenses to deliver a precise beam pattern in applications such as outdoor area lighting and high-bay luminaires. But TIR lenses grow quickly in size with the larger size of the LEDs and have been thought to be more appropriate for smaller point sources, as we discussed in a feature article on beam patterns. To overcome the challenges of a larger LES, Fraen turned to a lens design that has dual TIR elements with an air gap between the two that creates multiple TIR surfaces. The result is mitigation of the etendue effect, at least in terms of the height of the optics. Lamps or luminaires that use the lens will be lower in profile than reflector-based optical designs and deliver better beam control, according to the company.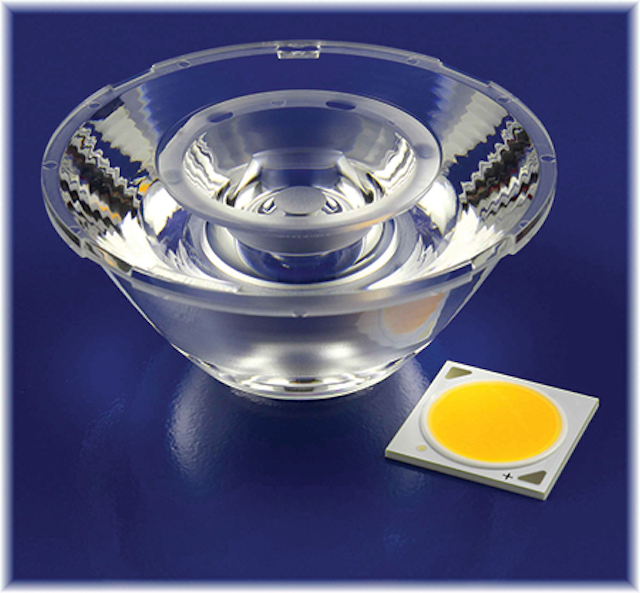 Jupiter LED reflector lens from Auer Lighting
In many lamp or luminaire designs, such as in directional products, the need arises for both reflectors and lenses, especially with larger COB LED sources. In most cases those optical elements are separate products, but Auer Lighting has developed what it calls hybrid optics that integrate both reflector and lens elements. Learn more about the approach in a recent feature article on optics. The Jupiter lens from Auer is designed for directional applications and for use with an LED such as the Cree CXA 1512 with a 9-mm LES. With such an LED, the lens can deliver a 7.5° beam pattern and center beam candle power (CBCP) of 28,000 cd.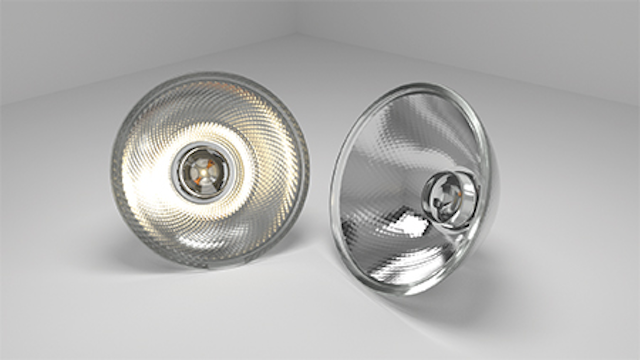 Kristall COB TIR lens from Khatod
Khatod has perhaps the broadest series of COB LED lenses including the Kristall family, which includes TIR models that will work with LEDs from Philips Lumileds, Citizen, Seoul Semiconductor, Cree, Osram, and Bridgelux. The lenses are made from either PMMA (polymethyl methacrylate) or PC (polycarbonate) depending on the beam spread and the LED in question. Most of the products, identified by the LED family for which they were designed, are available in narrow, medium, and wide beam spreads. The narrow designs are baseline TIR lenses, while the medium and wide products include a diffuser tertiary lens with its own optical elements embedded to deliver the desired spread. The lenses offer 85% efficiency and generally are compatible with Zhaga Consortium books in terms of the LED sizes for which they are designed and the mounting options.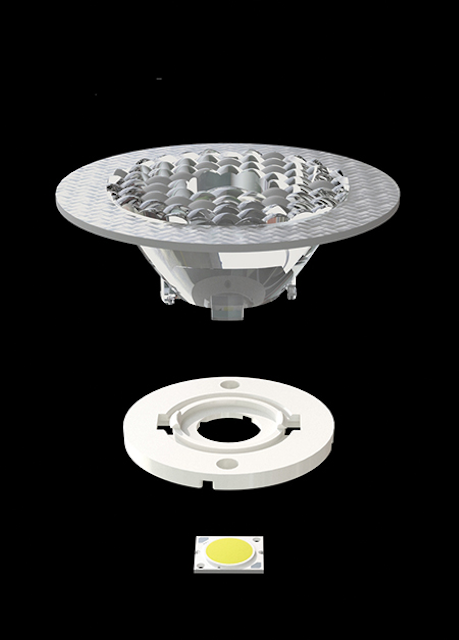 Jenny silicone COB LED lens from LEDiL
Designed for COB LEDs at the smaller end of the technology sector in terms of LES, the Jenny lens offers developers flexibility in that manufacturer LEDiL delivers the lenses in a 1×8 array that can be used as a one-piece module or separated into smaller sizes. The individual TIR lenses measure 35×35 mm and for now deliver a symmetrical beam. The company has said that it will deliver more beam pattern options in future members of the family. The lenses are manufactured using silicone material, and we will discuss materials more later in this article. For the Jenny product, however, the construction delivers optical efficiency of 94%. Installation in a luminaire using glue or a mechanical holder will protect the LEDs from water or dust ingress.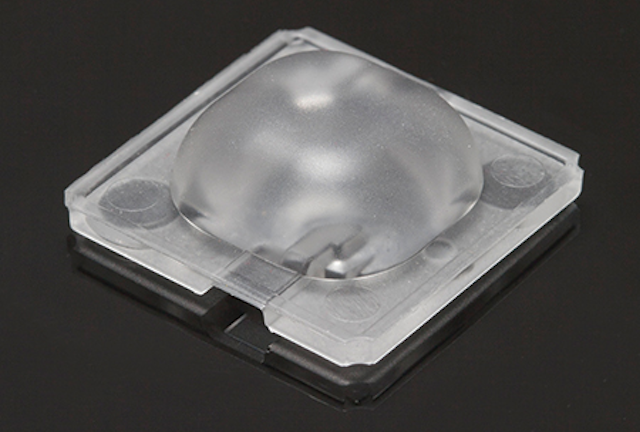 Mid Power array by Carclo Optics
At the other end of the spectrum from COB LEDs we have mid-power packaged LEDs finding increasing usage, especially in linear-type applications where more LEDs are used, with each delivering less light than a high-power LED would generate. Carclo designed its Mid Power array optic for just such applications. The product integrates 84 TIR lenses, each of which is meant to cover an industry-standard 5630 (5.6×3.0-mm) LED. Generally, mid-power LEDs haven't been used in outdoor applications, but the Carclo product is designed for street- and area-lighting applications. Indoor linear products wouldn't typically use a lens to control the beam because the broader beam pattern native to the LED package is preferred.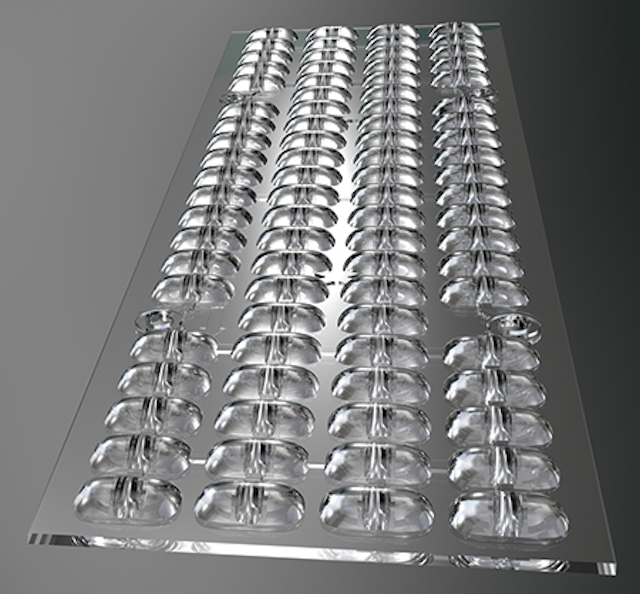 F3S Streetlight optic from Fraen
Street-light and other outdoor area-lighting applications are unique in that a broad beam is required yet the optics must deliver a beam with specified boundaries to minimize spill light. For example, streetlights may be specified such that there is no or minimal light delivered behind the pole, whereas the rectangular beam needs to cover a large area longitudinally along the roadway. TIR lenses are the most common approach to street- and area-target luminaires. Early LED designs used individual lenses mounted over each LED in a luminaire. But it's much simpler to manufacture a luminaire when the optics can be applied in a larger form factor with multiple TIR lenses embedded in an optical array. Fraen took such an approach in the FS3 Streetlight series that includes a 2×6 array. The multi-lens modules are offered in versions that can deliver on multiple beam patterns. The IES (Illuminating Engineering Society) is moving from the legacy IES Type classification for beam patterns in the latest RP-8 document for roadway lighting, albeit the industry still widely uses the old classifications. The F3S is available in Type I, II, and III distributions. Moreover, the optics can be used with many LED types including Cree XT-E, XP-E, XP-E2, XP-G, and XP-G2; Philips Lumileds Luxeon R, Rebel, and Rebel ES; Seoul Semiconductor Z5P and Z5M; and Osram Opto Semiconductors Oslon SSL 150 and Oslon Square.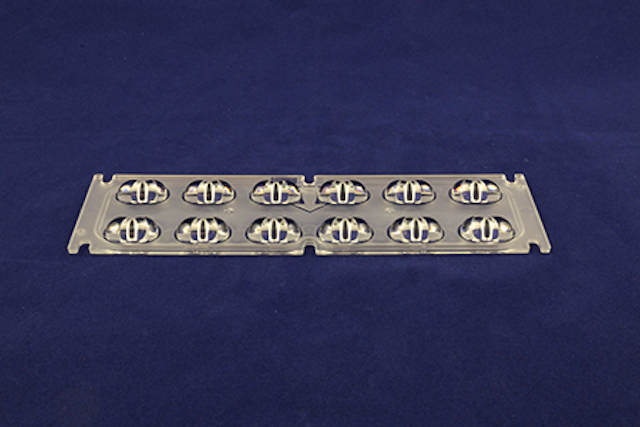 Strada-2×2 asymmetric optic from LEDiL
Moving beyond the beam patterns defined by the IES, LEDiL has a new TIR product family in a 2×2 array that works with discrete LEDs and generates an asymmetric beam pattern. The Strada-2×2 product is designed for applications such as pedestrian crosswalks where the photometric requirements include safe lighting for pedestrians but also minimal glare that might distract drivers. The asymmetric distribution implies that drivers approaching a luminaire based on the optic would see little light projected toward the oncoming traffic. Instead, a pole mounted before the crosswalk would allow the luminaire to project a beam to the mid-point of the roadway and longitudinally in the direction of the traffic flow. The lens module is constructed from PMMA and, in a design example provided by LEDiL, delivers 38-41 lx on the road surface using LEDs such as the Osram Oslon Square LED.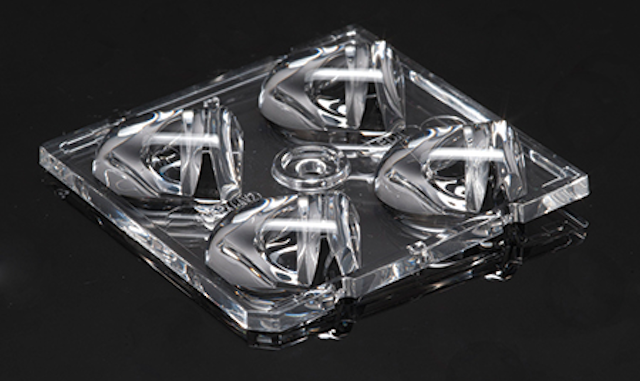 Bern glass TIR lens from Auer Lighting
Materials are inevitably an issue when the subject of optics is discussed. There is a broad choice of materials with varying reliability against the elements and photometric properties. Auer Lighting believes that its Suprax Glass-based products are a better match than alternatives such as PMMA or PC in high-reliability LED applications, especially in difficult environments. The Bern TIR lens is one such optic that is made from the Suprax glass. The lens can withstand temperatures as high as 400°C with no discoloring or degradation of photometric performance. The lens offer 85% transmittance or optical efficiency and delivers a 12° beam pattern. The lens is designed for use with 5×5-mm LEDs in discrete packages.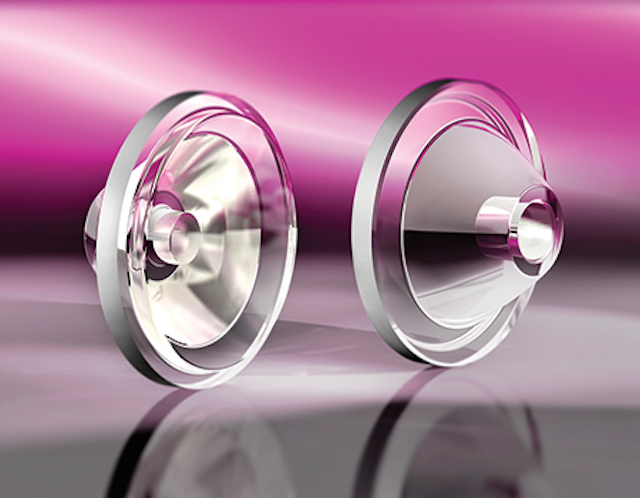 SIO3 silicone lenses for COB LEDs from Khatod
Silicone optics technology is increasingly popular in some applications where the lens can also serve to seal the LED against water or dust ingress. The material can also withstand high temperatures and resist degradation in optical performance. Khatod has claimed to be the first to deliver silicone TIR products in the PL50SIL product for discrete LEDs two years back, and now offers a product for larger LEDs. The products target street- and area-lighting applications and are available in IES Type I, II, III, IV, and V beam patterns, as illustrated by the nearby images. The silicone technology is also a good match for luminaires designed for hazardous locations, being shatter and explosion proof.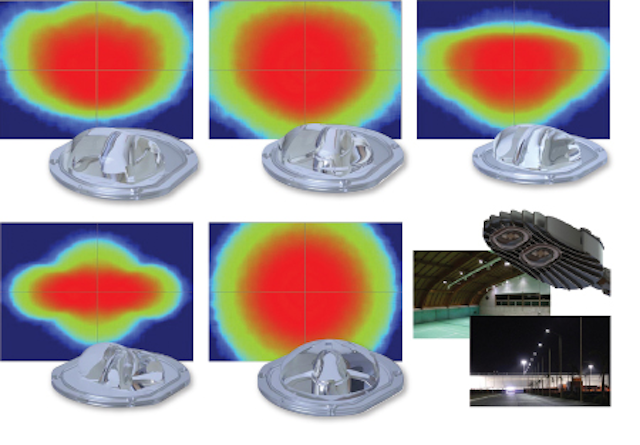 Winnie TIR MR16 lens from LEDiL
Despite the material options, however, PMMA and PC remain the most popular material choices for LED lighting optics because of lower cost and lighter weight. LEDiL turned to PMMA for its COB LED lens that's designed specifically for directional spotlight applications. Indeed, the Winnie product can be used in MR16 retrofit lamps as well as in directional luminaires. The company calls the TIR element a flat-folded design, and it delivers the form factor required for a small lamp such as an MR16. The lens features a 49.8-mm diameter and 19.2-mm height. The beam angle is 20° and LEDiL said that efficiency is 87%. A 4.8W prototype luminaire using the optic delivers 419 lm. Moreover, for luminaire designs, the product is compatible with the Zhaga Book 3 specification for spotlights.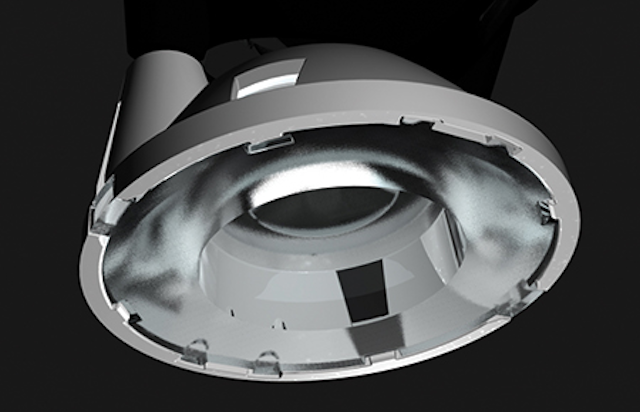 Luna optics from Khatod
Lenses and reflectors certainly aren't the only types of optics that come into play in the diverse world of SSL products. Diffusers are often used to both hide LED point sources and deliver a more uniform ambience. Diffusers can also be coated or treated to deliver specific special effects, and that's where the Khatod Luna products come into play. The Luna diffusers are based on photoluminescence technology and the optic will continue to glow in the dark for an extended period after an LED source is turned off. When powered on, a lamp with a Luna optic looks like a typical LED lamp, but when powered off the optics deliver soft diffused green or blue light. Applications include marker or signaling lighting such as step lights, and the technology can be applied indoors or out.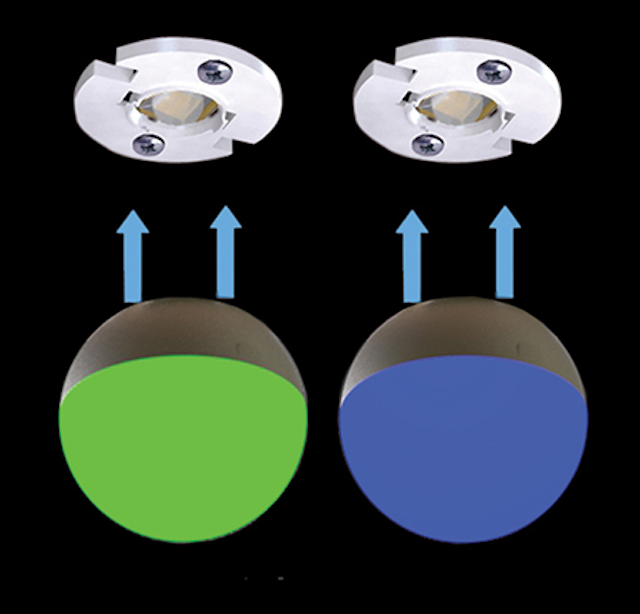 ChromaLit linear optic from Intematix
Secondary optics also offer the potential of using remote phosphor technology to perhaps increase efficacy and enable better color maintenance over time. Because the LEDs are not adjacent to the phosphor, the phosphor is subject to less heat and minimal, if any, color or efficiency degradation. One example of such technology is the Intematix ChromaLit linear optic that was developed in collaboration with SABIC (Saudi Basic Industries Corporation) using the latter's Lexan Lux thermoplastic material. Intematix says the design delivers 215 lm per radiant watt, or a system efficacy of up to 163 lm/W.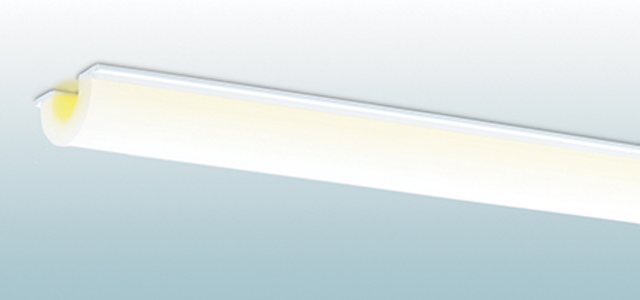 Flexible light guide from GLT
One other category of optic that can come into play in advance luminaire or lamp designs is a light guide that can be lit from the edge with LEDs while optical-extraction features in the guide direct the light out the surface of the optic. One example of such a product is the light guide from Global Lighting Technologies (GLT) that offers the additional benefit of flexibility. Such optics are generally custom-specified for a development project, although GLT said its offering can be delivered in lengths to 24 in. or more and in thicknesses ranging from 0.25–4 mm. The company will target automotive, consumer electronics, and white-goods lighting applications with the flexible optic. The more typical rigid guides are being utilized in applications where the optic appears transparent when off but delivers uniform diffuse light when powered on.