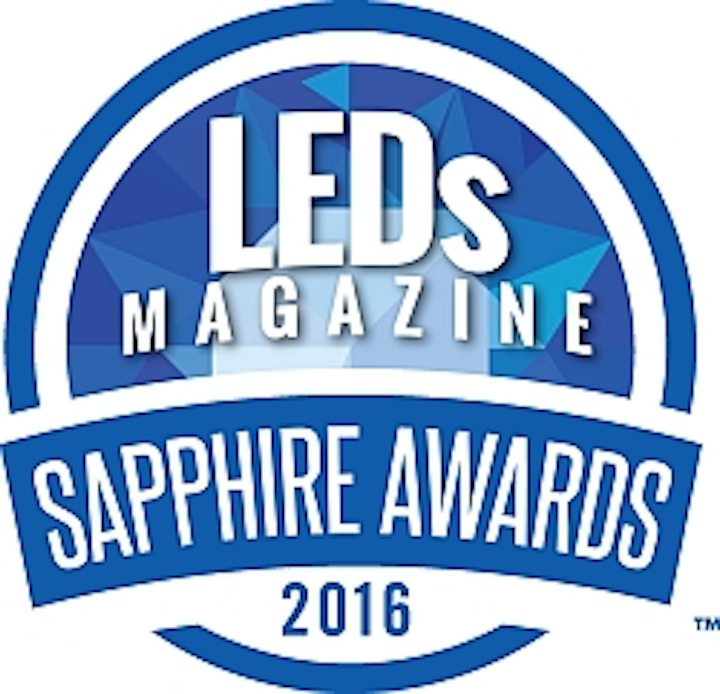 Nashua, NH / January 19, 2016 — LEDs Magazine, the leading information resource for the global LED and lighting community, announced today the 47 finalists for its second annual Sapphire Awards, the first awards program in the LED and solid-state lighting (SSL) sectors honoring innovation in enabling-technologies and elegance-of-design in finished lighting products. This group of outstanding industry innovators was selected by an independent judging panel made up of noted professionals, designers, and lighting industry leaders.
The winners will be revealed at the second annual awards gala on March 2, 2016, in Santa Clara, CA as the featured event of Strategies in Light co-located with The LED Show.
Get the latest Sapphire Awards program and Gala details
"We offer our congratulations to these finalists for their notable accomplishments. Our Sapphire Awards program covers the greatest achievements in the LED and solid-state lighting sectors," said Maury Wright, editor-in-chief of LEDs Magazine. "We have an outstanding set of finalists that covers the space from the efficient LED sources that are behind a revolution in lighting to finished LED-based lighting products across all pertinent applications for the business and residential spaces."
With more than 100 entries, the 2016 Sapphire Awards finalists have earned their place on this year's list.
SLIDESHOW: LEDs Magazine Sapphire Awards finalists in technology & application categories
Please join us in celebrating the 2016 finalists for the Sapphire Awards:
Indoor Ambient, Track, and Accent SSL Luminaire Design
EcoSense / TROV LED Platform
Selux Corporation / Kju Square
Acuity Brands Lighting / Gotham Incito 2" Family
Connected Residential SSL Lamp Design
Feit Electric / HomeBrite Smart LED Bulbs
Sengled / Pulse Flex Model
Ilumi / ilumi A19 LED Smartbulb
LED Drivers
Daintree Networks, Inc. / Daintree/LG Innotek Wireless Driver
Philips Lighting / Philips Advance Xitanium SR Drivers
Fulham Company, Inc. / All-in-One LED/Emergency Driver
SSL Enabling Technologies
Khatod Optoelectronic / GAIA Optical System for Multi-chip LEDs
Furukawa Electric Co., Ltd. / LED Heat Sink HYC Series
Fraen Corporation / Fraen Nested Lens
ICs and Electronic Components for SSL
Littelfuse, Inc. / LSP05/LSP10 Series Surge Protection Device
Texas Instruments / TPS92661-Q1 LED Matrix Manager
Infineon Technologies / ICL8105 and ILD2111 Digital Power 2.0 Driver ICs
Industrial SSL Luminaire Design
Dual-Lite / NEMA 4X Dynamo Emergency Light
Eaton's Crouse-Hinds Division / Champ Linear LED Luminaires
Digital Lumens / DLE Intelligent High Bay Fixtures
Modular LED Light Engines
Xicato / Xicato XIM
Soraa / Optical Light Engine
Bridgelux, Inc. / OLM TM Series of Outdoor Modules
Outdoor SSL Luminaire Design
Architectural Area Lighting / KicK
Kim Lighting / ArcheType X Wall
Spaulding Lighting / Cimarron iTSP
Cree / IG Series LED Parking Garage Luminaire
Packaged LEDs and OLED Panels
Crystal IS / Optan UVC LEDs
Lumileds / Luxeon C Color Line
LG Display / Flexible OLED Light Panel (406 mm x 50 mm)
Specialty SSL Design
GemLight Technologies, LLC / SID Light
Kenall Manufacturing / Indigo-Clean Continuous Disinfection
Unilux Inc / LED Stroboscopic Inspection Lights
SSL Lamp Design
Green Creative / PAR REFINE Series PAR30 LED Lamp
Soraa / VIVID PAR20 10D LED Lamp
Soraa / VIVID BR30 LED Lamp
SSL Network and Control Technologies
Kenall Manufacturing / TekLink Parking Controls
Silver Spring Networks / Silver Spring Smart Street Light Solution
Digital Lumens / LightRules Power
Tools and Tests in SSL Design
Instrument Systems GmbH / Burning Position Correction for Gonio
Osram Opto Semiconductors / PASS - Premium Application Support Services
Vektrex Electronic Systems, Inc. / LM-80 Electronics Tester
Indoor Troffer, Linear, and Recessed SSL Luminaire Design
Metalumen Manufacturing, Inc. / Arches A4 Series
Selux Corp / M36 My White
Dual-Lite / EV4R
Cree / LN4 Suspended Ambient LED Luminaire
Tunable SSL Technology
Finelite, Inc / FineTune White Color Tuning System
Kenall Manufacturing / MedMaster Balance Tunable LED Luminaire
DURABLE Hunke & Jochheim GmbH & Co. KG / LUCTRA Luminaire Series
The Sapphire Awards Gala, where the winners will be announced, takes place from 7:30pm - 11:00pm at the Santa Clara Convention Center in Santa Clara, CA on March 2, 2016. The event will be a can't-miss highlight for attendees of the co-located Strategies in Light and The LED Show conferences and exhibit floors.
To purchase tickets to the awards gala dinner, click here.
If you would like to become an event sponsor, please click here.
About LEDs Magazine
LEDs Magazine is the leading information resource for the global LED and lighting community, serving thousands of readers that specify, design, and manufacture LED-based products for a wide range of end-use applications. Its key value proposition is to offer well-written, unbiased, and informative editorial content to more than 63,000 subscribers. LEDs Magazine provides news and product information on a daily basis in combination with in-depth technical articles, analysis, and case studies. For additional information about LEDs Magazine, visit www.ledsmagazine.com.
About PennWell Corporation
PennWell Corporation is a privately held and highly diversified business-to-business media and information company that provides quality content and integrated marketing solutions for the following industries: Oil and gas, electric power generation and delivery, hydropower, renewable energy, water and wastewater treatment, waste management, electronics, semiconductor manufacturing, optoelectronics, fiber-optics, aerospace and avionics, LEDs and lighting, fire and emergency services, public safety, and dental. PennWell publishes over 130 print and online magazines and newsletters, conducts 60 conferences and exhibitions on six continents, and has an extensive offering of books, maps, websites, research and database services. In addition to PennWell's headquarters in Tulsa, Oklahoma, the Company has major offices in Nashua, New Hampshire; London, England; Houston, Texas; San Diego and Mountain View, California; Fairlawn, New Jersey; Moscow, Russia; and Hong Kong, China. For additional information about PennWell Corporation, visit www.pennwell.com.
Contact:

Kim Ayer, Marketing Manager - LEDs Magazine Sapphire Awards
+1-603-891-9204
E-mail:

Web site:

ledsmagazine.com/sapphireawards
Submit new products, case studies/projects, and other press releases at http://www.ledsmagazine.com/content/leds/en/addcontent.html.
More from LEDs Magazine Sapphire Awards:
Lighting industry leaders prepare to select 2nd Annual Sapphire Awards winners
LEDs Magazine Sapphire Awards announces judging panel for second annual event in 2016