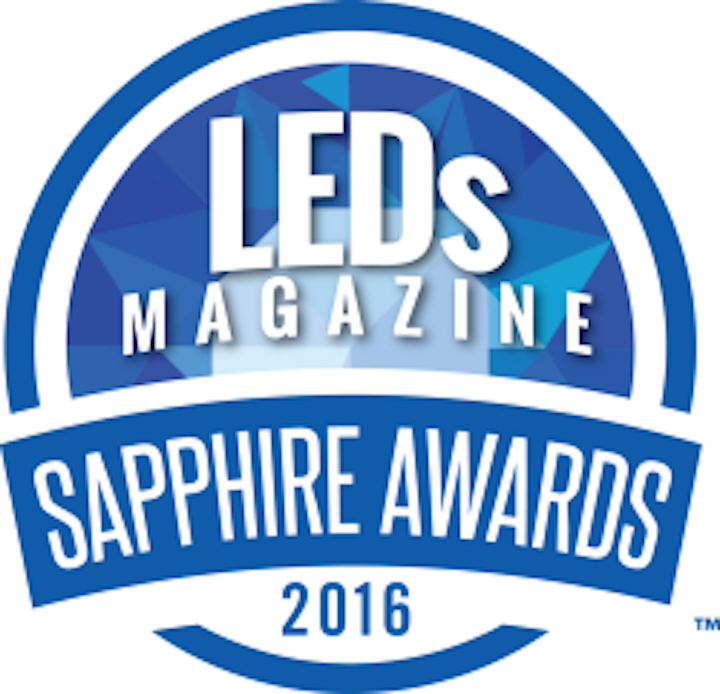 Nashua, NH - The LEDs Magazine Sapphire Awards - the only program in the lighting industry to focus on the LED-based solid-state lighting (SSL) market from an enabling-technology and elegance-of-design perspective - recognizes true technology stars. It also recognizes an Illumineer of the Year, a person or small team responsible for significant innovation in the development of LEDs, other enabling components, development tools, and solid-state lighting (SSL) products.Get the latest Sapphire Awards program and submission process details The LEDs Magazine Sapphire Awards is excited to announce that it has chosen the distinguished panel of judges for the 2016 event that will take place during Strategies in Light co-located with The LED Show. The judges were chosen from industry and consultancy roles to ensure that all entries are fairly evaluated. The expert judging panel includes: David Cox, WPG Americas Steve Paolini, Telelumens Terry Clark, Finelite Dave Neal, Seoul Semiconductor Ray Chock, Philips Lumileds Brad Koerner, Philips Lighting Duncan Jackson, Billings Jackson Design Stan Walerczyk, Lighting Wizards Nancy Clanton, Clanton & Associates Derry Berrigan, Derry Berrigan Lighting Design Therese Lahaie, Apparatus Design Milena Simeonova, Light4Health Howard Yaphe, Axis Lighting Philip Smallwood, Strategies Unlimited Stephanie Pruitt, Strategies Unlimited Shonika Vijay, Strategies Unlimited James Highgate, The LED Show Robert Steele, Strategies Unlimited Maury Wright, LEDs Magazine
SLIDESHOW: LEDs Magazine Sapphire Awards finalists in technology & application categories
LEDs Magazine invites vendors to submit written information, photos, and spec sheets about products that have been released or upgraded in the past year. This information will be used by the Sapphire Awards panel to rank products based on their unique technology or application thereof, innovation, ease of use, efficiency, reliability, and contribution to profitability.

The final deadline for submissions is October 5, 2015. The nomination categories include: Packaged LEDs and OLED panels, Modular SSL light engines, LED drivers, ICs and electronic components, SSL enabling technologies, SSL tools and test, SSL lamp design, Indoor SSL luminaire design, Industrial SSL luminaire design, Outdoor SSL luminaire design, Specialty SSL luminaire design, and Smart SSL technology products.

Visit ledsmagazine.com/sapphireawards to learn more.

About LEDs Magazine
LEDs Magazine is the leading information resource for the global LED and lighting community, serving thousands of readers that specify, design, and manufacture LED-based products for a wide range of end-use applications. Its key value proposition is to offer well-written, unbiased, and informative editorial content to more than 63,000 subscribers. LEDs Magazine provides news and product information on a daily basis in combination with in-depth technical articles, analysis, and case studies. For additional information about LEDs Magazine, visit www.ledsmagazine.com.

About PennWell Corporation
PennWell Corporation is a privately held and highly diversified business-to-business media and information company that provides quality content and integrated marketing solutions for the following industries: Oil and gas, electric power generation and delivery, hydropower, renewable energy, water and wastewater treatment, waste management, electronics, semiconductor manufacturing, optoelectronics, fiber-optics, aerospace and avionics, LEDs and lighting, fire and emergency services, public safety, and dental. PennWell publishes over 130 print and online magazines and newsletters, conducts 60 conferences and exhibitions on six continents, and has an extensive offering of books, maps, websites, research and database services. In addition to PennWell's headquarters in Tulsa, Oklahoma, the Company has major offices in Nashua, New Hampshire; London, England; Houston, Texas; San Diego and Mountain View, California; Fairlawn, New Jersey; Moscow, Russia; and Hong Kong, China. For additional information about PennWell Corporation, visit www.pennwell.com.

Contact:

Kim Ayer, Marketing Manager - LEDs Magazine Sapphire Awards
+1-603-891-9204
E-mail:

Web site:

ledsmagazine.com/sapphireawards

Submit new products, case studies/projects, and other press releases at http://www.ledsmagazine.com/content/leds/en/addcontent.html.

More from LEDs Magazine Sapphire Awards:
Applications are now being accepted for the Second Annual LEDs Magazine Sapphire Awards
LEDs Magazine announces second annual Sapphire Awards ceremony and Gala