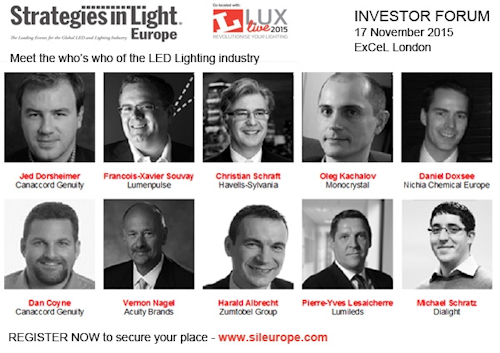 Part of the Strategies in Light Europe Conference, the Investor Forum aims to address some of the principal questions being asked by investors looking for opportunities in the lighting industry.

Sponsored by Canaccord Genuity, one of the leading financial firms in the world conducting research on the LED and lighting industries, the Investor Forum will discuss such issues as:
• The pace of adoption of LEDs in lighting
• The longer-term growth potential of the market
• Profitability analysis
• Opportunities to invest in different levels of the lighting value chain
Interested in more articles & announcements on LED lighting & applications?

THE EXPERTS' VIEW
Jed Dorsheimer, Canaccord Genuity's Managing Director, Equity Research Display and Lighting will present and chair a distinguished line-up of speakers, representing a 'Who's Who' of the International LED Lighting industry.

Francois-Xavier Souvay
Chief Executive Officer
Lumenpulse
France

Christian Schraft
President
Havells-Sylvania
United Kingdom

Oleg Kachalov
Chief Executive Officer
Monocrystal
Russian Federation

Daniel Doxsee
Deputy Managing Director
Nichia Chemical Europe, GmbH
Germany

Dan Coyne
Managing Director, Investment Banking
Canaccord Genuity
United States

Vernon Nagel
Chief Executive Officer
Acuity Brands
United States

Harald Albrecht
Head of Investor Relations
Zumtobel Group
Austria

Pierre-Yves Lesaicherre
Chief Executive Officer
Lumileds
United States

Michael Schratz
Vice President – Product Management & Marketing
Dialight
United States

WHO SHOULD ATTEND
The Investor Forum is specifically designed for current and potential investors, as well as lighting companies seeking financing opportunities.

BENEFITS TO YOU
The Investor Forum will provide you with:
• Unparalled knowledge from the reknowned LED Lighting experts
• The tools to help you make educated investment decisions in the LED Lighting Industry
• Valuable financial and market information
• Access to Canaccord Genuity's wealth of research and M&A knowledge
• Excellent networking opportunities.

Register by September 12 for a Strategies in Light Europe total access pass discount - see www.sileurope.com/videooffer.html for more details.

Contact:

Crispin Coulson, Marketing Team Lead - PennWell Corporation, Strategies in Light Europe
+44-(0)-1992-656-646
E-mail:

Web site:

www.sileurope.com

Submit new products, case studies/projects, and other press releases at http://www.ledsmagazine.com/content/leds/en/addcontent.html.

More from Strategies in Light Europe:
Early bird deadline is approaching for the Strategies in Light Europe LED lighting conference
Strategies in Light Europe delivers must-attend event for LED and lighting industry