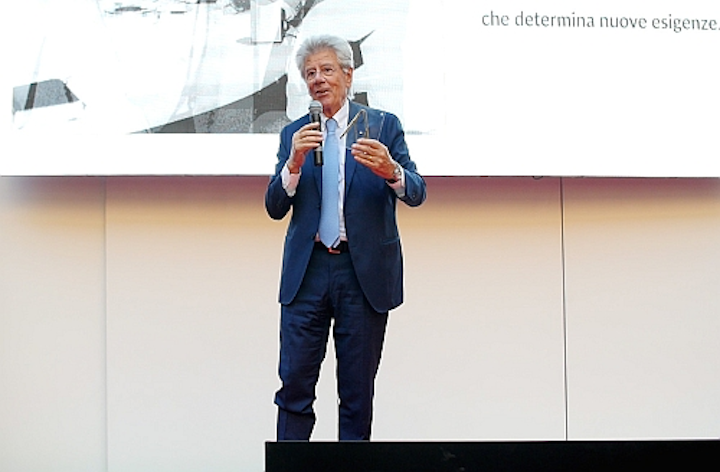 It's the latest in a series of mergers and acquisitions in the designer and architectural lighting market.
The designer lighting market seems to be more in play than ever as Swedish lighting heavyweight Fagerhult Group has signed a letter of intent to acquire 100% of Italy's iGuzzini illuminazione S.p.A, a €230 million family-owned company known for stylish luminaires in both the indoor and outdoor markets.
Neither Fagerhult nor iGuzzini revealed the agreed price of the acquisition, announced by Fagerhult.
"Upon finalizing the transaction, the sellers (the Guzzini family through the legal entity Fimag S.p.A and Tipo TIP – PreIPO S.p.A) will receive a significant portion of the consideration in Fagerhult shares with the aim of becoming shareholders of the combined entity," Fagerhult said. "Adolfo Guzzini (president of iGuzzini) and Andrea Sasso (CEO of iGuzzini) — in addition to remaining in their respective executive roles within iGuzzini — will assume important roles in the top management of Fagerhult."
The agreement comes a week after Fagerhult's new CEO Bodil Sonesson took the helm at the Habo, Sweden-based company.
Fagerhult, which had revenue of 5.17 billion Swedish krona last year ($581 million at today's exchange rate), has a long history of growing by acquisition, as well as organically. It has a stable of 14 brands, some of which include Whitecroft Lighting, Designplan Lighting, Eagle Lighting, I-Valo, Arlight, Lighting Innovation, LED Linear, WE-EF, and Veko.
In adding iGuzzini, it would be become the steward of highly-acclaimed products such as the Laser Blade, the Laser family of downlights, and the Dean Skira-designed Trick, as the publication Lux has pointed out.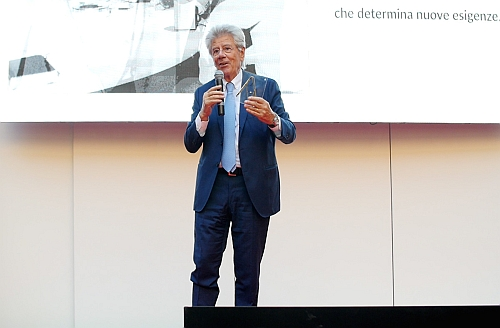 iGuzzini co-founder Adolfo Guzzini, seen here accepting a Compasso d'Oro Award earlier this year for lifetime achievement from the Italian Association for Industrial Design, will continue as president of the Italian company and will also take up a management role at Fagerhult. (Photo credit: iGuzzini website.)
Fagerhult also has been embracing the Internet of Things (IoT) lighting movement, having acquired key technology assets from Australia's former IoT lighting specialist Organic Response in early 2017. Fagerhult has said it intends to use the technology, now renamed as OR, in-house rather than market it to other lighting companies.
iGuzzini, on the other hand, has made little noise about the IoT. LEDs Magazine asked Fagerhult via email whether it intends to infuse iGuzzini wares with IoT capabilities. We had not received a response by the time this story posted. We've also inquired about whether it intends to let go any of the 1300 employees at iGuzzini, founded by Adolfo Guzzini and his brothers in 1959.
The agreement is the latest in a recent series of mergers and acquisitions in the designer lighting market, with a fair amount of the activity having a presence in Italy, a financially-troubled country in which private equity companies have in general been picking up interest.
In June, Italian private-equity firm Investindustrial Group Holdings SA acquired Denmark's Louis Poulsen, a company with Danish design roots dating back to 1874 and the ownership of which has bounced around over the last decade. Louis Poulsen went into Italian hands in 2007 when Florence-based Targetti Sankey acquired it from Copenhagen-based investment firm Polaris. Targetti sold it back to Polaris in 2014, which sold it to Italy's Investindustrial this past June.
The wheeling and dealing continued in September, when Investindustrial teamed with US private-equity giant Carlyle Group to establish what they intend to be a new brand of "high-end design" goods including lighting from Louis Poulsen as well as from Flos, an Italian lighting company already owned by Investindustrial. It also includes Italian furniture maker B&B Italia.
When Carlyle and Investindustrial announced the new venture, Carlyle noted that "all three companies are established and well regarded for their unique, iconic products, notably including B&B Italia's Up chair by Gaetano Pesce, the Arco lamp designed for Flos by the Castiglioni brothers, and Louis Poulsen's PH 5 lamp, designed by Poul Henningsen."
Also, Atlanta-based LED lighting specialist Acuity Brands recently sold Spanish lighting firm Carandini to Spain's LEDS C4, amid general lighting market conditions that Acuity CEO Vernon Nagel described as "challenging."
Fagerhult said it hopes to complete its acquisition of Recanati-based iGuzzini by the end of this year, pending approval by the Fagerhult board and by "any anti-competition" regulators that might have to rule.
Fagerhult's own ownership structure reflects an acquisitive ethos. The company is publicly traded, but Swedish investment firm AB Latour owns nearly half of it. Fagerhult's former CEO Johan Hjertonsson gave way to Sonesson in order to become CEO of Latour.
MARK HALPERis a contributing editor for LEDs Magazine, and an energy, technology, and business journalist (markhalper@aol.com).