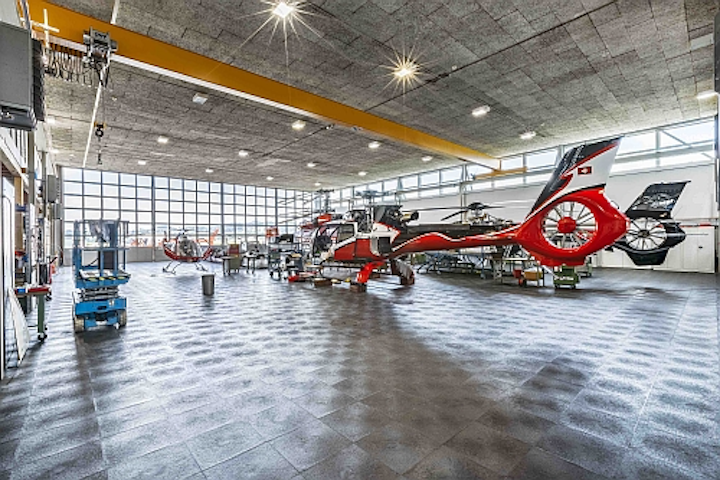 The end user pays a monthly fee and owns the lights at the end of the three-year LaaS deal, with an option to start another contract with new luminaires.
A Swiss helicopter company is paying a monthly lighting-as-a-service (LaaS) fee to Austrian lighting vendor Zumtobel to guarantee illumination levels inside a key maintenance hangar for three years, after which it will own the new LED lights, which Zumtobel installed earlier this year.
Zumtobel's Zumtobel Group Services (ZGS) replaced 25 Zumtobel Copa metal halide (MH) and sodium vapor lamps inside Swiss Helicopter AG's Bern-Belp facility with 28 Zumtobel Tecton C industrial LED luminaires. ZGS also hauled away the old lights.
With the changeover completed in June, ZGS is guaranteeing illumination levels of 550 lx, nearly double the previous 280 lx, an improvement aimed at helping workers inspect and maintain helicopters that Swiss uses to provide passenger, sightseeing, cargo, and pilot training services. Bern-Belp is one of 14 sites that the Chur, Switzerland-based company operates.
As part of the three-year ZGS "NOW" services contract, ZGS evaluated luminaire location and placement to assure lighting levels, a challenge in the nearly 7000-ft2 facility where the ceiling height exceeds 22 ft and where a permanently-mounted ceiling crane track can block light angles.
Markus Epp, head of the Bern-Belp base, said that ZGS "will take care of the upgrade in its entirety and guarantee us ideal lighting conditions in the years to come."
Zumtobel guarantees lux levels in lighting-as-a-service contract at Swiss helicopter hangar
How do you ensure 550 lx when a ceiling-mounted crane track is in the way? ZGS figured it out to deliver lighting as a service. (Photo credit: Zumtobel.)
The LaaS contract does not, however, include end-of-life provisions per se. Swiss Helicopter will own the lights after the three years, a Zumtobel spokesperson told LEDs Magazine.
The arrangement is one type of light-as-a-service contract, in which end users avoid large upfront capital costs by paying monthly fees. But some LaaS purists would argue that it is not true LaaS because Zumtobel is not retaining ownership of the lights. Other LaaS contracts have been known to include provisions for recycling or disposal of lamps and luminaires, making LaaS a vehicle for delivering the circular economy.
Swiss can effectively receive end-of-life service, however, by negotiating a new contract at the term's end, in which Zumtobel could install new leased lights and cart off the current Tectons.
"After the 36 months, Swiss Helicopter owns the luminaires," the spokesperson explained. "They can choose if they would like to keep them or if they would like to enter a new NOW contract with a new lighting solution."
Swiss is also expected to save energy costs, as the older lights required more than twice the power to operate, according to ZGS.
The contract includes a control system for the lights. It does not entail any Internet of Things (IoT) services.
MARK HALPER is a contributing editor for LEDs Magazine, and an energy, technology, and business journalist (markhalper@aol.com).