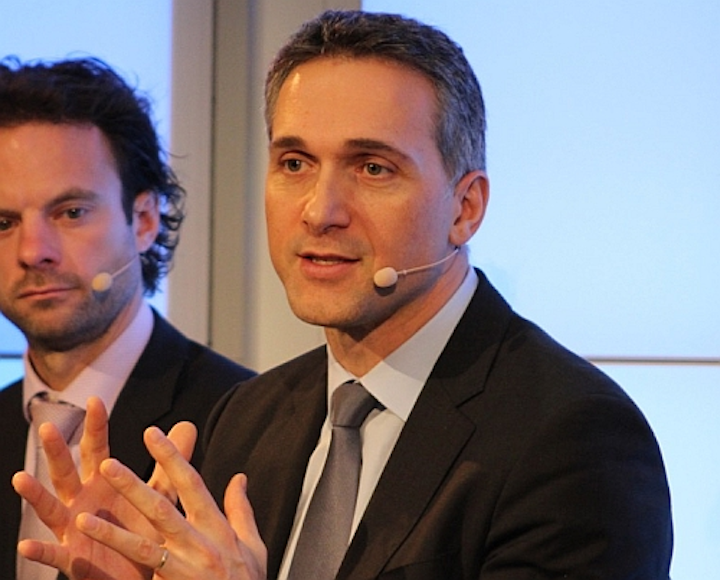 The change reflects the industry's new IoT lighting-and-beyond zeitgeist. Shareholder approval pending.
Philips Lighting, the world's largest lighting company, has revealed its new name for the digital era in which the industry is widening its scope and morphing its identity: Signify.
Interested in articles & announcements on connected lighting business?
Sounding as much Wittgenstein as lighting vendor, the company noted that the choice of Signify "originates from the fact that light becomes an intelligent language, which connects and conveys meaning."
CEO Eric Rondolat had professed the same philosophy six weeks ago when LEDs Magazine broke the story that a name change was coming. "Ten years from now, I will talk about light as a language," he said at the time.
Philips has yet to publicly expand on its "light as language" doctrine, and will perhaps do so at the Light+Building exhibition next week in Frankfurt.
More prosaically, the new moniker reflects the move by lighting vendors such as Philips to outfit LED lights, luminaires, and the lighting infrastructure with chips and sensors tied into the Internet. Vendors hope to turn lights into valuable information nodes, and to turn the lighting infrastructure into vital information networks linked into cloud computing systems.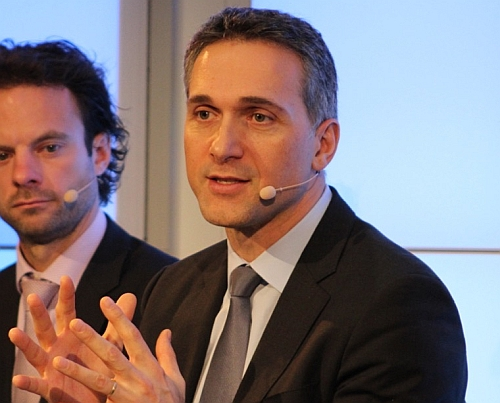 Philips Lighting reveals new name: Signify
Philips CEO Eric Rondolat says that light will be a language. (Photo credit: Mark Halper.)
This Internet of Things (IoT) strategy would then position lighting vendors as gatherers and providers of monetized data that will help run operations of all sorts. Just for a few examples, smart street lights will help improve traffic flow and assist motorists in finding parking spaces. They could also monitor crime, noise, and air quality. Indoors, smart lights could help facility managers and retailers figure out how to better use space and track assets, they can engage shoppers with promotional offers and information.
Digitally-connected lighting systems also provide richer levels of control to users, to help them save energy, and to help them set lighting levels — including brightness, color, and CCT — at suitable levels. Such controls tie into the industry's drive toward human-centric lighting, in which lighting conforms with peoples' circadian needs and delivers varying levels of stimulation and relaxation as needed.
The industry's shift is rooted in the double-edged sword of LED lighting's emergence. The digital nature of LEDs makes them a natural fit for IT schemes. But at the same time, the longevity of LED chips — said to last for decades — has necessitated a drastic new business model, because lighting companies can no longer rely on selling replacement bulbs every 18 months or so, as they did for a century or more of incandescent and other older technologies.
In moving more into an IT modus operandi, lighting companies are also venturing further into services, selling monthly and yearly contracts to provide lighting and data operations, rather than selling lights.
They are also facing the rough and tumble of competing against IT companies, while figuring out at the same time how and when to partner with them.
"We're excited to announce our new company name as another step in our transformation journey," CEO Rondolat said today. "Our new company name is a clear expression of our strategic vision and a fabulous opportunity to introduce a new corporate look and feel that is uniquely our own and will serve to further unite our 32,000 employees."
The 125-year-old company will continue to use the Philips brand on products.
While the new corporate handle "Signify" does indeed evince the changing ways of the lighting industry, there was another underlying reason for the rebranding: The company's ownership split from former parent Royal Philips contractually required an eventual change. Royal Philips spun off Philips Lighting in an IPO in May 2016, at first retaining a large share which it has been steadily reducing. Royal Philips, which today focuses on healthcare, owned 18% of Philips Lighting as of Feb. 27.
Shareholders will vote on whether to approve the new name at Philips Lighting's May 15 annual general meeting. If approved, Philips expects to complete the name change by early next year.
"After the AGM, we will begin renaming our legal entities in each market and country and start to roll out our corporate name and identity accordingly," a spokesperson told LEDs. "We expect the process to be completed across almost all markets by early 2019."
LEDs sister publication Lux first reported the choice of Signify yesterday.
Philips is not the first large lighting company to change its name to reflect the times. GE rechristened a big part of its lighting operations as "Current, powered by GE" in Oct. 2015. Difficulties across the board at GE have forced the conglomerate into now trying to sell off Current and other parts of its lighting business, some of which it has already sold.
MARK HALPERis a contributing editor for LEDs Magazine, and an energy, technology, and business journalist (markhalper@aol.com).