EcoLEDLighting gains BSI seal of approval for LED downlights
EcoLEDLighting says that testing by the British Standards Institute shows that its LED downlights are the first of their type to comply with Part L of the UK Building Regulations.
Dec 17th, 2007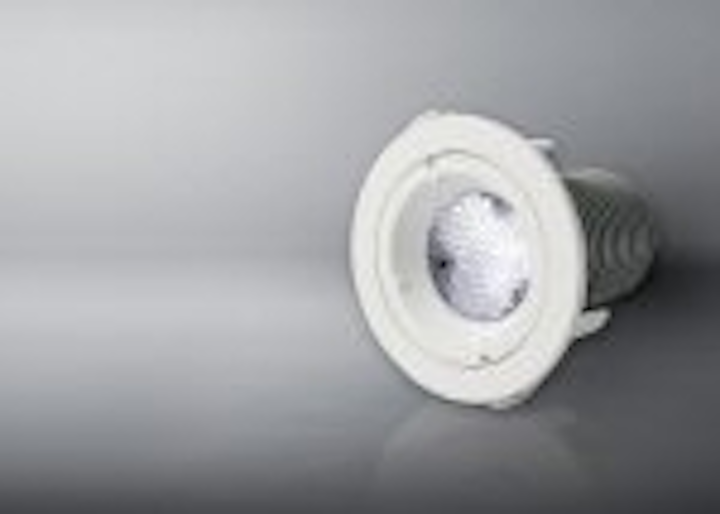 LED downlights manufactured by EcoLEDLighting have undergone comprehensive and rigorous tests carried out by the British Standards Institute, and have become the first luminaries of their type to fully comply with Part L 1 (A & B) and 2 (A & B) of the UK Building Regulations.
"I'm delighted that the BSI-conducted tests show that our products meet and exceed the demanding performance criteria set out in the Regulations," commented Robin Day, managing director of EcoLEDLighting. "BSI testing is world-renowned and it's gratifying that our range of LED downlights stood up to this scrutiny. What this endorsement shows is that these luminaries can deliver significant energy saving results for organisations and individuals attempting to reduce their carbon footprint."
The tests were carried out by BSI Product Services who perform testing for a variety of government departments, regulatory bodies and trade associations, as well as assisting companies with prototype and pre-production testing. Two types of EcoLEDLighting downlights were tested - dimmable and non-dimmable- and both were assessed to determine the following parameters:
• Power factor and total harmonic distortion
• Photometric performance measurements
The test results demonstrated that EcoLEDLighting's MR16 fittings are fully compliant with Part L1 (A & B) and Part L2 (A & B) amendments to the Building Regulations. The EcoLEDLighting MR16 range was shown to offer a similar light output / footprint to existing technology but consumed 80% less energy while dramatically reducing the radiated heat (85% cooler) compared to a conventional MR16 luminaire.
The EcoLEDLighting MR16 luminaire is recyclable, low maintenance, unbreakable (no filament exists in the unit) and supplied with a six-year guarantee. The complete range offers a perfect substitute for any dichroic and halogen downlight and they are suitable for use in the home, elevators, offices, all types of local authority building, cinemas and retail outlets. There are also fully dimmable, mains powered variants available.
The design team at EcoLEDLighting are now working on adding to the range of Part L Compliant MR16 type lighting with "Swivel", Compact "Up – Down" wall and feature lights as well as "Track Type Spot / Ambient Lighting" systems.
The company says these projects will be followed by a fluorescent luminaire replacement, Part L Compliant design to capitalize on its experience of applying this compliant technology with LEDs. The design team is also working on some variants of exterior lighting applications and to include eco-sites and homes where energy is limited to solar and wind generation.