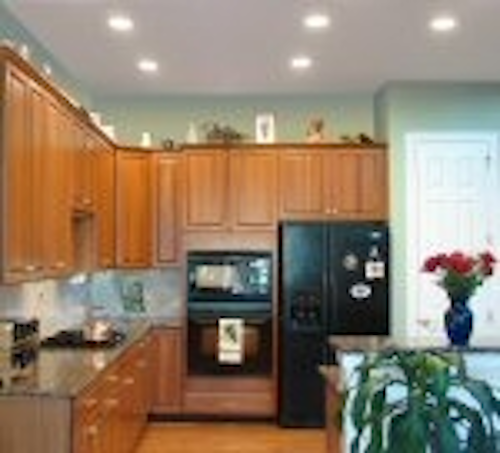 The Grand Prize for solid-state lighting fixtures in the
Lighting for Tomorrow 2007
competition has been won by the LR6 downlight from LED Lighting Fixtures Inc. The contest is organized by the American Lighting Association, the U.S. Department of Energy (represented by Pacific Northwest National Laboratory) and the Consortium of Energy Efficiency.
The 2007 Lighting for Tomorrow competition recognizes excellence in design of energy-efficient residential lighting fixtures. The 2007 judging panel selected fixtures in two categories – CFLs and LEDs - on the basis of design, energy efficiency, and potential market impact.
LED Lighting Fixtures (LLF) was the Grand Prize winner in the solid-state lighting (SSL) section, with Sea Gull Lighting and Savoy House successful in the CFL section.
Of more than 40 SSL fixtures submitted to Lighting for Tomorrow, the judges selected winners in each of four niche lighting applications. Winners included a recessed downlight, an undercabinet fixture, a desk lamp and an outdoor wall lantern. Honorable mentions went to a pair of wall sconces.
According to Kelly Gordon, Lighting for Tomorrow organizer representing the U.S. Department of Energy, "The [LLF] fixture earned excellent marks for light output, quality and appearance and the product exceeds the luminaire efficacy and lifetimes of even the most efficient compact fluorescent (CFL) downlight systems."
Steve DenBaars, Professor of Materials and Co-Director of the Solid State Lighting & Energy Center at University of California-Santa Barbara and a judge in the 2007 Lighting for Tomorrow competition said, "This competition places a high priority on energy efficiency, but not at the expense of fixture appearance or lighting quality."
DenBaars continued, "We were very impressed with the LR6 product as it offers the highest efficacy for any downlight product on the market and has the appearance of incandescent lamps typically used in residential downlights while using less than one-fifth the power consumption. This product platform has the potential to save US consumers billions of dollars in energy costs."
Finelite Inc, Union City, CA
Finelite took the prizes for both kitchen undercabinet and portable desk/task lights. Featuring elegantly simple design and sophisticated lighting performance, these fixtures are versatile enough for home or office use, individually or as a complete system.
The versatile PLS Desk Lamp, available with interchangeable mountings, allows users to quickly tailor illumination patterns and levels to specific tasks by simply adjusting the fixture's head with ever-so-slight hand movement. At only 0.8 inches tall and 2.5 inches wide, PLS Undercabinet fixtures fit seamlessly under binder bins, kitchen cabinets, or shelving, revealing vertical textures while bathing task surfaces in evenly distributed light. Fixtures may be used individually or in continuous rows, supplied standard with mechanical or magnetic mounting means.
Progress Lighting, Greenville, SC
The Strata series of fixtures was designed to take advantage of the small size and directionality of LED sources. Featuring a low-profile, modern housing design, the Strata fixtures direct light downwards for glare-free, dark-sky friendly illumination. The slim fixture design is also ideal for mounting over address numbers or doorways.
Two wall sconces by Justice Design Group were recognized by the judging panel with Honorable Mentions for design.