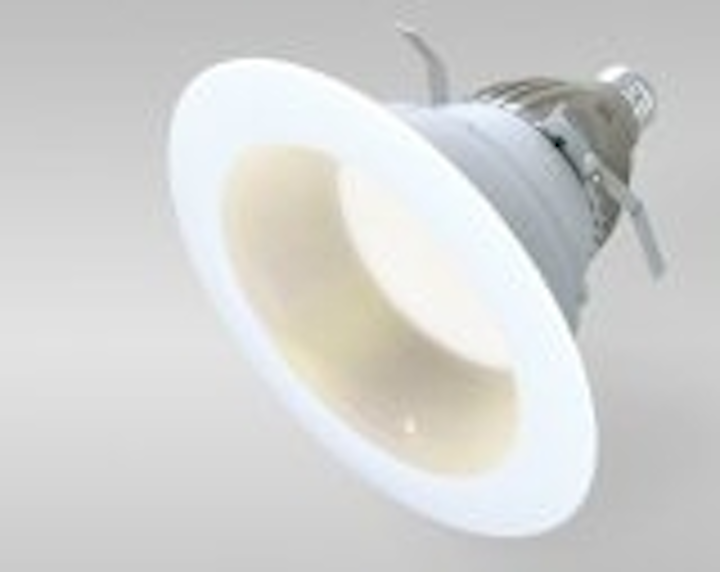 Cree LED Lighting demonstrated last week at the 2010 International Builder's Show in Las Vegas a new 6-inch LED downlight designed for the residential market. Essentially, this is a redesigned and repurposed version of the company's original LR6 downlight, which Cree says has shipped more than 350,000 units to date.
The downlight uses the same TrueWhite technology as Cree's other fixtures to deliver warm-white light (2700K) with high CRI of 90. The nominal light output is 575 lumens at an input power of 12W (around 48 lm/W).
Cree says the CR6 downlight, planned for availability in mid-2010, is likely to have an end-user price of approximately $60. This is roughly half the price of the LR6, which is designed for commercial markets and has a higher specification (e.g. the light output is 650 lm).
Gary Trott, Cree LED Lighting's vice president of market development, told
LEDs Magazine
that the CR6 provides an alternative for home owners that would like to install energy-efficient lighting but are not impressed with the available light quality from CFLs. "Also, replacement LED lamps currently do not provide sufficient light output," he said.
A price in the region of $60 puts the CR6 roughly on par with a CFL fixture, including the housing (i.e the can that goes into the ceiling void in North American downlights), the trim (the part of the fixture that's visible) and the lamp.
The CR6 is designed to fit directly into existing housings. Trott estimates that with an operating time of around 6 hour per day, the payback from energy savings is likely to be around 3 years, depending on energy costs. This is a potentially huge market, since the number of available of sockets is in the hundreds of million.
Trott explains that Cree looked at the entire LR6 system to "see how we could take out cost." Parameters such as power factor and lifetime are relaxed compared with the higher-spec commercial LR6 version.
The slightly lower output of the CR6, coupled with the higher performance of current-generation LEDs, means that fewer LEDs are required. The thermal system has been improved, helped by using more efficient LEDs. One very noticeable difference (see photos) is that the large die-cast aluminum heat-sink has been removed from the design, and the fixture body now acts as the heat sink.
Trott says that Cree has also taken a "fresh approach" to the driver technology, with the intention to "maintain performance and cut costs."
Neal Hunter, president of Cree LED Lighting, said "By delivering the beautiful warm light created by Cree TrueWhite™ technology in an affordable, energy-efficient LED residential fixture, we're providing consumers with an alternative to energy wasting incandescents and the poor color-rendering of compact fluorescent bulbs. There is no residential LED downlight on the market today that can come close to matching the value and performance of the CR6."