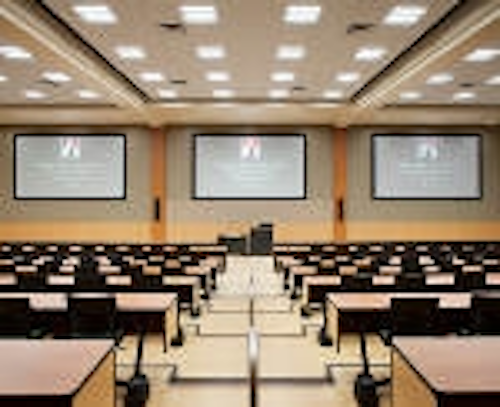 "The first day we turned on the lights 100 percent, they were so bright it was astounding. We were all in awe," said San Diego State University Architect Jeffrey Herr. Herr was referring to the University's first LED-based solid-state lighting (SSL) installation in a lecture hall using Lithonia Lighting luminaires.
The University installed more than 80 RTLED luminaires for ambient lighting and 30 DOM8 LED luminaires for downlighting. The 215-person-lecture-hall project represents the University's plans to reduce energy and costs and achieve sustainability.
While Herr admits to being very impressed by the result, he also noted that he wasn't apprehensive about LED technology saying, "LEDs are being used effectively in other industries and markets, and I was confident in the technology." But he also said, "We honestly didn't know what to expect," about the first time the SSL was turned on.
The San Diego State installation marks the second recent deployment of RTLED luminaires in a college setting. Babson College recently retrofitted two classrooms with RTLED fixtures at its Wellesley, MA campus.
The RTLED is a recessed luminaire designed by Lithonia Lighting (an Acuity Brand) to reduce energy and maintenance costs. Lithonia rates the system for 50,000 hours life.
Lithonia supplied the luminaires with a Samsung light engine delivering a 3500K color temperature and a CRI above 80. Moreover the luminaires use 0-10V control for full-range dimming.