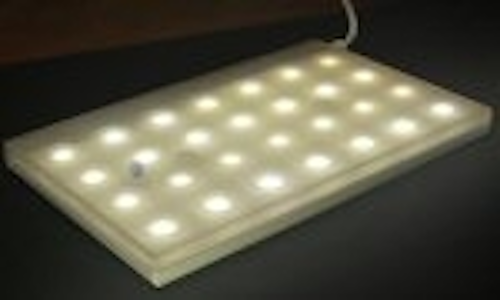 Lighting for Tomorrow
has selected four winners in its first solid-state lighting (SSL) competition, for lighting fixtures that use LEDs as the sole light source.
American Fluorescent, Lucere, Lucesco and Progress Lighting were the winning entries from more than 30 fixtures that were judged in October by a panel of six lighting experts.
The judges rated the fixtures according to five criteria: application efficiency; overall lighting quality; aesthetic appearance; innovation and thermal design.
Winners will be displayed during the U.S. Department of Energy's annual SSL workshop on January 31- February 2 in Phoenix, AZ as well as other important lighting industry events.
Lighting for Tomorrow, launched in 2002, is organized by the American Lighting Association (ALA), the Consortium for Energy Efficiency (CEE) and the US Department of Energy (represented by Pacific Northwest National Laboratory). DOE and about two dozen energy-efficiency organizations nationwide combined to pledge more than $350,000 to sponsor the 2006 competition.
A separate 2006 Lighting for Tomorrow competition for compact fluorescent-based fixtures was held earlier this year. In addition to the winning entries in the SSL competition, honorable mentions were received by io Lighting, Albeo Lighting, American Lighting LLC, and Osram Sylvania.
At their current stage of technology development, LEDs are appropriate for a small number of niche lighting applications. Nonetheless, the technology continues to improve quickly. For directional lighting applications, such as task lighting, LEDs can be very energy efficient. LEDs are durable and resistant to damage from vibration, and also can have markedly longer lives than incandescent lamps and CFLs.
This initial competition was geared to facilitate learning about effective use of this new light source in appropriate applications. LEDs are still significantly more expensive than traditional light sources, but prices are decreasing rapidly, and more applications are expected to become cost-competitive in the near future.
The winners were as follows:
Diode 28
American Fluorescent
, Waukegan, IL
A 5-watt under-cabinet fixture, adjustable to two light levels, available in January 2007
The Diode 28 undercabinet lighting fixture, designed by Stephen Blackman, takes full advantage of the benefits of LED lighting technology. Its unique design is ultra-thin and provides superior light distribution with low glare. It can equal the light output and even surpass the performance of similar sized xenon and fluorescent undercabinet fixtures. It is energy efficient and generates a very low amount of heat. The easy to install design features a high-low lighting option with an illuminated switch. The Diode 28 by American Fluorescent is the new look for the latest in undercabinet lighting technology.
Halley
Lucesco Lighting
, Palo Alto, CA
A 20-watt, fully dimmable portable task/desk light, available now.
Halley, the first truly functional LED task lamp, is a perfectly counterbalanced, sculptural statement designed by Richard Sapper, for Lucesco Lighting. The sophisticated counterbalance system allows the head to be positioned easily and precisely to provide light where it is needed. The LED light source allows for a sleek, thin head shape. The Halley is fully dimmable and adjustable.
Linear
Lucere Lighting
, Madison Heights, MI
An 18-watt under-cabinet linear fixture, available now.
Capitalizing on the benefits of LEDs, this fixture was designed for undercabinet, cove, and display lighting. The 120 degree beam pattern provides uniform illumination for small to medium depth applications.
Lakeland
Progress Lighting
, Spartanburg, SC
A 3.5 watt outdoor fixture, available in January 2007
Lakeland brings the benefits of residential LED lighting to the outdoors. With warm-white, 3,000K color temperature light output, this collection features straightforward styling in a Brushed Nickel finish with etched glass.