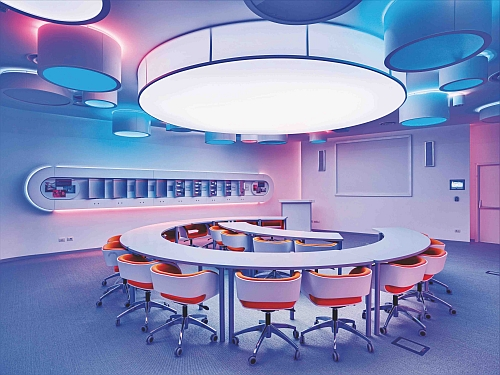 The sell-off of the company's traditional North American service group is the latest organizational maneuver in Munich's digital drive. More moves are expected.
Continuing to reshape itself into a high-tech company focused on digital applications for LEDs, Osram said it has found a buyer for its Sylvania Lighting Solutions (SLS) group, its North American services unit which had sales last year of around $100 million.
Munich-based Osram said that publicly-traded Pittsburgh-based Wesco International has agreed to pay in the "double-digit million euro range" for SLS and its 220 employees in a transaction that should wrap up this quarter.
In a separate announcement, Wesco said it expects to finalize the acquisition of "certain assets" of Wilmington, MA-based SLS in March, and that SLS will become part of the Wesco Services LLC subsidiary.
"Wesco will acquire SLS's business operations in the United States and Canada," Wesco announced. "Todd Myers, SLS's current chief executive officer, will continue to lead the organization."
The Osram Americas group began searching for a buyer for SLS last May.
At first glance, its sale of a services unit might seem to contradict Osram's drive to emphasize digital applications and Internet connectivity for LEDs, as it backs out of luminaires and bulbs.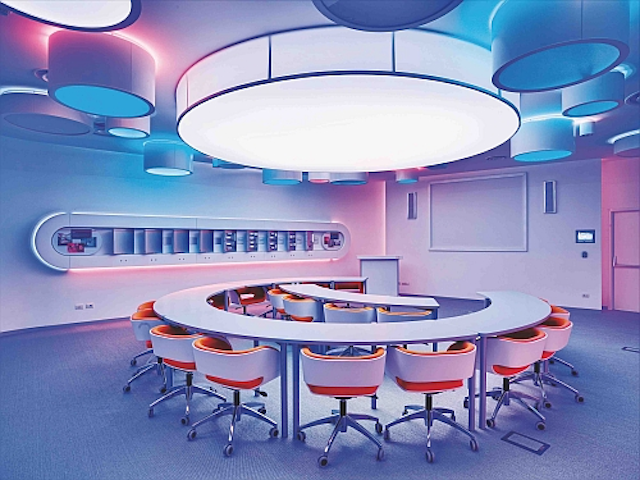 Osram sells Sylvania Lighting Solutions
Osram Americas' IoT group, rather than its Sylvania Lighting Solutions unit, had taken on the task of selling smart, connected lighting systems and offering data services around them, such as in this showcase example. (Photo credit: Osram.)
Services are a big part of that transformation, evidenced by a corporate restructuring in November in which Osram combined various service and system operations into a new group called Digital. As part of its digital services push, in December Osram unleashed Lightelligence, its scheme for tying LED lights into the Internet via hardware and software including cloud and data connectivity.
But Sylvania Lighting Services has been geared more around traditional lighting services. It is also believed to have lagged behind its competitors in the US lighting services market. By offloading it, Osram can make more of a fresh start with digital services in North America, where Osram Americas continues to operate as Osram Sylvania and where it offers the brands Osram, Sylvania, Encelium, and Traxon.
In one recent example of a US smart lighting services job, Osram teamed with Boston-based software company Rifiniti to connect Osram sensors embedded in third-party office luminaires to Rifiniti analytics, in order to optimize commercial office space, using Osram's Encelium light management system.
Osram handled that partnership through its Osram Americas IoT (Internet of Things) business development unit rather than through SLS.
Osram is selling SLS at a time when Osram itself is believed to be an acquisition target.
If nothing else, more restructuring is expected from Osram as it continues to fine tune its smart lighting and Lightelligence operations — including offerings such as indoor positioning services — and to balance them with its LED chipmaking and automotive operations.
SLS is potentially a good fit for Wesco.
"We are strengthening our lighting solutions and services with the acquisition of SLS," said Wesco chairman and CEO John Engel. "SLS's customer base, geographic footprint, and extensive project-management capabilities complement our existing turnkey lighting renovation and retrofit offerings. We are very pleased to welcome the SLS team to Wesco and look forward to accelerating our results in the lighting marketplace."
Wesco, which has a Westinghouse heritage dating back to 1922, is a $7.7 billion company active in electrical, industrial, and communications maintenance, repair, and operations as well as in supply chain management. It also has an OEM manufacturing business including construction materials.
Wesco cites intelligent buildings, industrial networking, cloud computing and physical security systems among its business interests, so it could conceivably build up Internet connectivity capabilities at its new SLS unit and potentially compete against Osram.
MARK HALPERis a contributing editor for LEDs Magazine, and an energy, technology, and business journalist (markhalper@aol.com).