Cree LED downlights earn Energy Star qualifications
Several members of Cree's family of LED downlights have earned Energy Star qualification in the commercial and residential categories.
Apr 6th, 2009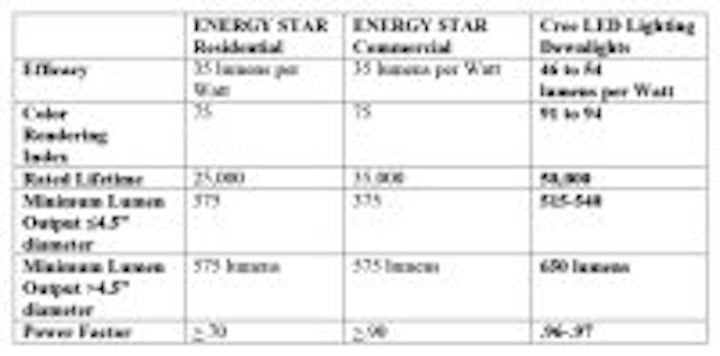 Cree, Inc. has been awarded Energy Star qualifications for its LED downlights. A total of 10 models of LR6, LR5 and LR4 downlights from Cree LED Lighting Solutions are listed under both the
Residential
and
Commercial Energy Star-qualified LED fixtures
categories.
The company says that its product line has demonstrated LED lifetime and fixture efficacy that qualifies for the stringent commercial rating, as well as the residential rating.
The Commercial category now contains a total of 24 fixtures from 3 manufacturers, namely Cree, Cooper Lighting (2 models) and Juno Lighting (12).
Meanwhile, the Residential category contains 27 fixtures from Cree (10), Cooper (2), Juno (8), Kichler Lighting (6) and EML Technologies (1).
The Cree downlights have been qualified according to SSL Energy Star version 1.1 criteria for Category A: Recessed Downlights. SSL v1.1 was established by the U.S. Department of Energy (DOE).
Energy Star is a joint program of the DOE and the U.S. Environmental Protection Agency (EPA) that helps consumers and organizations save money and protect the environment by promoting energy-efficient products. Products earning the commercial Energy Star qualification must meet extended lifetime criteria, which is 40 percent longer than residential standards.
"Being rated for both commercial and residential applications is especially significant since more than three-quarters of the LED lighting we are deploying today is in commercial installations," said Neal Hunter, president, Cree LED Lighting. "Cree also provides the highest color rendering of any Energy Star-qualified LED downlight. In stark contrast to compact fluorescent devices that contain toxic mercury, Cree's non-toxic LED fixtures deliver better efficiency and render colors such that the user doesn't have to compromise their lighting experience."
The LR6 recessed downlight is available and qualified in two color temperatures (2700K and 3500K). Cree says the efficiency is more than 54 lm/W with lumen output of 650 lm, and that this is higher than any other qualified recessed downlight. The company also says that the LR6 was the first recessed downlight to receive the Energy Star commercial qualification.
The Cree LR4 and LR5 recessed downlights are available and qualified in two color temperatures -- 2700K, with a CRI of 94, and 3500K with a CRI of 91. The LR4 product line is also available in two shield angles, 15 degree and 30 degree.