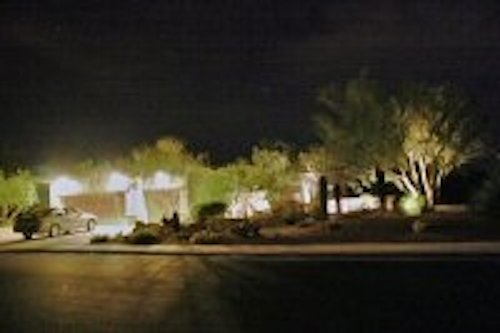 Roger Deane of Scottsdale, Arizona, contacted
LEDs Magazine
to tell us that he has converted his entire home to LED lighting.
The exact energy saving depends on the season, because the lights are on more in the winter when days are shorter. However, there are other areas where energy is saved. "The LED bulbs do not emit as much heat as the old incandescent bulbs did. Of course, that means the air-conditioning does not need to come on as much to cool the ambient air."
The outdoor lighting was converted first, and once this was done, Deane's electric bill went down by approximately $20 per month.
"I did all the yard and tree lighting front and rear, then added PAR38 downlights under the eaves. I then did the indoor lighting, first removing any fluorescent tube lighting," he says.
The garage—from which Deane runs Wired Communications, his internet business—had six double light "shop" lights which were gobbling up over 560 watts. "I now only use approx. 60 watts doing the whole garage with 20 PAR20 lamps on track lighting. Also, the garage is air-conditioning and well insulated, there are also savings from not having those HOT tubes and ballasts!"
"Also, I was able to add LED lighting strips to under-counter locations where I did not have lighting before or, in strange locations such as small cabinets in guest bath, or inside the fridge."
"For some cabinet locations I used the 'festoon' type LED bulbs as the fixtures were already there. Those bulbs used to get so HOT that I received a second-degree burn from them before I switched them out."
Deane says he has had a good response to the new lighting. "Folks that come over love the 'cool' white look of my interior lighting. At first they would say, "No, I would not want that", or "My wife only wants that warm-white look of the old incandescent." But, once they have been over a few times at nighttime, the comments are more positive."
"Some say it's just like daylight is indoors. Or, the sun is shining inside your home. The way I look at it is that you get more lumens per watt when you utilize the cool/daylight 5500K LEDs, compared with the 3000K warm-white. Makes you wonder how many would complain about the incandescent look if LEDs were our first choice in lighting instead."
"As a foot-note, my HOA (homeowner association) did not like the appearance of the daylight/cool-white MR16 lamps on the outside front of my home, so I had to switch them out with warm-white. The backyard is still the original color temperature almost two years later. Another nice thing about LEDs; I have not needed to replace a single LED bulb since the beginning of the project, which was around two years ago.