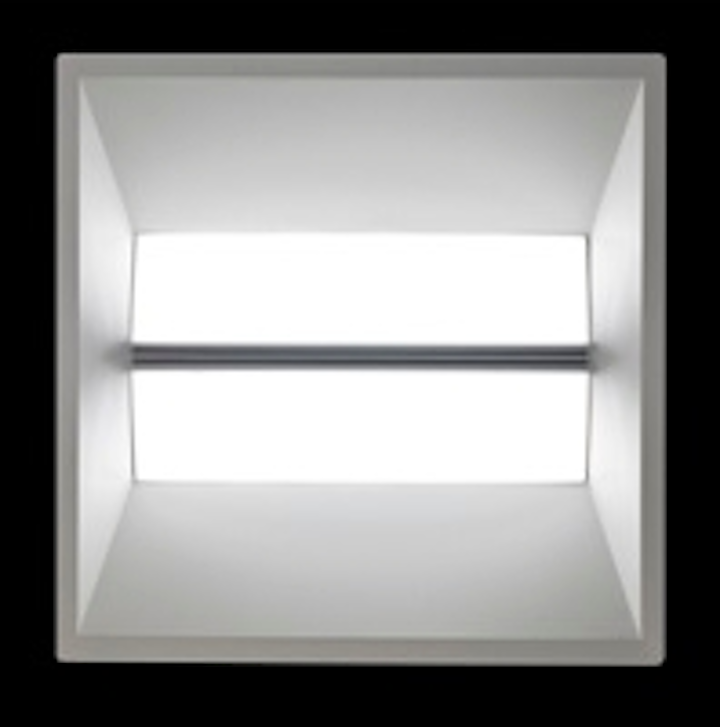 United Stationers, a wholesale distributor of business products, has installed LED lighting in office and break-room areas in its Sacramento, CA facility and hopes to achieve 91% energy savings via the combination of efficient solid-state lighting (SSL) and adaptive-control technology. The new system combines Cree Lighting's CR family of linear LED-based troffer fixtures, and Daintree's Wireless Area Controller gateways and ControlScope software.
The Sacramento Municipal Utility District (SMUD) also participated in the LED-lighting installation that was part of a SMUD research project on the combination of SSL and adaptive controls. Collins Electrical Company performed the installation.
Wireless controls
Each of the Cree fixtures are equipped with a Daintree ZigBee adaptor allowing for wireless communications with the Wireless Area Controllers over the ZigBee wireless mesh network. The installation includes occupancy and light sensors that allow the facility to dim or extinguish the lights as appropriate based on the presence of people, daylight, and schedule.
"We're thrilled with the results of this advanced lighting project. Not only are our associates pleased with their improved lighting and personal control, but we're already saving substantial energy," said Ted Pinnow, maintenance manager for the United Stationers Sacramento facility.
Indeed, the installation includes wireless remote controls for the workers allowing them to personalize their local lighting settings. The company has set the ControlScope software to generally dim the lights to 35% of full brightness nominally. United Stationers reports, however, than many of their workers set the lights at even lower levels.
"The United Stationers project is a perfect example of how integrating controls can dramatically improve the results of a comprehensive lighting retrofit," said Dallas Buchanan, vice president of sales and business development at Daintree Networks. "Through our work with fixture manufacturers like Cree, we are making it simple for commercial offices to benefit from the combination of efficient fixtures and advanced wireless controls."
Patrick O'Flaherty, product marketing manager at Cree, said "The seamless combination of advanced LED and standards-based wireless controls provides tremendous value to customers, both in energy savings and in improved occupant comfort."
Cree's troffers
Cree CR fixtures were designed as alternatives to traditional troffers that are based on linear fluorescent tubes. While LED-based retrofit tubes have found limited success in traditional troffers thus far, purpose-built, LED-based linear fixtures apparently perform very well in remodels or new installations. We noted the trend in one of our Lightfair reports last year as a number of lighting companies have launched such products.
The project did require that the aforementioned Daintree adapter had to be installed with each Cree fixture, but apparently the combination works seamlessly. United Staioners' Pinnow said, "The project came together quickly with painless installation, and I've been impressed by the seamless integration of Cree and Daintree Networks products."
Lightfair 2012, meanwhile, is on the near horizon in Las Vegas, NV in two weeks. One thing we will be looking for at the show is evidence that ZigBee-based capability is being designed directly into SSL fixtures.