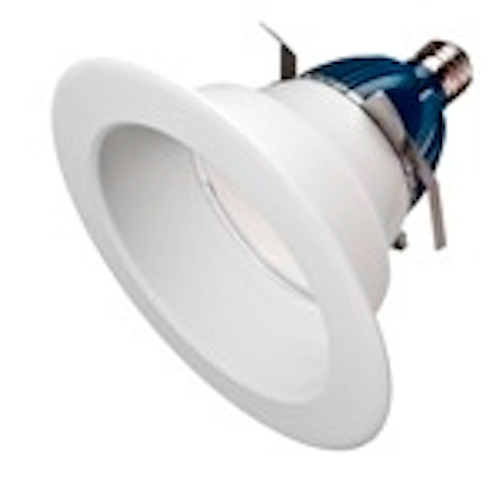 Cree Lighting has launched new versions of its CR Series of LED downlights including a brighter 6-in product and a 4-in version of the solid-state lighting (SSL) line. While the legacy of the CR Series has been the residential market, Cree says that the expanded family is also widely applicable in commercial applications and offers a commercial Energy Star rating.
The new CR6-800L downlight produces 800 lm using 12W and is designed to replace 90W incandescent lamps. Previously, the 6-in offering topped out at 575 lm. Gary Trott, vice president product management at Cree Lighting, said that the brighter offering can serve in higher ceilings and spaces in hotels, restaurants and medical facilities that require more light output.
The CR Series has been designed for the retrofit market with products fitting into existing cans. While low-end can-type products are generally not considered to be prevalent in commercial spaces, Trott said that in reality they have been widely used in many commercial segments.
4-in downlight
The new 4-in product, the CR4-575L, outputs 575 lm using 9.5W – matching the performance of existing CR-6 products in terms of lumen output and efficacy. All of the products offer a CRI greater than 90 and power factor greater than 0.9.
"We continue to see high-demand for Cree's original CR6-575 lumen LED downlight, but with the introduction of the CR4 LED downlight and the new high lumen output CR6 downlight, Cree now addresses even more applications, provides a remarkable price-point and meets the needs of our residential and commercial spaces," said Rick Helsel, senior account manager, Rexel USA. "You'll never need to install an outdated incandescent or fluorescent downlight again."
Trott expects the 800-lm product to sell in distribution for around $60. He said the product won't be part of Cree's private-labeled product offering being sold through Home Dept. It will be sold strictly through distribution. Trott said that the price will be lower than many commercial-grade compact fluorescent (CFL) alternatives that offer comparable performance.
Cree already offers a 4-in product as part of the Home Depot offering based on a quick check of the retailer's website. The Home Depot product and the CR4-575L have similar specs in terms of lumen output and efficacy. But the new CR4-575L has a longer 50,000-hour projected lifetime and 5-year warranty, and meets commercial Energy Star requirements. The CR4-575L will only be sold through Cree Lighting distributors.