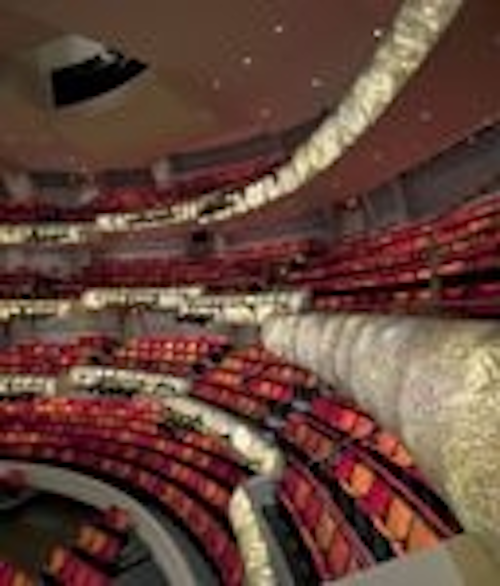 Tivoli, a provider of linear LED accent fixtures based in Tustin, CA, has published a case study that details the lighting installation at the Kauffman Center for the Performing Arts in Kansas City, MO. The project was designed by architect Moshe Safdie and lighting design firm Lam Partners, both based near Boston, MA, together with creative designers Derek Porter Studio of Kansas City, MO, and 3form Light Design of Salt Lake City, UT.
The case study details the lighting installation throughout the Muriel Kauffman Theatre including the design of the balcony facades, while highlighting the different Tivoli products used to light other parts of the Center. The full article is available at the Tivoli Lighting website.
The Center for Performing Arts includes the Muriel Kauffman Theatre, Helzberg Hall, and Brandmeyer Great Hall. In the Theatre, the designers sought to create a flowing, water-like visual using textured panels over the curved façades that accent the main balcony seating area. The Tivoli Covelum Designer Series flexible LED product was chosen to provide both direct and indirect light for the 3form Varia Ecoresin Texture Way panels. On the balconies, thirty nine 3x6-ft panels in total were used. As patrons walk through the room, the façades appear to cast a molten glow that shifts with viewing angle. This is accomplished by positioning the LED modules at specific angles underneath each panel.
The Covelum Designer Series product features a 150° viewing angle and adjustment by 45° up or down. The gold tone was achieved using color mixing of 2300-2400K warm-white LEDs and custom reflectors. Light reflecting off the reflector surfaces combine with angle of incidence on the panels to create a glowing appearance with changing viewing angle.