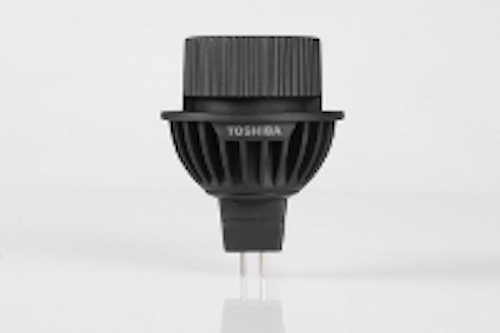 Toshiba, a provider of high-efficiency LED products, has released a new series of LED replacement lamps for 50W halogen lamps that are often used in retail displays and residential applications. The MR16 GU5.3 500 series of LED lamps is designed for use by lighting designers, architects, and facility manages. The lamps aren't presently Energy Start qualified, but Toshiba says they meet Energy Star requirements and are being submitted for testing.
The new MR16 lamps are dimmable and use 9.1W, providing energy savings when compared to halogen lamps. The MR16s also emit up to 70% fewer UV rays and use up to 80% less energy than the halogen lamps they were designed to replace, while providing an output of over 500 lm. These new MR16s are meant for applications that require directional light, such as pendant fixtures, recessed ceiling lights, and desk lamps. The lamps are specifically designed to fit most gimbal rings.
Available in color temperatures of 2700K, 3000K, and 4000k and beam angles of 25° and 35°, with a Center Beam Candle Power (CBCP) of 2510 cd and 1410 cd respectively, the new MR16 GU5.3 500 series lamps are designed to be used in many different situations.
"The 50W halogen lamp is a staple lighting professionals frequently specify for use in retail display lighting as well as residential applications," said Peter DallePezze, Vice President of Marketing and Product Development, Toshiba International Corporation LED Lighting Systems Division. "Providing this MR16 50-watt equivalent is just one more way we are expanding our LED lamp offering to provide lighting designers, architects and facility managers with a complete LED lighting solution."
For a data sheet on the MR16 GU5.3 500 series LED lamps, visit Toshiba here