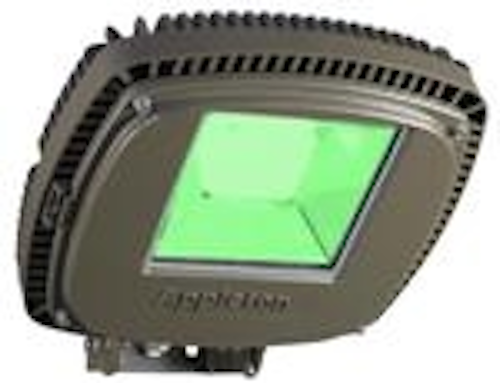 LED-based lighting has long found uses in specialty applications even before moving into general illumination, and Appleton has launched a new Areamaster Green LED luminaire designed for steel inspection. In applications such as automotive plants, the solid-state lighting (SSL) product allows technicians to spot flaws that aren't evident under typical cool-white factory lighting.
The Areamaster Green LED luminaire looks like a typical high-bay or floodlight product except when powered on with the green light. The product is designed for rugged environments with a die-cast aluminum housing that doubles as a heat sink. The product carries NEMA 4X and IP66 ratings – meaning that the luminaire is resistant to ingress of water and dust.
Appleton said that the green LED lighting allows workers to detect hairline cracks and blistering in steel arriving from a steel mill to a manufacturing plant. "In fact, it was developed in response to an end user's request for an energy-efficient, high-quality LED lighting fixture for use when receiving steel at an automotive facility," said Jean-Baptiste Trollé, vice president of marketing and business development for Appleton.
The luminaire design delivers directional light for an application such as steel inspection, and does not require any external optics. Installations can focus the light on the inspection area with little trespass outside the zone of interest. The combination of the LED sources and fixture design result in system efficiency approaching 80% and make the product applicable for other applications beyond auto plants.
"Its advantages are applicable to a wide variety of users that rely upon the highest standards of steel quality," said Trollé about the luminaire. "The development of the Areamaster Green LED is a perfect example of Appleton engineering products to meet the changing needs of our customers."
Customers can mount the Areamaster fixture just as they would any HID, fluorescent, or incandescent fixture. The product operates over a universal input voltage range of 120-277V and delivers more than 8000 lm.