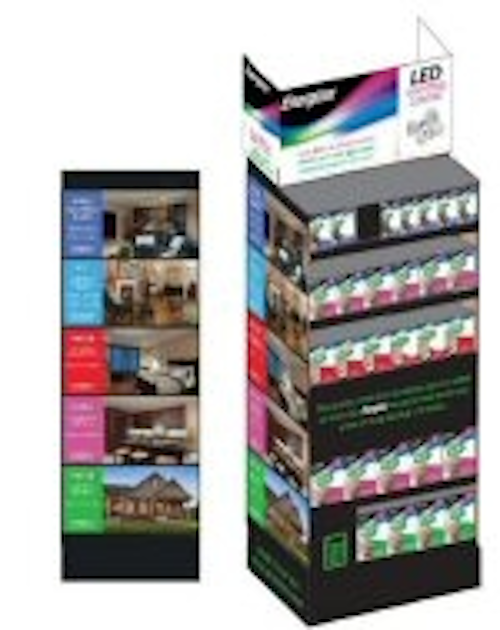 CRS Electronics Inc. (TSX VENTURE:LED)(OTCQX:LEDCF), a Welland, Ontario, Canada-based LED-lighting manufacturer, has revealed that Canadian Tire will be the first major retailer in North America to launch the Energizer-branded line of LED lighting products manufactured exclusively by CRS.
The
agreement between CRS and Energizer
, originally announced in August 2011, did not disclose Canadian Tire as the customer. Products are scheduled to be available in stores mid-January 2012.
CRS will supply a range of Energizer LED lighting products including the A19, MR16, GU10 and a variety of PAR lights (typically referred to as "pot lights").
Canadian Tire plans to showcase the Energizer lights in "creative and attention-getting" merchandizing displays that are designed to educate consumers on the benefits of LED lighting in their homes throughout Canadian Tire locations (see image).
"The Energizer line of LED lights will compliment Canadian Tire's sustainability initiative and we now supply consumers with more than 1,000 environmentally innovative products and solutions," said TJ Flood, Canadian Tire's VP of Merchandise for the Living Division.
"Energizer LED lighting products are manufactured in Canada and live up to the highest quality and reliability standards expected by our customers."
"We are excited to begin selling the high quality Energizer branded LED lights in Canadian Tire stores for homeowners to enjoy their numerous benefits," said Scott Riesebosch, president of CRS Electronics. "Canadian Tire is a significant retail partner, which will greatly assist us as we continue to expand our North American retail base."
Energizer Holdings, Inc. (NYSE:ENR), headquartered in St. Louis, MO, is one of the world's largest manufacturers of primary batteries and portable flashlights and lanterns.
Canadian Tire Corporation, Limited is one of Canada's most-shopped general retailers, offering everyday products and services to Canadians through more than 1,200 retail and gasoline outlets from coast-to-coast.