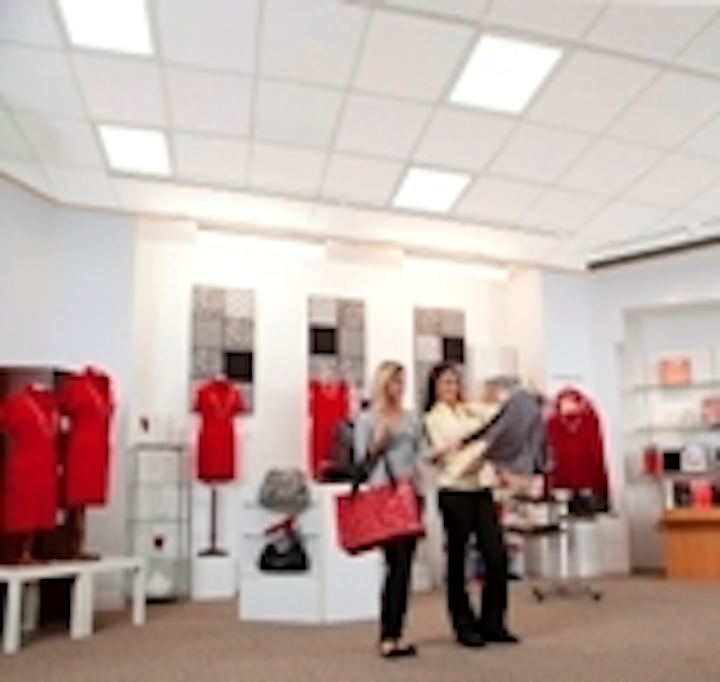 GE Lighting Solutions of East Cleveland, OH, has introduced its first commercial product in the Lumination brand line. It is a recessed LED troffer offered in 600x600-cm (2x2 ft) and 300x1200-cm (1x4 ft) versions with a panel thickness of only 14 mm (0.5 in). Both sizes are offered in 3000K, 3500K and 4000K configurations.
The ceiling panel is designed for office, retail (Fig. 1), healthcare and education environments. The troffer is designed to compete with fluorescent fixtures and installs in common T-bar ceiling grids. A built-in dimmable driver, which brings the installed thickness to 64 mm (2.5 in), is designed to ease installation.
A critical aspect of the panel design is the technology used to achieve a particular distribution of light from the panel to the target area. Cree XP-G LEDs are mounted horizontally along the side of the panel while an optical film that incorporates high-efficiency microprismatic materials optimizes the photometric distribution. GE licensed this microprismatic material, called MicroLens, from Sunnyvale, CA-based Rambus. Using proprietary optical modeling software and design techniques, MicroLens optimizes the light distribution across an entire surface or focuses the light in specific locations. Luminous output is 3550 lm at 50W and 4000K or 3220 lm at 3000K and 50W. CRI is 80.
When illuminated, the Lumination LED troffer produces an even glow and complies with the required UGR 19 glare rating for office lighting. When the panel is off, it appears free of a light source, unlike fluorescent fixtures.
"The Lumination brand signals our arrival in LED fixture design and aspires to shape the future of indoor lighting," says Steve Briggs, vice president of marketing and product management for GE Lighting Solutions. "Whether making a bold statement in your office, optimizing a selling environment to dazzle customers or creating a calming healthcare setting, these fixtures are unlike anything you've seen before."
The projected life to 85 percent of initial lumens is 50,000 hours and the product is supplied with a 5-year warranty. DALI or 1-10V dimming is standard and the system is compatible with daylight harvesting control systems for additional energy savings.
GE provided an energy savings analysis comparison with various fluorescent fixtures (Fig. 2). The minimal energy savings is 11 percent annually relative to a four-lamp T5 fluorescent tube configuration. Estimated energy savings of 26 percent can be achieved relative to a two-lamp twin-tube fluorescent configuration.
GE Lighting Solutions has stated that it expects to introduce more than ten new luminaires in the next year and a half including including linear, suspended-fixture and surface-mounted troffers.