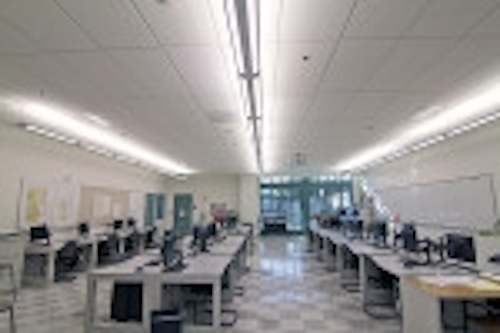 Seesmart announced a $2.3 million contract that is has struck with Pasadena City College in Pasadena, California to supply the school with more than 34,000 LED-based retrofit tubes for installed fluorescent linear fixtures. In other indoor solid-state lighting (SSL) news, Lithonia and Philips have launched new linear fixtures, Amerlux announced a new downlight family, and Energizer has debuted new decorative, and accent lighting.
$720,000 in energy savings
In the Pasadena installation, the college is projecting annual energy savings of $720,000 and a carbon footprint reduction of 5 million pounds. "Not only will this save more than 55% of electrical consumption for lighting, but it saves in manufacturing resources and disposal costs and impacts," said Richard van Pelt, CFO and assistant president of Pasadena City College. "We start saving money on the first day the LEDs are installed, so the payback is instantaneous."
In total, the retrofit will include classrooms (such as the one pictured), offices, stairwells, parking structures, maintenance areas, and a gymnasium spread across 26 buildings. The project will be funded in part by an $850,000 rebate from the Pasadena Water Power utility.
"Integrating Seesmart LED lighting products into Pasadena City College's infrastructure will not only save energy, it will bring cost-avoidance opportunities," said Ray Sjolseth, President of Seesmart. "The long lifespan of our LED products obviates the need for frequent replacement of individual lamps. This minimizes maintenance costs and facility waste and means that on-staff labor will be available for other servicing needs."
As we have covered previously, LED retrofit tubes have failed to match the performance of fluorescent tubes in some high-profile tests, including those conducted by the DOE. Lately, however, we have reported on positive case studies including one in an Air New Zealand facility using LED tubes from Business Lighting Solutions. Moreover the March 2012 issue of LEDs Magazine, due out shortly, has a case study about a San Diego, California restaurant called Hodad's using SSL tubes from Duracell Lighting.
SSL linear fixtures
While makers of LED retrofit tubes have struggled prior to these recent positive case studies, luminaire makers selling SSL-based linear fixtures have continuously made news over the course of the last year. That was a trend that we highlighted in our coverage of Lightfair International 2011. And now Lithonia Lighting (part of Acuity Brands) has launched linear fixtures that deliver system efficacy in excess of 100 lm/W.
What Lithonia is referring to as the new 100+ LPW family includes 3500K, 4000K, and 5000K CCT fixtures. While in many cases higher efficacy is only available in cooler CCTs, the new Lithonia products in the VTLED line include a 4000K CCT product with 106-lm/W efficacy and a 3500K CCT product with 104-lm/W efficacy.
Higher efficacy is just one of several additional optional features available in the VTLED family of 2x4- and 1x4-ft fixtures. You can specify the fixtures to be color accurate within a 2.5-step MacAdams ellipse. And Lithonia is now offering L80 fixture life of 50,000 hours. The higher efficacy, L80 life and tighter color control are also options in the RTLED family of fixtures.
Philips Lighting, meanwhile, addresses the linear lighting form factor via a number of its brands, and Philips Ledalite has launched new 1x4- and 2x2-ft fixtures in the ArcForm family. The products feature efficacy as high as 91.2 lm/W and Philips is backing them with a 5-year warranty.
Moving to task light, Amerlux introduced the second generation of its Evoke recessed downlight family. The Evoked 2.9 G2 products achieve efficacy as high as 56 lm/W, and color rendering index (CRI) ranging from 82 to 90. The products are focused on high-end residential and retail applications and come with a 10-year warranty.
Accent and decorative luminaires
The success of LEDs penetrating the lighting market is certainly leading more players to the market and some of the new faces will be innovating in terms of form factor and concept, and perhaps leveraging their business relationships in other industries. For example, Energizer Household Lighting may not be a name you would expect to see involved with lighting, beyond battery-powered flashlights, but the company has a new line of accent and decorative lights.
For now, Energizer is offering battery- and AC-powered integrated luminaires in the Ambiana, Edge, and Glas SSL families that debuted at the International Home + Housewares show in Chicago, Illinois. But the company also said it will introduce a line of retrofit lamps for socket-based applications later in the year.
The products announced this week, however, deliver on the innovation that the SSL industry continues to talk about in terms of new form factors. The Edge collections, for example, appear to use a planar light guide to distribute light from hidden LEDs. And the fixtures use touch-based controls located in the base.
As you may have noted earlier in this article, Energizer isn't the only company known for batteries that has entered the lighting business. Duracell Lighting has retrofit A-Lamps, directional lamps, and tubes.
Both Duracell and Energizer gained a lot of experience early on working with LEDs in flashlights. And both companies have business arrangements with major retailers that they can leverage to get shelf space that lighting specialists might struggle to win. It will be interesting to see how the companies fare in the lighting segment.